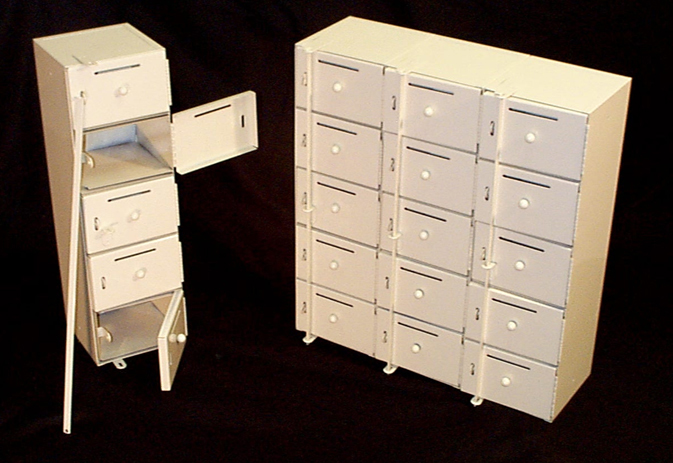 National Marketing, Inc. has Security Driver Drop Boxes that can be used  for driver's cash and receipts or security boxes for driver's personal belongings.  There are 5 doors that can be locked individually or all secured at one time with a locking bar.  Measurements are 23″ x 7″ x 7″.  Color is sand.  (Locks are not included)  They can sit on a table or hang on the wall.  Multiple units can be combined if needed.  Constructed of 22 gauge steel top, bottom and back.  Available in 2 sizes:  Item # DD-660 measures 23″ x 7″ x 7″.  Item #DD-330 measures 20-7/8″ x 5-3/8″ x 5-1/4″.  This is a great delivery tool.
Visit National Marketing, Inc. on our website www.nminc.com for our SALE items and complete line of Pizza Tools, Thermal Delivery Bags, Baking Peels, Wood and Aluminum, Baking Screens, Disks, Pans, Laminate Boards, Dough Trays and Aluminum and Stainless Shelving and Racks, Delivery Accessories and Portion Control Tools.
Pizza Tools include cutlery, oven brushes, pizza cutters, grippers, pizza stands, dough scrapers, dockers, forks/poppers, and miscellaneous items.
Featuring unique items like the Calzone crimper Item #M-SRC and Breadstick cutter, Item #M-BSC-04 and 5″ Serrated cutter Item#M-SC5.
Thermal delivery bags are sold as per how many and what size pies they hold.  We carry Carry-2 up to Carry-10 and catering bags for different applications.  We have a special bag approved by Meals on Wheels  for delivery.  It is 18″x10″x10″, blue in color and accented with black straps. Item #L-ODE. A small Hoagie Bag is available 9″x15″x4″ that can be used by itself or piggy-backed on a larger bag to hold desserts, or accessories. Item #L-52-NL.   We also carry heated delivery combos (bag and element) that store heat for approximately 1 hour at 170 degrees.  Call for different sizes and bag colors.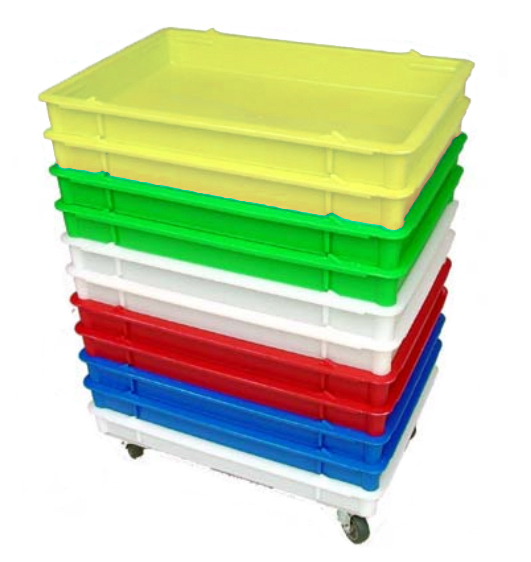 Baking Peels are available in Mr. Peel, Inc. short handle wood, long handle wood, jumbo wood, make-up peels in wood, hand peels in wood, bagel peels in wood and bread boards in wood.  We also stock Mr. Peel Signature Aluminum blade with wood handle peels available in 3 sizes of blades small (12″x14″), medium (14″x16″) and large (16″x18″) with wood handles in 2 different sizes (9.25″ and 23″).
Baking Screens can be purchased in round, square and rectangular sizes.  Custom sizes will be quoted.  Round sizes from 6″ to 30″ in stock.
These are US made aluminum screens.  Double banding available.
Disks, pans, pan lids and pan separators available in different heights, materials and sizes.  Dough pans, CAR pans, Coupe pans, Detroit Style Pans, Square and Rectangular Pans, Tapered/Nesting Pans, etc.
Laminate Boards made of "Richlite" material (wood fiber material) are NSF approved and can be washed and are heat resistant to 350 degrees.
Custom sizes and custom logos available.  These boards are available in serving boards, bread boards, make-up boards, flatbread boards, cutting boards, pizza/sandwich boards, equal-slice boards, laminate short peels and rounded peels.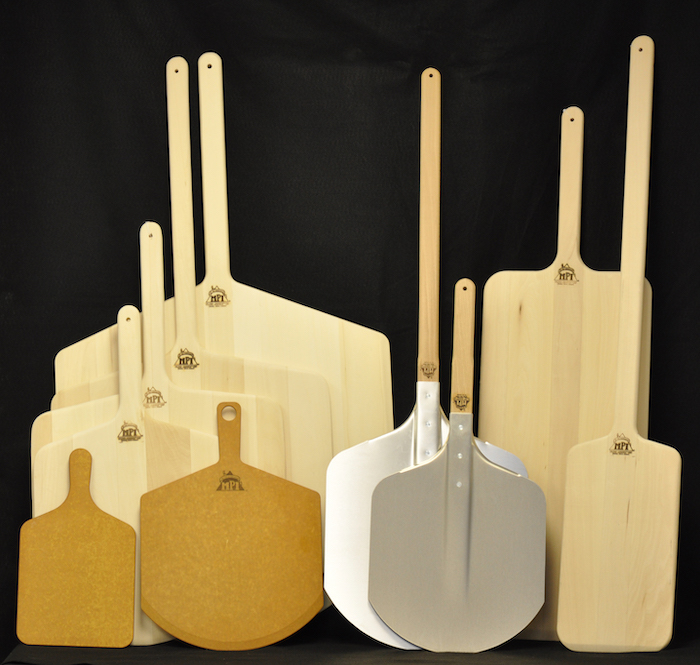 Dough trays come in white, blue, yellow, red, green, blue and red.  They are sold individually, 10-pack and pallets.  They are made of impact grade polypropylene proof-retard material that is light weight and long lasting.  There is a 5 year pro-rated warranty when used with the appropriate scrapers.  Dollies and lids available.  Call for sizes.
Delivery accessories such as pizza box lid supports available in 1-1/2″ and 2″.   Ticket minders and beverage totes also available.
Aluminum and Stainless shelving and racks available in many sizes and styles.  Single and Double Lifetime Racks available in different sizes.  This is one style very popular.  Custom orders welcome.
Call for a complete catalog.  734-266-2222, 1-800-994-4664 or visit us on our website at www.nminc.com.