PourMyBeer, the Leading Self-Pour Technology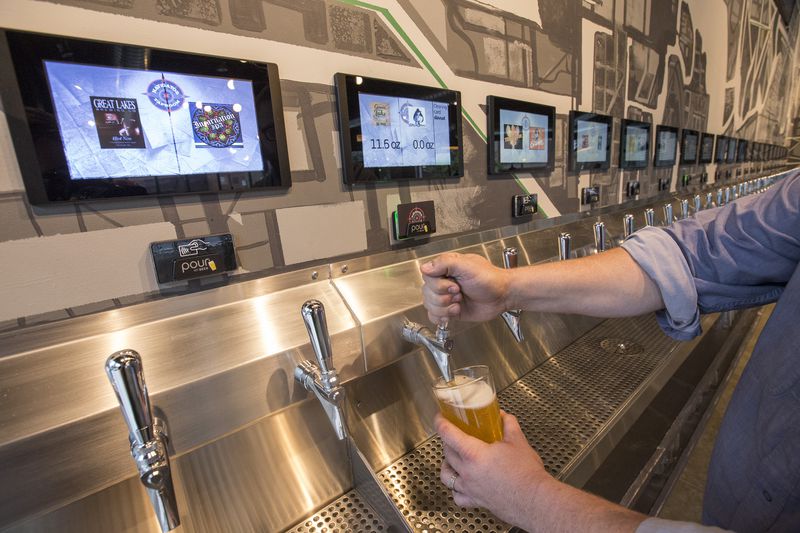 Any customer waiting for their pizza to arrive is excited to indulge in the new PYOB (pour your own beverage) revolution that PourMyBeer leads. Customers can touch screens and read information about beers, wines, cocktails, kombuchas, ciders, craft sodas, or cold brews (anything from a keg). Sales increase significantly by allowing customers to sample and pay by the ounce…without any waiting.
Having PourMyBeer self-serve technology is not only an important differentiator for your business that boosts margins, it also creates a better experience, giving your customers:
Choice
Instead of having to commit to a full glass of something they may not like, PourMyBeer lets them pour themselves a taste and only pay for what they pour. This results in your patrons pouring more ounces overall, increasing your monthly sales.
With craft beer on the rise, customers are thrilled to have the ability to taste many local craft beers and step up their game in the pursuit of hoppiness. Not to mention that you will never have to waste money on giving out free samples again! This holds true for craft sodas too.
No lines! Have you ever been to a bar where a couple of bartenders are trying to deal with three customers each at the same time? Have you ever considered it fun to wait until the bartender is done taking & making other people's orders or accepting the payments? With PourMyBeer all of that is history.  As soon as customers have their card or wristband, no one waits for a beer, ever.  Patrons can head to the tap wall and explore flavors from as many taps as they like on their own terms.
Status
Self-pour being still a relatively new cool thing, patrons get excited to become their own bartender. The tap wall generates tons of social media traction for owners, with customers taking pictures of themselves pouring and tasting flights and posting on social.  Free online content and powerful word of mouth!
To get more information on how you can get set-up with your own self-pour system, contact us!
Company Name: PourMyBeer
Phone: (312) 416-9989
Website: https://pourmybeer.com/
Email: sales@pourmybeer.com
About PourMyBeer
PourMyBeer is the leading provider of self-pour beverage systems, having the only purpose-built industrial-grade system  that doesn't rely on Wi-Fi. Other self-serve technologies use consumer-grade tablets, which are not meant for the commercial environment of the hospitality industry and soon fail. The PourMyBeer system is hard-wired and doesn't rely on Wi-Fi connections, ensuring consistent up-time.  Additionally, unlike other self-pour providers who penalize you for your success by charging a monthly fee of a penny/ounce of beer and $0.03/ounce of wine, PourMyBeer only charges a simple, flat monthly, that you can budget on – because we know the last thing you need is another equity partner taking a bite out of your profits every month.
These and other factors make PourMyBeer the true market leader – the only system on the market that has never been replaced and installed the most taps in 2018.  PourMyBeer is trusted by over 200 businesses all around the globe, taking care of clients such as Buffalo Wild Wings, Caesars Entertainment, Round Table Pizza, Blast & Brew Pizzerias, Me & Ed's Pizzerias, 1000 Degrees Pizza and many others.