We Can Top That with our TC-5 Waterfall Topping Applicator.
One of the most innovative machines in its class, Quantum's TC-5 Waterfall Topping Applicator features a cantilevered design, crank handle rake height adjustment, heavy duty locking swivel casters, and color touch screen controls that holds 20 recipes!  As part of a full, single lane topping line,  Quantum Technical Services' TC-5 is capable of applying cheese, IQF vegetables, sausage crumbles and other toppings to your product at rates of up to 80 feet per minute.  Available in two sizes, up to 18″ and up to 24″ usable belt widths. Need something larger, Quantum has that too! The optional Reclaim System is ideal for minimizing waste, improving the bottom line.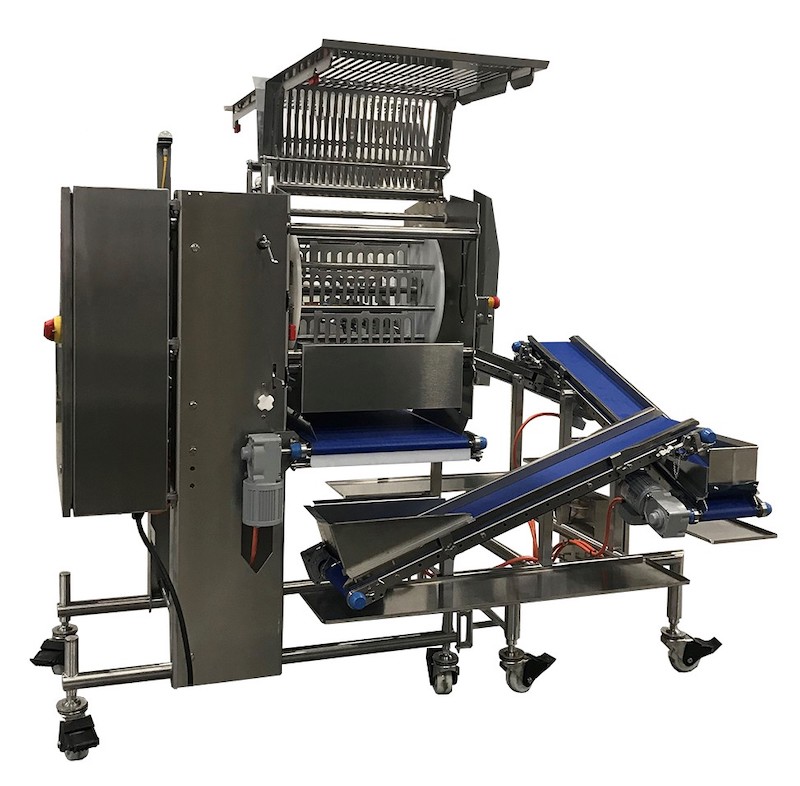 Quantum Technical Services' equipment is designed and engineered so that no tools are required for assembly/disassembly, minimal downtime is needed for sanitation.  In under two minutes, the TC-5 can be disassembled and ready to clean. Automating your topping line can noticeably increase efficiency, improve appearance, and decrease labor and waste costs. A regular preventative maintenance program will help ensure that your investment achieves the returns you expect.
Quantum Technical Services offers in-house testing at no charge to you. Simply send your product to our in house testing department to ensure your topping is compatible with our applicator.
Quantum Technical Services manufactures high speed, automated target sauce applicators, waterfall and target topping applicators, granular applicators, and slicer-applicators.  Primarily used in the pizza, ready meal, and bakery industries, our topping equipment can be used to apply sauce, cheese, IQF ingredients, streusel, crumb, dry ingredients, and many other ingredients.  Quantum has supplied production equipment to small wholesalers and the largest producers in the market since 1991.  We offer standard production systems and have an excellent engineering team capable of custom designing equipment for any production requirements.
Please visit https://www.q-t-s.com/ for more information or call us at (815)464-1540.