Whether you're churning out products for a large-scale operation or catering for a small crowd, the weight of your processing equipment needs to be a determining factor when readying your team with the right tools for the job. Lighten your workload by using MFG Tray's new lightweight dough boxes.
At MFG Tray, we understand how hard you are working, so we worked just as hard to help improve your process. In response to customer feedback about the weight of most dough boxes, we developed a special line of our light weight molded fiberglass boxes to help your days run smoother. Keep reading to learn more about our innovative light weight material and how it can improve your production process.
Light Weight Food Handling Solutions
Food safety is essential, and so is keeping your employees happy and healthy in the workplace. Providing equipment that can be easily lifted, moved, and stacked is a vital component of a productive working environment.
With foods such as bread and pizza doughs, storing them in lightweight containers can help ensure your goods are protected through all stages; proofing, storage, and transportation. But unlike plastic and wood which are susceptible to bending and warping under heavy loads, fiberglass handling equipment maintains its integrity in the long run. The model food service handling solution will not only protect your goods and increase your efficiency, but will also reduce bad batch concerns and give you the return on investment you deserve.
Lightweight doesn't have to mean less strength. MFG Tray's line of light weight dough boxes have the same durability as our standard containers but at only 40 percent of the weight. Moreover, they can safely handle temperature changes between -60 and 250 degrees Fahrenheit. Additionally, they can be easily cleaned in conventional, chemical, or steam-cleaning dishwashers.
If you're producing any kind of bread dough, you know that moisture and humidity play a huge part in how your product turns out. That's why MFG created a line of fiberglass dough boxes with securely attached lids that are resistant to moisture and humidity. You'll get the physical benefits of light weight storage without worrying about quality control.
Use Quality Equipment
Whether you're moving food products around a factory floor or preparing them in your restaurant for distribution, it's essential to use the best equipment available. Fiberglass trays, boxes, and containers are easily cleaned with conventional methods, reducing the risk of cross-contamination.
For particularly dense or heavy foods, a lightweight storage container can drastically improve your productivity and safety. Your team will be less likely to cut corners when moving heavy products, and all operations will be more accessible for every employee.
MFG Tray Has Your Back
Producing doughs to feed the masses is backbreaking work. From bending and lifting heavy loads to keeping food safety at the top of mind, there's a lot to consider regarding proper material handling in food service.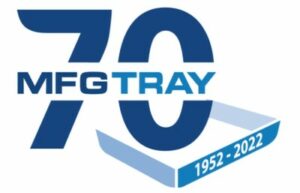 At MFG Tray, we're proud to work with some of the best brands in the business, helping them churn out quality products to keep consumers coming back. Head to our product page to learn more about our light weight dough boxes and other commercial kitchen products. If you do not see what you need, contact us today and let us know how we can help.
Visit MFG Tray at Pizza & Pasta NE in Atlantic City, NJ October 16-17, 2022 @ Booth # 827
Molded Fiber Glass Tray Company  |  TF: 800 458.6050  |  www.mfgtray.com  |  info@mfgtray.com