LloydPans' newest product, the Long Pan, allows restaurant operators to launch new menu items for large parties, from Detroit style pizzas to nachos to desserts.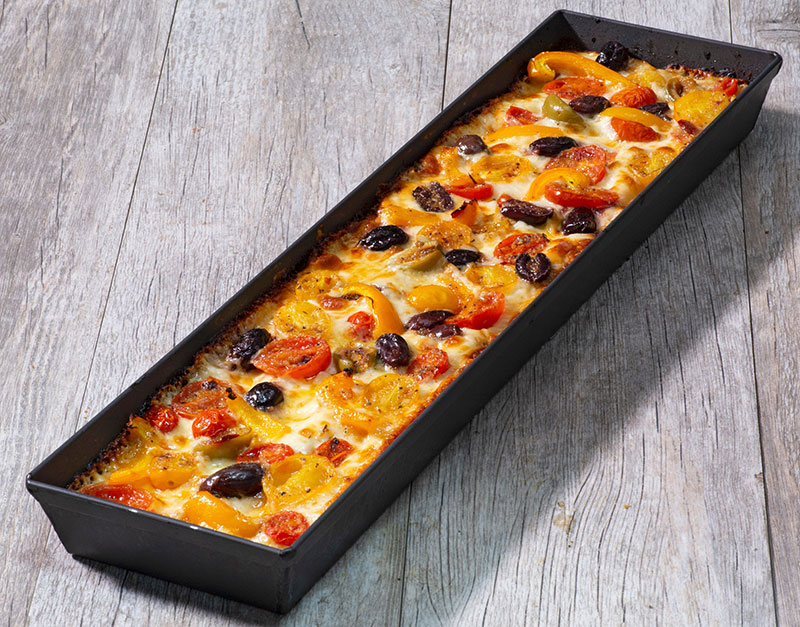 Ideally suited for mouth-watering Sicilian or Detroit style crust recipes, Long Pan Pizzas are meant to be shared with those whom you love. LloydPans designed these new pans to accommodate small and large gatherings around the table with three different pan lengths.
At 12″ long, they serve 1-2 people with four, 4 x 3 inch slices
At 18″ long, they serve 2-4 people with four, 4 x 4 1/5 inch slices
At 27″ long, they serve 4-8 people with eight, 4 x 3 3/8 inch slices
The Long Pan is a rectangular-shaped pizza pan that can measure up 108 square inches, with a standard size of 18x4x1.5 inches. This is a great solution for pizzerias and foodservice operations producing pan pizza, as it's an exciting new presentation to customers. From birthday pizza parties to Super Bowl gatherings, this pan makes a pizza great for sharing.
But its use is not limited to pizzas. Nachos in a Long Pan are the perfect baking vessel and serving tray. For desserts, a Long Pan ensures every brownie is an edge piece, which is everyone's favorite. You can even bake a cake in the Long Pan!
Each Long Pan is 4 inches wide and 1.5 inches deep. They also feature:
Folded rim for added strength and safety in handling
Durable 14 gauge hard coat anodized aluminum
Permanent and metal utensil safe Pre-Seasoned Tuff-Kote® finish for easy de-panning and clean-up
LloydPans, a U.S. manufacturer of commercial pizza pans and tools, bakeware, cookware and foodservice equipment, is located in Spokane Valley, Washington. In addition to an extensive line of standard products, LloydPans also offers custom solutions for just about anything their customers need. LloydPans' products are sold online at www.lloydpans.com and through distributors.
LloydPans
800-748-6251