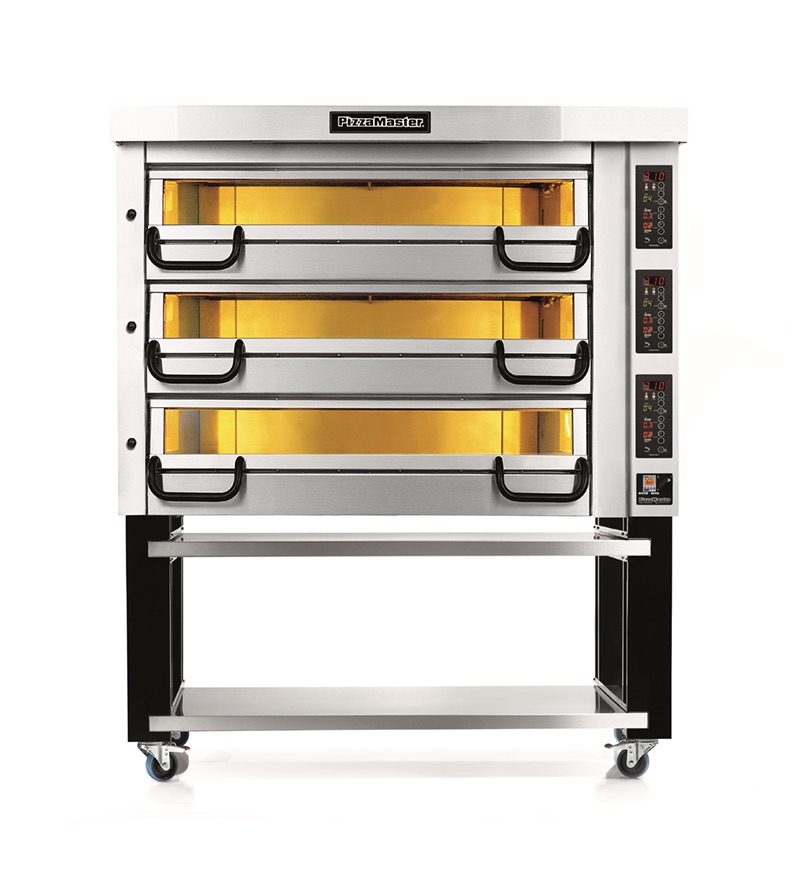 Pizza chefs must have a bit of magic to transform humble, everyday ingredients into one of the most popular foods in the country. All master Pizzaiolos know that one of the key ingredients to a great pizza is not only the dough, but an extraordinary oven. Meet PizzaMaster electric deck ovens. With our passion to ensure a great bake, thoughtful design went into every single aspect of PizzaMaster electric deck ovens, and we strive to always deepen our knowledge. From the production and characteristics of the flour, to the way the dough is processed, to the origin and quality of the toppings, we deliver this passion and knowledge into our ovens to make them the very best tool available for pizza chefs all over the world.
Are you constantly waiting for your oven to recover? Are you finding it difficult to keep up during peak demand hours? PizzaMaster has the solution. Higher capacity equals higher output of product. This is achieved through uniform heating capability and the strategic placement of higher wattage heating elements in the front and near the back wall of the oven. This feature allows for superior recovery heat and higher capacity output during peak demand times without prolonging individual baking times. Higher capacity for higher output means more money in your pockets!
Unique design attributes of PizzaMaster ovens allow chefs to put out a consistent, high quality product every time. For example, the capability to get up to 932°F combined with the ability to adjust top and bottom heating elements allows for precision cooking to create any type of pizza. Our ovens are built with special clay ceramic hearthstones with a rough surface to provide superior heat transfer while inducing a small airflow underneath the pizza, which creates optimum strength and porosity. PizzaMaster electric deck ovens are very well insulated to give maximal heat retention, minimal energy consumption, and low operation costs, outperforming gas deck ovens on cost to run, time and time again.
PizzaMaster ovens are truly designed with the needs of a working kitchen in mind. The phrase, "if you're looking, you're not cooking," doesn't apply here. This is because of the well-engineered door and large, heat-reflecting window that gives chefs excellent visibility while eliminating heat loss. Another great feature that users enjoy is the stainless steel construction for durability and easy cleaning. It reflects the quality that runs right to the heart of every PizzaMaster oven, where performance is what matters. In this respect, the oven is engineered to do exactly what we promise, enabling you to deliver professional results in every situation where convenience is essential and quality is paramount. Download our free ebook to learn more.
Kitchens are not just one size, so neither are our ovens. PizzaMaster ovens are available in a wide range of varieties and sizes, with a model to fit every need. In fact, we offer the largest electric deck oven range in the world. With 80 different sizes and over 1,000 possible combinations, there is model to fit any footprint and every need.
When the skill of a pizza chef meets the versatility, durability, and ergonomic design of a PizzaMaster oven, the results are not only extraordinary pizzas, but breads, pastries, meat and fish as well – just to name a few. Find out why Brian Spangler, Pizzaiolo and owner of Apizza Scholls (Seattle, WA), consistently one of the top-rated pizza restaurants in the country, said, "Buying the PizzaMaster oven was easily one of the best decisions I've ever made." Click here to watch the video.
Find out for yourself. Contact MPM Food Equipment Group, the Exclusive U.S. Distributor of PizzaMaster ovens, by email (info@mpmfeg.com) or phone (800-976-6762), or ask your food equipment dealer to contact us today to set up a free test demo of a PizzaMaster oven, and you'll find out why the proof is in the pizza.
And be sure to check out our news channel for the latest news and exciting updates about PizzaMaster ovens!