The Viaggio Mobile Drop-In Pizza Oven Boosts Outdoor Dining Profits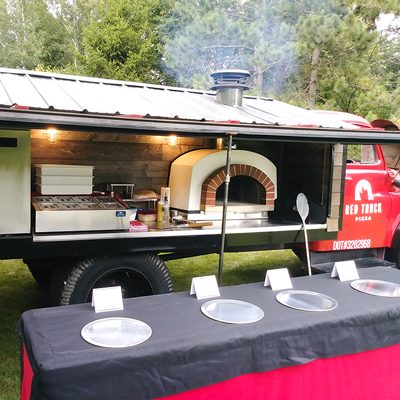 The Viaggio Mobile Drop-in Pizza Oven from Forno Bravo, LLC is helping restaurants across the country adapt and thrive in the changing business conditions of the past months. Now, businesses can expand or pivot to conveniently take food to their customers, instead of waiting for folks to come to them! The Viaggio provides mobility and flexibility without sacrificing quality. It's the perfect oven for outdoor dining venues, private catering opportunities, food truck rallies, and even neighborhood dinner meetups.
Road Ready
Available in 3 sizes, the Viaggio is a professional, wood-fired oven specifically designed to work seamlessly with many different styles of trailers and food trucks. Pre-drilled mounting holes and strong, 4″x 5″ mounting brackets make for easy installation. Its steel tray and metal strapping hold the oven dome securely in place, while the stainless-steel vent landing, and removable double wall chimney and spark arrestor/chimney cap reduce weight for smoother towing and fuel savings.
High Production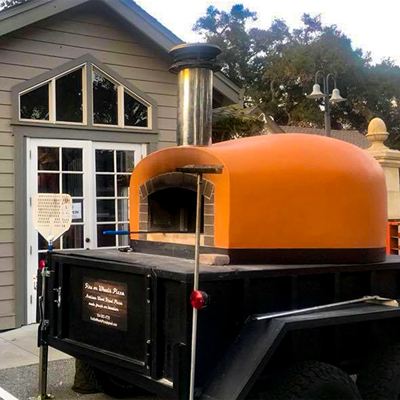 In mobile operations, high production is key. The Viaggio can crank out from 70 – 140 10″ pizzas an hour, depending on the model, so businesses can tailor their oven choice to the type and size of events that they want to support. With a 2″ or 3″-thick refractory dome, a 2″- 2.5″ firebrick cooking floor, and an abundance of ultra-premium insulation, the Viaggio comes up to Neapolitan pizza temperatures quickly (over 900°F!) Then, it holds that heat for fast, steady, consistent baking of pizza, wings, toasted sandwiches, desserts, or any other menu item that chefs can dream up.
Hand-Crafted, Custom Finish
Finally, there's the superior fit and finish. Every Viaggio is hand finished in our California facility to your specifications. Choose from 7, beautiful, standard colors of painted stucco, plus custom options. Next, add on the real brick arch detail, and the black, powder coated tray, and the Viaggio makes an eye-catching, classy statement to represent your brand. Quality checked and road tested, the Viaggio will last for many, many miles of smiles for you and your customers.
Made in the USA. ETL certified to multiple UL, ANSI and NSF-4 standards. Learn more at www.fornobravo.com, or by calling our Sales Team at 1.800.407.5119. We would love to provide a custom quote and answer any questions.

Forno Bravo, LLC is a family-owned, pizza oven manufacturer, established in 2003, with manufacturing facilities in California and Colorado. Our talented team of craftsmen and women design, build, and finish outstanding residential and commercial wood and gas-fired ovens that are enjoyed in homes and restaurants around the world.
Forno Bravo – The World's Finest Pizza Ovens