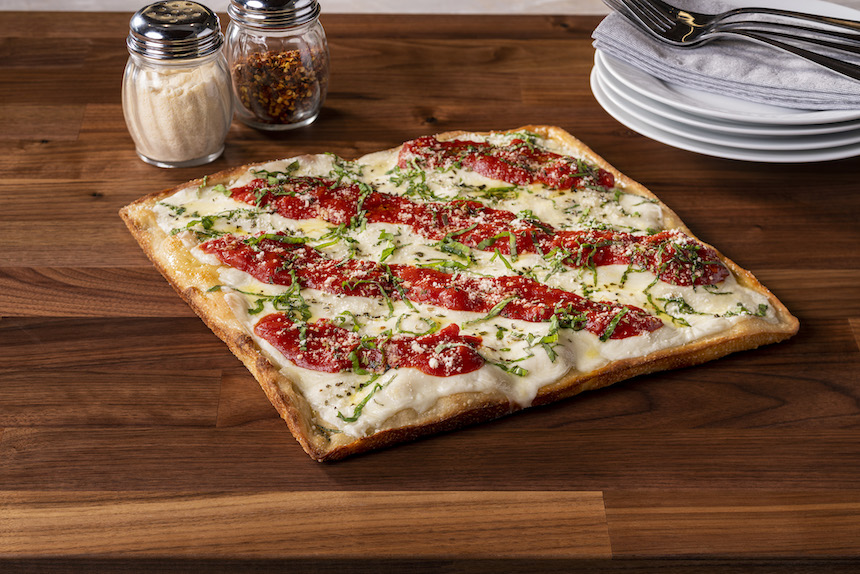 Introducing Grande AvorioTM Fresh Mozzarella Loaf, a traditional East Coast specialty cheese with a clean dairy flavor to help you create authentic East Coast pies like Grandma Pizza. And authenticity is something your customers are craving. In fact, 49% of consumers say they want to see more authentic pizzas.1 Avorio's flavor and creamy, delicate texture are sure to create new fans of your pizzeria and keep them coming back for more since 62% of consumers return to their favorite pizzeria because of great-tasting food.2
The Avorio Difference
Clean dairy flavor
Tender, delicate and creamy texture
All natural
Minimal flow and stretch
Natural white color – free of additives like titanium dioxide
No need to drain prior to baking
Not only does Grande provide a product you can count on, we also have recipe ideas to inspire your next new menu item.
Try these recipes featuring Grande Avorio
Visit www.grandecheese.com/products/avorio to learn more, request a sample and watch chef Laura Meyer's Grandma Pizza demo.
Grande Cheese Company is an Italian Cheese company based in Wisconsin. For over 75 years, Grande has been recognized by Independent pizzerias and Italian restaurant operators for having the best quality Italian cheeses available. We challenge our team to pursue and exceed the highest quality standards in everything we make. The proof is in the flavor and consistency of our products, keeping your customers coming back time and time again. All our cheeses are made from only the freshest, all natural ingredients and never include additives, fillers or preservatives. Why? So you get the consistency of flavor, yield and melt each and every time. Our cheese performs so you can focus on creating great food and a successful business. Grande is committed to championing independent operators with a spirit and shared passion for excellence.
For more information, call Grande at 800-8-GRANDE (800-847-2633), email us or visit us at grandecheese.com.
1Technomic Pizza Consumers Trend Report, 2018
2Path to Consumption Study, Datassential and Grande, 2018