Grande Asiago is the perfect complement to nearly any dish and a great way to create a signature flavor your customers won't be able to get anywhere else! Grande Asiago has a distinct, slightly buttery and earthy flavor with a subtle mushroom note. Grande Asiago is aged over 6 months to provide you with consistent flavor and performance each and every time.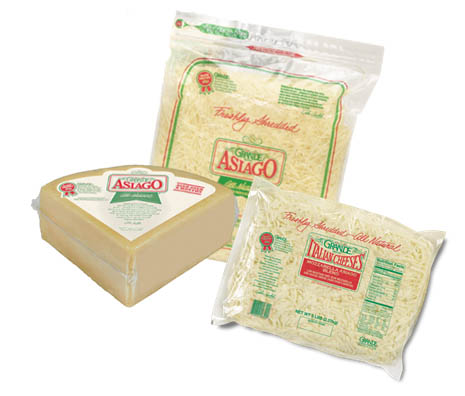 Did you know that 48% of millennials will try a new food simply because it sounds interesting? By adding specialty pies or premium toppings to your menu, you can build profits and create dining experiences your customers will want to come back for.
Try some of our recipes featuring Grande Asiago:
Grande Asiago pairs well with mushrooms, artichokes, sun-dried tomatoes, grilled vegetables, grapes and pears to name a few. For more recipes featuring Grande Asiago or our other fine Italian cheeses, visit our website. Asiago is available in three convenient forms:
Asiago Quarters: Our most versatile form, great whether it's shredded on pizza, grated as a special finish to any pasta dish, shaved for salads or cubed for antipasto
Asiago Shred: Enjoy the convenience of a pre-shredded product, perfect for salads, pasta, dips, sandwiches, sauces or baked into Asiago crisps
Mozzarella Asiago Blend: This blend combines the flavors of Grande's signature Part-Skim Mozzarella and Asiago. Take your pizza to the next level with this differentiated flavor
Grande Cheese Company is an Italian Cheese company based in Wisconsin. For over 75 years, Grande has been recognized by Independent pizzerias and Italian restaurant operators for having the best quality Italian cheeses available. We challenge our team to pursue and exceed the highest quality standards in everything we make. The proof is in the flavor and consistency of our products, keeping your customers coming back time and time again. All our cheeses are made from only the freshest, all natural ingredients and never include additives, fillers or preservatives. Why? So you get the consistency of flavor, yield and melt each and every time. Our cheese performs so you can focus on creating great food and a successful business. Grande is committed to championing independent operators with a spirit and shared passion for excellence.
For more information, call Grande at 800-8-GRANDE (800-847-2633), email us or visit us at grandecheese.com.