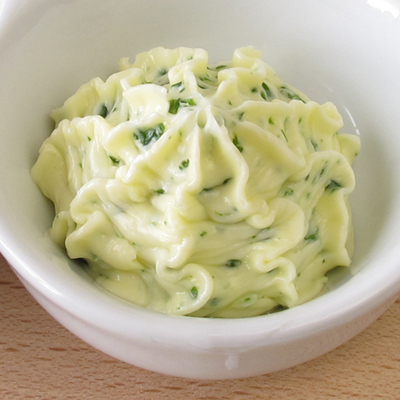 Kagome's latest culinary creation, Roasted Garlic and Herb Buttery Spread, helps translate culinary trend of butter spreads to your menu. Thanks to sourcing the highest quality ingredients, combined with culinary expertise, Kagome's sauces and spreads are the gold standard in flavor and quality.
Additionally, one of our main goals is to provide customers with the highest level of food safety.  Kagome's production facilities are SQF Level 3 Certified.
Buttery Spreads are a simple, culinary concept with endless flavor combinations. Kagome's Roasted Garlic & Herb Buttery Spread is a softened butter and oil blend, combined with smoky roasted garlic and a variety of Italian herbs. Roasted garlic and herb buttery spreads are a versatile food, ideally used as a dipping sauce for breadsticks, a brush on for pizzas, a meat topper for proteins, or a flavor boost in stir-frys. 
Keto-friendly, buttery spreads can be made vegan, kosher, and halal suitable.
Available in pack sizes from 0.5 pound to 3 pound frozen tubs.
About Kagome
Kagome has been a Leading Company in the Production of Custom Sauces for more than 100 years. Our production philosophy is based on first-time quality. We guarantee a quality product, thanks to the strict tests that our quality laboratory performs on our buttery spreads, throughout the cooking process.
To learn more visit http://www.kagomeusa.com, email us at ideations@kagomeusa.com, or call 650-645-7633.