Proceeds go to "Folds of Honor" Foundation
(ELWOOD, IN) – Red Gold Ketchup bottles will have a new look as part of its partnership with the Folds of Honor Foundation that provides educational assistance to the families of fallen or disabled military heroes. The foundation's distinctive emblem, to be added to the company's ketchup 20oz and 14oz squeeze bottle labels, will raise awareness of the foundation and financially benefit the one million Americans whose family has been adversely affected by a sacrifice of a hero in service to the nation.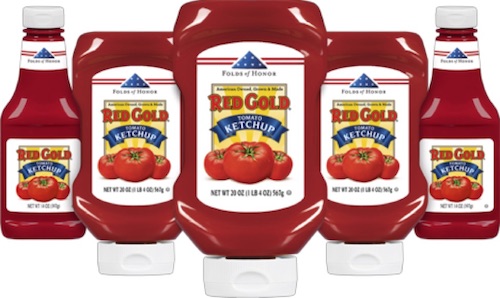 "Our company's origin was to provide food for troops during World War II in 1942," says David Halt, Red Gold's Vice-President for Foodservice. "Our new partnership with Folds of Honor is a natural extension of our support to military families who have already given so much to our nation."
Since 2007, the Folds of Honor has carried forth this singular, noble mission – to honor the sacrifice of America's heroes, while giving hope to the bearers of their legacy. We will stand in the financial gap of the more than one million dependents adversely affected by war, providing educational scholarships to the children and spouses of those fallen or disabled while serving our nation. "We are so humbled, so excited and so grateful for Red Gold's support and selecting us as a partner," says Ben Leslie, Folds of Honor Executive Vice President.
Red Gold will donate a portion of the proceeds from the sale of the company's Red Gold branded ketchup to the organization. "Foodservice operators can support Folds of Honor when they purchase our Red Gold premium ketchup," says Halt. "Every operator can easily share their support for the organization with their own customers with every Red Gold "Folds of Honor" ketchup bottle on their tables. Together, we will "Honor Their Sacrifice.  Educate Their Legacy."
About Red Gold
Four generations of the Reichart family have been producing premium quality tomato products since 1942.  When the US entered WWII, the government asked citizens to step up and help the war effort and the call was answered.  Since then, Red Gold has become the largest privately-owned tomato processor in the nation with three state-of-the-art facilities in Elwood, Geneva, and Orestes, Indiana.
The company also boasts a million square foot distribution center in Alexandria and operates the subsidiary RG Transport trucking fleet in Elwood.  Red Gold partners with local family farms across Indiana, southern Michigan, and Northwest Ohio to sustainably produce premium quality canned tomatoes, ketchup, sauces, salsas, and juices for foodservice, private brands, export, co-pack, and club channels of distribution.  The Red Gold family of consumer brands includes Red Gold, Redpack, Tuttorosso, Sacramento, Huy Fong, and Nickel City.  Exceptional quality and operational excellence are the shared values that contributed to the employee-created mission statement: "To produce the freshest, best tasting tomato products in the world."
Visit www.RedGoldFoods.com to learn more about Red Gold.