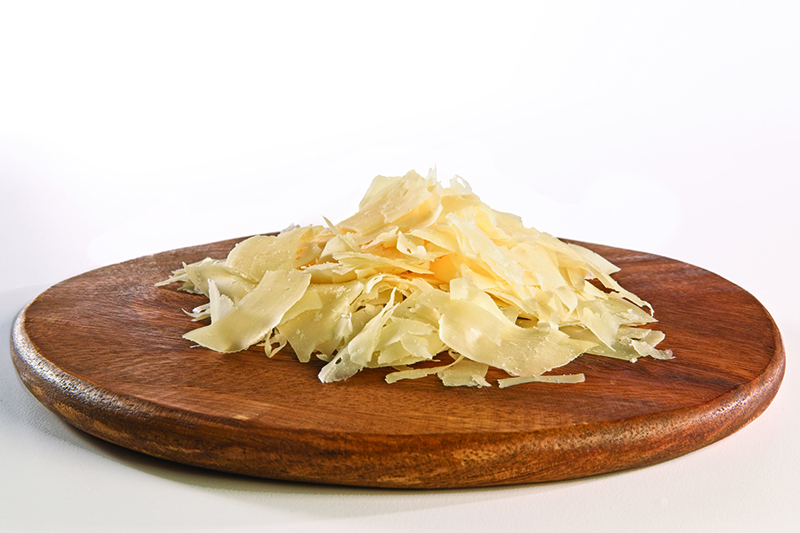 Grande Shaved Parmesan is the same full-flavored, subtly nutty taste you expect from Grande Parmesan, delicately shaved to add a signature taste and look to your dishes. Grande Shaved Parmesan is all-natural, free of fillers and preservatives. This cheese is aged a minimum of 10 months and will have a firm, granular texture and a slightly nutty, sweet flavor with rich, cooked notes and a buttery aroma.  According to Datassentials, Parmesan is found on more than 90% of QSR Pizza and Italian restaurant menus, make sure you have the ingredients your customers are looking for. Parmesan is most commonly used on salads but growing most rapidly on pizza and non-fried appetizers. Thinking about adding Shaved Parmesan to your menu? Here are some ways to help you increase check averages:
Add Shaved Parmesan to existing appetizers and charge more for it. According to Datassentials, consumers will pay an average of $2 more for an appetizer with Shaved Parmesan. Try Grande's Smoky Parmesan Garlic Wings or Parmesan Cauliflower Fritto recipes! Did you know, more than half of consumers say they order chicken wings with their pizza occasionally or every time they order (Datassentials Pizza Report 2018)
Introduce and suggest new appetizers featuring Shaved Parmesan. Check out these great recipes featuring Grande Shaved Parmesan to inspire you to add Shaved Parmesan to your menu.
Suggest Shaved Parmesan as an add-on pizza topping and charge for it.
Grande Shaved Parmesan's taste will keep customers coming back for more.
Grande Cheese Company is an Italian Cheese company based in Wisconsin. For over 75 years, Grande has been recognized by Independent pizzerias and Italian restaurant operators as the best quality Italian cheeses available. We challenge our team to pursue and exceed the highest quality standards in everything we make. The proof is in the taste and consistency of our products and it's what keeps your customers coming back. All our cheeses are made from only the freshest, all natural ingredients and never include additives, fillers or preservatives. This ensures that you get consistency of flavor, yield and melt day in, day out. You never have to worry about the performance of the cheese so you can focus on creating great food and a successful business. Grande is committed to championing independent operators with a spirit and shared passion for excellence
For more information, call Grande at 800-8-GRANDE (800-847-2633), email us or visit us at www.grandecheese.com.