Getting the word out about DELCO only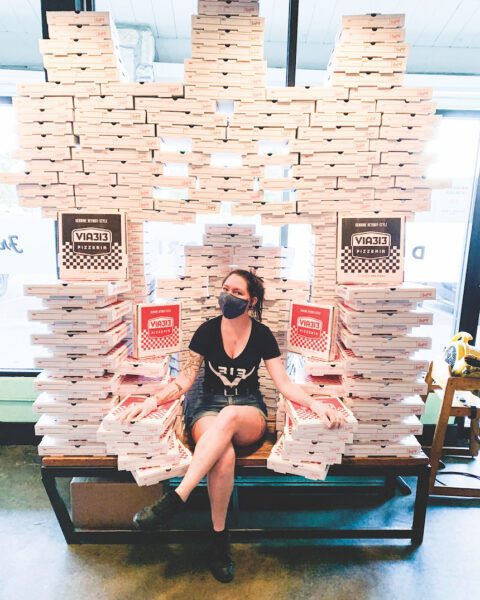 As the COVID-19 crisis unfolded and restaurants closed their dining rooms to comply with state and local mandates, many turned to a delivery and carryout (DELCO) model only. Pizzerias had a head start in this transition, as most already provided to-go orders. Still, they had to boost their communications efforts to make sure customers knew the places were still open, which items were available for pickup or delivery, and even that they were offering deals.
Social media has been the main channel for letting customers know delivery or takeout are available. Businesses engage with customers on Facebook and Instagram by posting fun and informative videos, inviting customers to post photos and offering promotions. "The first two weeks we were very consistent about posting every day," says TJ Messerschmitt, owner of Fatty's Pizzeria in Breckenridge, Colorado. "That reached quite a few people right away."
The posts ranged from a video of a camel eating a slice of pizza on Wednesday (hump day), to traffic-driving promotions such as a large one-topping pizza for $15. Messerschmitt also uses Google Posts, updates that show up in the local panel on Google search and Google maps. "It was very successful," he says of the discount. "People appreciate it."
Offering a discount might seem difficult during these challenging times, but customers are looking for deals as they stay home. At the 48-location Russo's New York Pizzeria, the Taste of Italy Spaghetti and Meatballs for Two for $19.95 has been very successful. Other deals include free medium pizza with a large pizza when ordering online, and a free appetizer with a specialty pizza. "We knew that families, moms and dads at home with the kids, were our target," says Anthony Russo, founder and president. "We knew they want value offers."
The Houston-based Russo's posted videos on Facebook and Instagram, showing, for example, how their in-house delivery drivers are trained to do contactless transactions. To reinforce the messaging, Russo's also sent out direct mail. "Everyone is home looking at their mail," Russo says. "When the postcards actually hit the neighborhoods, we immediately saw response. Customers walked in with the postcards and said, 'I just got this in the mail. I didn't know you were here.'"
Others agree that low tech marketing works well when paired with social media. Sauce on the Blue, located in Silverthorne, Colorado, has run an ad on the back page of the local newspaper, the Summit Daily News, since the eatery opened in 2016. Sauce also has Facebook posts, and the Town of Silverthorne helps by listing local restaurants open for takeout and delivery on its website.
Takeout used to account for only five to 10 percent of orders at Sauce, a full-service restaurant with a patio. "We are luckier than a lot of restaurants," says managing partner and owner Tim Applegate. "We always had a to-go model in place."
The model changed slightly, as the menu items became available for curbside pickup only. Instead of adding an app or online ordering, Sauce simply let customers know they could call in their orders. Customers order, read their credit numbers on the phone, and when they arrive, they put a sign with their last name in their car window. "We walk out with the pizza, put it in the back seat or trunk, and wave goodbye," Applegate says.
Curbside takeout has long been popular at the 16-location Regina Pizzeria, headquartered near Boston. Some locations, such as in shopping malls, closed temporarily, but six remained open for curbside pickup and for delivery through third-party companies such as DoorDash, Grubhub and Uber Eats. Curbside has its advantages, says Stuart Thompson of East Coast Associates, the Beverly, Massachusetts-based firm that handles marketing for Regina Pizzeria. "There are cost savings from not having to pay delivery fees or upcharges," he says. "It's the same as picking up at the store, and they don't have to leave their car." The Regina locations that offer curbside pickup have cameras so that workers inside can see when customers drive into the designated area.
Like other pizzerias, Regina announced the shift to delivery and curbside pickup on social media. There were also e-mail blasts to the chain's large database of customers. The messaging was updated often to keep people interested. "Just doing the same e-mail repeatedly will probably drive people to unsubscribe," Thompson says. "So, you have to be creative." Also, he says, it doesn't hurt to include heating instructions with the pies.
It helps to also include information about limited hours, and about details such as price changes. Via 313 Pizzeria, with five locations in Austin, Texas, uses Facebook, Instagram, Twitter and e-mail messaging to indicate the hours, new setup and new products. "We added a 15 percent service charge on all orders to make sure the staff is getting theirs," says co-owner Brandon Hunt. "It's worked very well for us."
Operators use social media not only to update customers but also to offer feel-good messaging during the crisis. Many restaurants posted photos of their food donations. "As part of what we do we always give back to our community," says Bill Jacobs, founder of Piece Brewery and Pizzeria in Chicago. The eatery donated pizzas to Chicago Fire Department Engine 35, the City of Chicago's Office of Emergency Management and Communications and the Chicago Police Department. "What we're trying to do with Piece is to connect with people, let them feel good, and say it's going to be okay. We're trying to make the best of the situation." (The eatery stayed open for takeout only until April 5, when it announced a temporary closure.)
These efforts are important not just to endure the pandemic but also to build future business. "People are going to say, 'We ordered from 10 places and we like seven of them so we put them in our rotation,'" says Thompson, from Regina Pizzeria's marketing firm. "We want to make sure a new customer has a great experience and becomes a customer for the future."
Nora Caley is a freelance writer who covers small business, finance and lifestyle topics.