Menu size can be a critical element to your pizzeria or restaurant. Believe it or not, offering either too many or too few items can detract from your business. Offer just a few items and you're at risk of discouraging a repeat visit. Offering too many items can just confuse the guest, not to mention waste product and ramp up prep time/costs. I think a large variety is great for the consumer. I like to make sure that there's something for everyone on the menu, but that doesn't necessarily mean bringing in a slew of ingredients.
I try to teach folks that when it comes to menu creation, try to use your ingredients in a variety of ways. This increases your menu choices without increasing your inventory. Let me give you an example. I found a pulled pork product that was of great quality
as well as a great value. I was creating a new gourmet sandwich section to my menu and wanted to bring this pork in for a Cuban panini. Since I try my best not to have an ingredient in my shop for just one menu item, I decided to create a BBQ Pit Pizza, which included the pulled pork. I already had a BBQ chicken pizza on the menu, but this just created a brand new gourmet pie utilizing only one new ingredient. This ensured that we moved the product fast enough to deter waste. It also maximized the productivity of the pulled pork.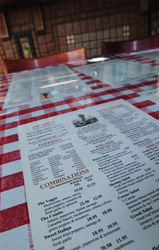 Another example is artichoke hearts. Great pizza topping, sure — but they have ups and downs in terms of movement. So to maximize the use of the artichoke hearts, incorporate them into a few other dishes on the menu. For example, artichoke spinach dip has become a very popular appetizer on menus across the nation. Just make sure your recipe is better than what these chains are putting out, which is actually a very easy task. An artichoke and Parmesan pesto is great to serve with crostini (bread crisps) as an appetizer. In the appetizer segment, I recently decided to start breading and frying artichoke hearts and serve them with our homemade ranch for dipping. That has not only added a great new appetizer without bringing in a new ingredient, but it also has kids loving artichoke hearts. That's always a plus in my eyes. Another thing I did was to add a Roman vegetarian pizza with Alfredo sauce, artichoke hearts, olives, tomatoes, spinach, garlic and crumbled feta cheese. It has been a real crowd pleaser.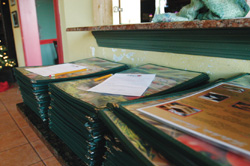 Now, let's talk pasta. Pasta is a popular and growing segment in the pizzeria arena — and if you haven't already jumped on the noodle wagon, I suggest that you do. Carrying through with the theme of incorporating ingredients into different recipes and segments of your menu, pasta is the perfect vehicle to allow this culinary way of thinking. If you do add a pasta section, really consider adding a whole-wheat spaghetti as an option. I fi nd it to be popular with those looking for healthier choices.
If you are getting my drift, you can take a look at your existing food inventory and fi nd ways to create new menu items out of them. You probably have enterprising staff that would love an opportunity to create something new. If not, invest in having a local, talented chef come in for a half-day to look at what you have for ingredients and create some new menu items for you. While we're on the subject of menu development, this is also the time to get rid of the dead weight items that just don't move. It may be your favorite, but if customers aren't ordering it and there's waste involved, set aside your personal love for this item and get rid of it. ?
Jeff Freehof, owner of The Garlic Clove in Evans, Georgia, is a frequent contributor to Pizza Today and the Pizza Expo family of tradeshows.