Money is why we work and you may think that it's the reason employees leave their jobs. But while compensation is a factor, it's simply one reason that workers move on, and is an easy problem to fix.
We've found five other significant reasons why employees chose to not stick around to make and serve your pizzas:
Work isn't fun. It's not possible to have fun all the time, but if work is a place employees dread going to, they're likely to leave.
"People quit because the energy level and the excitement in the store is not something they look forward to," says Al Newman, director of training for Hungry Howie's Pizza in Madison Heights, Michigan, which has more than 550 restaurants in 20 states.
Charlotte, North Carolina-based Brixx Wood Fired Pizza runs occasional games or contests to bring fun to its 21 stores. The company rotates job functions for kitchen workers on slower days to keep things interesting and for cross-training purposes.
"Employees have fun when they are succeeding and it is our job to make sure they have what they need to succeed," says managing partner Jeff Van Dyke. It's so important to have fun that at Nick's Pizza & Pub in Crystal Lake, Illinois, it's one of the core values. "We create an environment of team work, which relieves stress," says owner Nick Sarillo, who also penned the book A Slice of the Pie: How to Build a Big Little Business. "We have games and contests every night and big celebrations when someone accomplishes something positive," he says.
Ensuring your employees have fun is pretty easy, says Larry Vivola, owner of Inline Business Advisors, a business coaching company based in Phoenix, Arizona. "Have contests, themed days at work — favorite sports jersey day, Halloween in July, etc.," he says. "This makes work fun, plus engages the customers and fosters more conversation."
Employees are poorly trained.
"When employees are not trained properly they don't feel good about the job they're doing and feel incompetent," explains Vivola.
If all employees are thoroughly trained it's easier for everyone to work together since they're all on the same page and all pulling their weight, says Joe Liguori, owner of four-unit Pizzeria Valdiano, in Winter Park, Florida. "It makes sure everyone is working as a team and creates a positive work environment," he says.
Nick's Pizza & Pub is very thorough with its training. New hires have a two-hour sit down with a trainer before starting work and they receive a package that spells out the company's expectations of them. And finally, they work with a trainer until the trainer believes they're ready to work on their own.
Managers at Nick's also talk with new hires at the end of each training shift about what they think went well, what they could have done better. "What is essential about this first step is that it builds a relationship right from the start," Sarillo says.
Failure to train your staff undermines their personal security and delivers a message that they are not very important to the success of your organization," says Bill Marvin, a restaurant consultant based in Gig Harbor, Washington. "If you don't care, why should they?"
Employees feel unappreciated. In the fast pace of pizza restaurants it's easy to focus on what employees are doing wrong, but that's a mistake.
Managers at Brixx are proactive about showing their appreciation of workers. "We ask them to keep score every day to make sure they positively enforce each employee once or twice," says Van Dyke. "So they have a little scorecard and when they catch an employee doing something they like, they praise them, preferably in front of everyone, and put a check mark privately on their card. I think that goes a long way."
Nick's Pizza & Pub celebrates the little behaviors every day. "What motivates (employees) is the recognition from myself and the leaders," Sarillo says. "It's a high-five, it's verbal recognition in the moment, focusing on the positive."
"Notice even the small things your employees do," says Marvin. "As a
manager you don't manage people; you inspire people. If nothing else, your job is to be a cheerleader."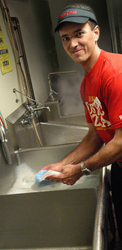 Poor communication from management. You have to communicate with your employees in the way that most resonates with them and Newman has found that most of Hungry Howie's workers are in the Generation Y age group.
"They don't like long drawn-out processes for communication," Newman says. "They like it short and sweet and to the point." Another aspect of Generation Y employees is that they need feedback, reassurance and recognition regularly. "But they're often not getting it because Baby Boomer bosses think they want them to be hands-off," Newman says.
Hungry Howie's will give recognition verbally in the moment, in a team meeting, or mention employees in a blog or newsletter. "And when we award monthly bonuses, we perform presentations in front of the entire management team," Newman says.
But simply communicating — actually talking to your employees — is the most important thing, since it makes them feel important and involved in your company, says Marvin.
"We ask our leaders to be coaches not cops," says Sarillo. He also asks his managers to provide direct feedback during shifts. "We are coaching in the moment and giving feedback," he adds. "There's no need for annual reviews when everyone knows where they are with their performance every day."
Not fitting in. Working with people you don't get along with can really be a drag. And if your employees are unhappy with their colleagues, they're going to look for another opportunity. So what's vital, says Van Dyke, is that owners and managers hire the right personalities for the right jobs. At least two Brixx managers interview job candidates and often an hourly worker will meet them too, "which gives a broader picture of that candidate," Van Dyke explains.
The right personality is the most important thing to look for during the interview, says Newman. "It's not so much about skills because you can train skills." And to make it fair for all candidates, Hungry Howie's has a list of standardized interview questions to follow.
Sarillo takes a different tack: "We interview for value alignment — do they align with our values because those are the personalities we are looking for. That means they also align with the other employees — they all have similar belief systems."
There's a simple way to ensure employees will fit in, Vivola says: "Make sure that team members are part of the hiring process, since the current staff now has a vested interest in the new hire working out."
Amanda Baltazar is a freelance writer in Anacortes, Washington