The Greek poet Euripides said: "One loyal friend is worth 10,000 relatives." Think about the truthfulness of that statement. Friendship is a relationship we are not born into but still choose to cherish. In the hospitality industry, we form relationships with our customers and treat them like dear friends. We reach out, listen and react to their needs in a sensitive manner. In time we win them over as a friend and loyal fan, not just an acquaintance. This relationship like all others must be nurtured.
The fact of the matter is that:
66 percent of adults surveyed by the National Restaurant Association (NRA) said they'd be more likely to patronize restaurants offering customer loyalty and reward programs.
The restaurant industry is poised for growth as 40 percent of adults surveyed said they are not using restaurant services as much as they'd like.
It costs between eight and 10 times more to attract new customers as it does to keep existing customers coming back.
It stands to reason that focusing on a fan club or loyalty marketing is a great tool to increase customer loyalty, spread positive word of mouth and improve customer satisfaction. It also gives you a competitive edge, as the NRA reports that only about 30 percent of restaurants use such a program.
Why are so many restaurants not using loyalty marketing? Many programs are set up to only incentivize the next sale but not with thought to bringing benefits to both parties involved. For example, you build a fan club, and then send them all the same offer — $2 off a large pizza. Aren't these people the ones who were already buying that pizza at full price? You got them to come back and spend less! Jay Siff of Moving Targets adds: "While I do agree with having a club to help keep your customers loyal, I believe a business needs to think very carefully before they commit to starting a program that constantly gives discounts to their customers. In addition, having to keep track of people's points, etc. can be cumbersome. And how do you ever end such a program without upsetting customers?"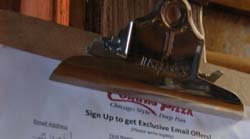 Manny & Olga's Pizza, a 15-unit chain located in the Washington, D.C. metro area, has successfully built their fan club. "It's a good way to have a closer connection to your customers and gives you an extra edge in the pizza wars when the customer is choosing who to buy from," says Haralambos Athanasakis, president of Manny & Olga's Pizza Systems Inc. To keep his edge, Athanasakis advises operators to be consistent and make offers appealing to your customers — not take a one-size-fits-all approach.
When customers opt in to fan clubs, operators have the opportunity to gather information such as birthdays, the anniversary of their first order, menu preferences, favorite sports teams etc., Operators can then be specific in your marketing. While Athanasakis could do this himself, he advises against that — at least initially. "Don't do it yourself in the beginning," he says. "Get a company to do it for you to get a feel for it, and then you make a decision what is good for you." A dedicated company can help you to create a professional branded design template and coach you on offers and copy that get results. They also have resources to help you collect information needed for your database, such as adding online registration forms to join a club or sign-up sheets for in-store use. Reports provided by the service can help you determine the appropriate frequency for sending out messages to your fans.
Fan clubs allow you to do more than make a financial transaction. A good friend of mine made me some cinnamon rolls and when she packaged them up, she included a family newsletter. As I ate my cinnamon rolls, I read the newsletter and felt all good inside. Why? She made me feel special and she made me want to reciprocate. I loved the cinnamon rolls and her newsletter let me know of the new business she was starting — Grandma's Doggie Day Care. The cinnamon rolls got my attention, the newsletter bonded us, and I will now always think of her when I need a dog-sitter. Your fan club can work the same. Today, I received an e-mail from Tutta Bella in Washington. They introduced a new pizza and made an offer for me to try it. They also paired it with a wine. And to seal the deal, their executive chef told a love story of when he first tasted this particular pizza in Naples. Fan Clubs utilized in such a way can get customers to try new things and to up-sell them on other complimentary products. This helps to give them a reason to increase their frequency to your establishment and raises the check average.
Athanasakis follows the same path, "We send out mostly coupons or offers two times a month and announcements, new menus items, stores openings, etc. We try to keep it fresh with new and rotating coupons." He is able to track effectiveness through a monthly report of how many were sent out and how many were opened all the way through. A POS system makes it easy to track who is eating at your restaurant, when and how often. "Let the business decide who, how and when they want to offer rewards," Siff adds. "And in behavioral psychology, it's recognized that variable reinforcement is more effective than constant reinforcement. So the customers feel special for joining but the business controls the rest."
Recall the old German saying: "Whose bread I eat, his song I sing." With loyalty marketing they will be eating and singing right out of your hand.
Scott Anthony is a Fox's Pizza Den franchisee in Punxsutawney, Pennsylvania, and a marketing consultant in the pizza industry. He is a frequent guest speaker at Pizza Expo.