Do you know the law when it comes to hiring immigrants?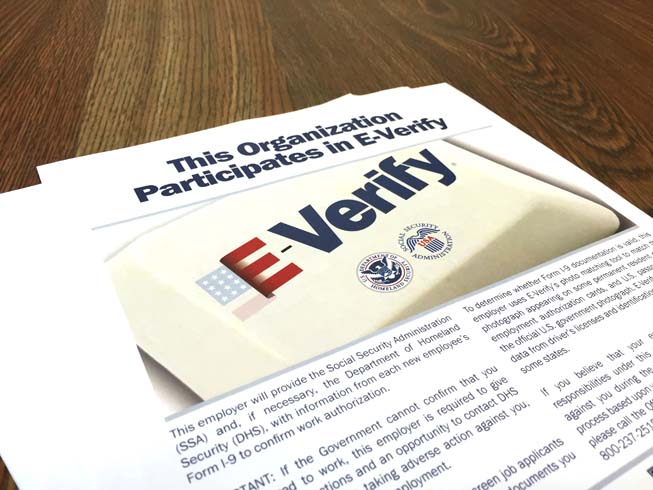 Hiring a worker who is not legally authorized to work in the U.S. is likely only to bring hassles for pizzeria owners.
Those costly and time-consuming troubles could include an audit, which many businesses have faced in recent years. Immigration and Custom Enforcement has audited more than 8,079 employers and imposed $87.9 million in fines for businesses hiring unauthorized workers since 2009, according to a 2013 report by the Migration Policy Institute.
While the majority of U.S. employers are not currently participating in E-Verify, many are using it to confirm their new hires are legally able to work in the U.S.
E-Verify compares information from the worker's Employment Eligibility Verification (I-9 form) against millions of government records. It is a free, Internet-based system administered by the U.S. Department of Homeland Security, U.S. Citizenship and Immigration Services and the Social Security Administration.
If the information matches, the employer receives an Employment Authorized Response for the new hire from the system. If the information does not match the employee is designated as "tentative non-conforming" and is given the chance to resolve the problem. If an employee cannot provide the correct documentation or does not contest the non-conforming result then the employee must be terminated.
USCIS reports that 500,000 employers nationwide are using E-Verify, and 1,400 new companies a week are participating. Angelo Amador, vice president of labor and workforce policy for the National Restaurant Association, says restaurants, too, are among the users of E-Verify even when it is not required by law in the states where they operate.
"It's becoming more common. A lot of restaurants are using it. Some companies are even requiring it in their franchise agreements," Amador says.
Use of E-Verify may be mandated across the nation under proposed federal legislation.
Martha Potvin, manager of office administration for America's Incredible Pizza Company, says her company has used E-Verify for the past seven years to confirm the employment eligibility of her company's 600 workers.
During that time she says there have been only a handful of occasions when an employee's documents did not pass muster. When that has happened she says an employee must present the proper paperwork within a designated time frame or be terminated.
"We've had a few times where we weren't able to confirm the paperwork," she says. "Usually if they can't provide the legal documentation the employee just doesn't come back."
Potvin, whose company has five stores in Missouri, Oklahoma, Texas and Tennessee, says it was easy to learn how to use E-Verify. Katie Harlan, human resources director for Spinato's Pizzeria, which has five locations in Arizona, agrees. "It's fairly easy –– the whole process is to log in, put in the candidate's information and then the system tells you fairly quickly whether the information makes them eligible to work in the U.S."
According to USCIS, it takes just three to five seconds for the system to provide a response once the information is entered.
Harlan says online training for E-Verify also was easy. "They go through it and explain it. Then you have to pass a test before you can use it," she says.
Spinato's Pizzeria has one person who is trained and designated as the lead user of E-Verify and another employee who serves as a backup when that person is on vacation or out of the office.
"We run it all through one person. We find it's easier to follow up," Harlan says.
That person follows up with store managers when a new hire receives a tentative non-conforming response or there are any other questions that need to be addressed.  Store managers are required to get the proper documents from the employee and review them.
"The manager still needs to verify that the documents look authentic," Harlan says, adding that she thinks E-Verify could be improved if simple mistakes, such as misspelling an employee's name or mistyping a social security number, were easier to fix.
"It's be nice if you could just click (and correct) what you sent rather than go back through the whole thing," she says.
When an employee at America's Incredible Pizza Company is terminated for not being authorized to work in the U.S. Potvin says it represents a loss for the company because it has already trained and made other investments in the new hire. "It doesn't happen a whole lot," Potvin says. "It's a chance you take because the person did well in the interview."
Despite those problems Potvin and Harlan say they are happy that their companies are using E-Verify.
Harlan says using E-Verify makes her feel like the responsibility of confirming an employee's authorization to work in the U.S. does not just fall on her or another person's shoulders. "I think it takes the burden off the individual," she says.
Potvin feels more confident about the work status of the employees her company hires, and that affects the whole business environment. "It makes for a calmer, more peaceful business," she says.
Paperwork Pitfalls
No system is perfect and E-Verify, though it boasts high user satisfaction, could be improved, says Angelo Amador, vice president of Labor and Workforce Policy for the National Restaurant Association.
If a federal law is passed that requires businesses across the country to use E-Verify, Amador says the association wants to make sure that businesses are not penalized for clerical errors.
Audits of I-9 forms have become more common which is one reason why the proposed law is being scrutinized by the association. "There have been a lot more audits so we're asking for more safeguards and clarity," he says.
Amador says businesses that are audited should be allowed to fix clerical problems without fear of penalties or fines. "If it's merely a paperwork violation. If there are no unauthorized persons working — just let them fix it and move on," he says.
The restaurant association also recognizes that not every restaurant is comfortable with an online system, and wants other options for them.
"We understand that they might have to create a paper-based system with a phone number that you'd call," he says.
Annemarie Mannion is a freelance writer living in the Chicago area. She specializes in business and health stories.