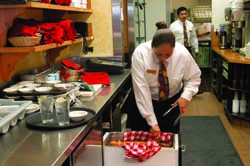 Inside the Chicago-based corporate office of Home Run Inn, a wall features dozens of photographs of employees who have been with the 90-year-old company for more than two decades.
For Home Run Inn president Dan Costello, the images not only celebrate loyal employees, but also remind corporate staff that employees — from GMs to busboys — fuel the pizzeria's success.
 In the restaurant industry, where annual turnover can range from 50 percent at upscale spots to 300 percent in quick serves, long-term employees are prized commodities. They increase efficiency with their knowledge; save money and time from having to train new hires; provide consistent service to guests; and allow management to devote greater attention to menu development, marketing, and other revenue-generating initiatives.
While the last recession curtailed job-hopping's pace, the economy's continued rebound has reignited discussions around retention.
Yet, getting employees to stay put, especially in an industry notorious for its stress and low pay, is no easy matter for restaurant operators. It takes effort, strategy, investment and sincerity.
According to Robin DiPietro, associate professor in the School of Hotel, Restaurant and Tourism Management at the University of South Carolina, cultivating long-term employees begins with restaurant leaders seeing their employees as more than temporary industry help.
"Too often, we become our worst enemy and assume turnover," DiPietro says. "We need to see staff as long-term employees before they do."
Then, DiPietro contends, it's about providing a positive work environment, one with competitive wages and benefits, advancement opportunities and responsive management willing to reward employees' efforts, which includes providing incentives and recognition.
Melissa Van Dyke, president of the Incentive Research Foundation (IRF), a St. Louis-based organization that tracks employee engagement issues, differentiates incentives and recognition.
Incentives, Van Dyke says, are targeted at engaging employees in a specific goal and helping them persist toward it. These rewards, which might be based on anything from performance metrics and mystery shopper scores to hustling into the restaurant to serve an unexpectedly packed dining room, might not only boost retention numbers, but also help curb attendance issues, improve customer service and increase sales.
Incentives need not be elaborate or even costly. For instance, perhaps a top performer gets to select the section he'll serve for the evening or receives a complimentary meal for he and a guest.
DiPietro recalls one franchisee within a national chain who rewarded staff with trade dollars that could be used at the restaurant as well as local businesses the operator had created trade agreements with, including the local movie theatre, bowling center and grocery store. DiPietro says incentives like that play an important role in creating an energetic, motivated atmosphere.
"Incentives are a way to create a positive culture and that's what creates longevity," she says.
Though the Bureau of Labor Statistics reports that 2012's average foodservice employee had a tenure lasting a little over two years, Van Dyke says the first two weeks, first month, and first year can be major milestones for employees.
"To help engage employees to 'hang in there' past some of these critical first-year milestones, incentives make sense," she says.
Van Dyke, meanwhile, defines recognition as rewarding employees who have accomplished some important milestone or effort. IRF research shows that electronics, luggage, housewares, jewelry and watches remain among the most popular reward items.
"We have also done research that shows recipients prefer receiving a gift card five-to-one over cash," she adds.
Home Run Inn offers longevity incentives in five-year intervals. When employees hit an employment milestone, they can select their own gift from a catalog program. The company took the program a step further when Edward Prorok reached his 50th year with the company. They handed the now-retired GM keys to a Lincoln.
Similarly, Pizza Luce, a seven-unit, Minnesota-based chain, provides longevity incentives for all employees who reach five, 10, 15, and, soon, 20 years, CEO JJ Haywood says.
"Understanding that five or 10 years dedicated to a single establishment is a very big accomplishment in the foodservice industry, having some sort of reward and recognition for employees when they reach these milestones is critical if you want to ensure they do not become disengaged," Van Dyke says.
I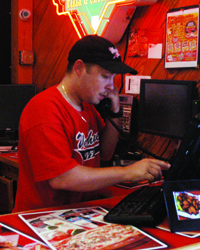 t's important to note, however, that incentives and milestone recognition will never replace the importance of having strong leadership, good training and personable managers.
"I don't know many employees that will tolerate rude bosses, inflexible scheduling and a poor work environment no matter what they might get at the end of five years," DiPietro says.
Home Run Inn's Costello, in fact, believes that "softer" employee engagement issues, such as handwritten notes of appreciation from management or public recognition of quality work outweigh formal incentive programs "nine out of 10 times."
"Retention is driven by people feeling valued," he says. "I believe there's more weight when you can tap into emotions."
Darryl Reginelli, who heads the 10-unit, New Orleans-based Reginelli's chain and spoke about his company's hiring and retention efforts at last year's Pizza Expo, shares Costello's perspective. He says management's little daily actions — jumping in to make pizzas or sweeping the floor — play a critical role in creating a we're-all-in-this-together culture.
"You earn peoples' respect through your everyday actions," Reginelli says. "That's what breeds loyalty."