Honing marketing efforts to a geographic radius reaps rewards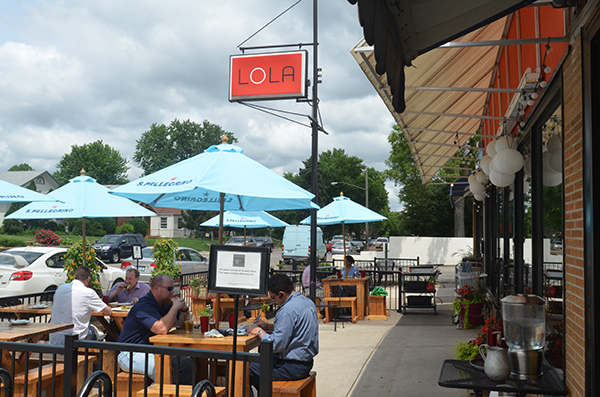 Loyalty is not given, it is earned. You gain frequency with the quality and consistency of your product, your customer service and your overall dining experience.
Your approach to marketing can make or break your brand loyalty in your community. The people in your backyard may hold the key to your longevity. Neighborhood marketing, also known as local store marketing (LSM), creates awareness and initial trial. LSM focuses marketing efforts within a three- to five-mile radius of a restaurant, says Linda Duke, CEO of Duke Marketing, a full-service marketing firm in San Rafael, California. "By focusing on your three- to five-mile radius, you can reach your potential guests most cost effectively and is the perimeter where 90 percent of the restaurant customers will come from," says Duke, who has specialized in restaurant marketing for 25 years.
Craig Mosmen, owner of The Couch Tomato, drew his radius even closer in densely populated Philadelphia. "We mass mail our menu to every resident within a 1½-mile radius from our location at least once a year," he says.
With two locations in small towns, Old Town Pizza's marketing efforts encompass Auburn and Lincoln, California. "The bulk of our marketing efforts remain directly in our community, so roughly four-five miles," says Marketing Director Russ Yeager.
"Obviously our reach is further than that because of social media and contests that we have won, that encompass the Greater Sacramento area."
Unlike traditional advertising, neighborhood marketing positions your pizzeria as a fixture in your community. "The key to local store marketing is to get out in the community and build your brand by talking with people, building trade area relationships and having your restaurant actively involved in the community," Duke says.
Be forewarned, this is a marketing strategy that requires your time and patience. "LSM is work and requires a commitment that pays off over time," Duke says.
But the payoff can be huge. "Those operators who do LSM well spend less on advertising and more time being the place the whole community is inspired to go to," Duke says.
LSM starts even before the pizzeria opens. "You must begin this process from the moment you sign your lease," Duke says. "If you do not live within three-five miles of each specific location and understand all the specific variables of the trade area, you will need to actively engrain yourself in obtaining full knowledge of your community, your competitors and your potential marketing partners."
The Couch Tomato blends community involvement with a loyalty program, mailers and a new-mover program that have provided a high ROI. "We are very aggressive in supporting our local charity and non-profit organizations," Mosmen says. "We set aside a significant annual budget and always support the charities within our market area, along with a few others for which we have a strong support like the local children hospital and LUNGevity. These organizations all know to count on us every year to help with monetary, food-related or auction item donations, and we're always happy to help out! It likely increases our exposure, but most importantly it just feels good to help support the local non-profits and give back to the community." Old Town Pizza's LSM strategy also revolves around supporting its communities. "We market by giving back and being heavily involved with the neighborhood," Yeager says.
"We support organizations that support youth, seniors, schools, animals, arts and local business. Examples of organizations include Rotary, Lions, Soroptimist, Boys and Girls Club, Chambers of Commerce, SPCA, parks and rec, Seniors First and more. We donate gift boxes and do fundraiser days for local organizations. If their event fits into our rules we try to never say no. We also support the local community newspaper and are heavy users of social networking. We have the same philosophy at all locations."
Just as you have a strategic business plan, planning and organization are vital to a successful LSM program. Duke suggests, "Create a community diary. Develop a list of those businesses and organizations in your restaurant's local three-five mile radius. Create a list of names and phone numbers in categories such as: local government officials (chamber and city members), police and fire departments, schools, religious organizations, non-profits, car dealerships, hotels, shopping centers, apartments, banks, etc.
"Once complete, keep them in a binder at the restaurant to use for future reference. Include local key influencers in your community such as government officials, news reporters and key business leaders. Your local chamber of commerce can provide a list of all the businesses in your area for your diary. Join as a member and the cost for the list is generally less."
Duke outlines nine how-to steps to a successful LSM program:
Plan. Do your due diligence; determine your local store marketing promotions and tactics and what program or event will be tested.
Create. Diary of contacts, timeline, materials and tools.
Communicate internally. Meet with GMs, area managers and staff to determine what has worked in the past, and gather information regarding store area, customer profile, etc.
Communicate to guests. Put up a banner, signs, flyers, table tents or check presenters. Send out a direct mailer and e-mail blast. It is also important to send out a press release to the local media.
Coordinate. Put together a communications plan for the LSM activity and communicate to staff and coordinate with partners.
Train. Provide training for execution and implementation of programs.
Test. Create a test program. Analyze test and adjust for all store roll-out or another date with added details to enhance the program.
Execute. Local store marketing promotion plans per store and area.
Evaluate. Measure results and determine next steps.
Failing at LSM derives from lack of consistency and commitment. Remember, neighborhood marketing is an ongoing strategy that should be retooled as your community changes or grows. You will also need to refocus your tactics to reach patrons and potential customers as their communications methods change. Become a fixture in your community.
Denise Greer is associate editor at Pizza Today.