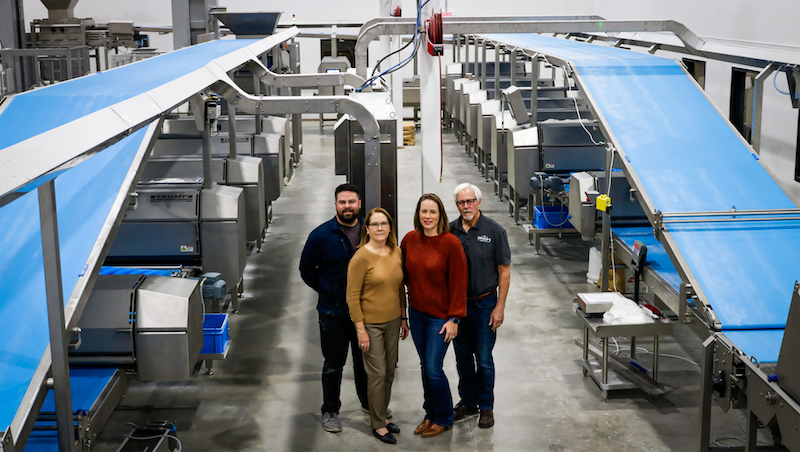 (WAUKESHA, Wis.) — In a year when many businesses are struggling to stay afloat, Baker's Quality Pizza Crusts, Inc., a third-generation family-owned business based in Waukesha, WI, is pushing forward with its aggressive growth strategy by purchasing a new facility and increasing its production capacity.
Located at 1814 Dolphin Drive, the new 25,000 square foot production facility is allowing the company to double its production area and providing the space to consolidate three of its former production lines into a new parbake line with quadruple the production capabilities. In addition, the new facility has triple the size freezer space of the former location.
According to Anne Cookson, VP/Sales "Prior to this move, we were operating at capacity in our old facility, and our business was primarily focused in the Midwest, serving smaller restaurants with one to five locations."
"Our new production facility is providing us the opportunity to explore new markets beyond the Midwest because we can now make a greater variety of products and larger batches of crusts."
Helping to make this growth goal a reality is a new partnership with a national buying group with distributors in all fifty states and Puerto Rico.
"With our new facility and our new buying group, we are now going to be able to serve regional chains with five to 200 stores. It is a huge change for our business strategy and we are very excited about our potential for growth."
A Rich Pizza History in Greater Milwaukee
Although Baker's Quality Pizza Crusts was founded in 1997, the BQ family has roots in the pizza industry dating back to the mid 60's, when Bill and Sue Miller opened a franchised chain of pizza restaurants in the Milwaukee area. Their son, Tom, and his wife Pat Miller, grew the commissary into a regional distribution company, but they sold it in 1997, only retaining the pizza crust manufacturing portion of the business. Tom and Pat then moved to a facility located on Eastmound Drive in Waukesha and Baker's Quality Pizza Crusts was born. Today, their children, Chris Miller and Anne Cookson, oversee the day to day operations for Baker's Quality Pizza Crusts.
In 2018, the company received the Wisconsin Family Business of the Year Rising to the Top Award for their commitment to their employees, the quality of their product as well as their community involvement. The company was also recognized as one of Milwaukee's 2019 Best and Brightest Workplaces. 
Cookson believes their success is the result of the company's commitment to its core values of building their future on the foundation of their past, being deliberate about their growth through innovation and expertise, putting a priority on their people and being focused on being the best in their industry.
"All of our 30 employees truly do matter to us. They are like an extension of our family."
Product lines

BQ currently offers restaurants a variety of crusts including their popular midwest cracker crust, traditional fresh frozen, self-rising, dough balls and gluten free crusts. They also have some signature products that include flatbreads and beer infused crusts.
Their flagship cracker crust is developed using a proprietary process that is unlike anything else in the marketplace. Their unique sheeting process retains the traditional dough qualities unlike more common pressing techniques.
In addition to these products, Baker's Quality also will create or duplicate private labels recipes for customers who no longer want to make their own dough.
"We're all about making life easier for the pizzeria owner who wants to offer a great product that will keep their customers returning for more," said Cookson.