Remember when you were six years old and you were scared of the dark? It wasn't the literal absence of light that you feared, but the unknown. What could be under my bed? In my closet? Outside my window?
Deep in your heart you knew nothing was lurking. But your mind, and every little noise, played tricks on you.
As I write this column in March for publication in the May issue of Pizza Today, many of us are feeling just like that scared little child. The dark cloak of night has settled in and there are strange noises all around. The urge to scream is real.
There are many unknowns. And in business and life, it is difficult to prepare for the unknown. The COVID-19 virus reached global pandemic status and literally shut down entire countries and cities. We spoke to pizzeria owners across the country, and many had the same somber concerns: "We had to let our entire staff go today and we don't know for how long." Some felt delivery and carryout alone could not sustain their business. Others felt positive they would up delivery service and get by. NO ONE had answers. No one.
• "How long will this last?"
• "How do you tell your all your employees they no longer have an income?"
• "Will there be organized relief efforts on the federal and state levels?"
• "Will the government help us out the way they help out farmers, auto makers and airlines?"
• "Does anyone care about small business?"
• "Will I get through this?"
• "Will I be forced to completely go out of business for good?"
These are all questions that were asked, rhetorically, while on the phone with pizzeria owners in Seattle, San Francisco, Houston, Indianapolis, Louisville and New York.
Then there's the little matter of a certain industry event you may have heard of. I mean, Pizza Expo is kind of a big deal…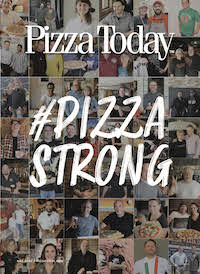 Our office was flooded with calls and e-mails in early to mid-March. Some advised us that it would be prudent and in the best interest of public health to reschedule/postpone/cancel the show.  Others asked us to please proceed as scheduled with no interruption. Initially, we decided to reschedule International Pizza Expo in Las Vegas to the end of June. But then it became apparent social distancing requirements were going to need to be in place longer than we first hoped. Ultimately, Pizza Expo had to be canceled for 2020. Please don't think this decision was taken lightly. Please don't think it was easy.
It was the right decision, beyond question. The gravity of the situation isn't lost on anyone in this great industry, and I know that. The unfortunate truth is that some pizzerias will go out of business as a result of the aftermath COVID-19 is leaving in its wake. The economic impact will be devastating to many, and there are small businesses across America that will not make it through to the other side.
We are here as a resource to educate you. Within a day of the mandated temporary closures that started sweeping the country, we were on it. We were providing information on ways to cope, posting articles from your pizzeria owner peers on the very topic and uploading videos from others who are in the trenches with you. We worked diligently to get an impromptu Virtual Pizza Expo off the ground. We filmed Webinars, interviews and pizza demos, and in a matter of days we released 50 hours' worth of Pizza Expo related content designed to help you run your businesses.
My sincere hope is that by the time this commentary is in your hands that we will be seeing a light at the end of the tunnel and emerging from the darkness that envelopes us as I write this. If we all do our part by isolating and attacking the pandemic, we will get back to business as usual and will ultimately be stronger than ever. That's who we are as an industry. That's why the cover highlights a multitude of pizzeria owners across the country and features the hashtag #Pizza Strong.
I've been doing this for 20 years now. I never thought I'd have to write a column like this. You never thought you'd have to suspend your business, even for a day, for a reason like this. We are in uncharted waters. But we WILL persevere, together. Because we are resilient and it's what we do.
Jeremy White
Editor in Chief