Goodwill is Spreading throughout Metro Detroit
PizzaPapalis is trying to feed every healthcare worker in Metro Detroit as they battle one of the nation's worst outbreaks of COVID-19 with donations from individuals and companies. But it wants to do more – a lot more. That's why founder and owner Joe Sheena is asking every pizza maker in America to take The Pizza Pledge, a promise to provide 1 free pizza to essential workers for every 4 pizza orders placed. Companies can sign up to take the Pledge and get further information and coordination at PizzaPledge.com.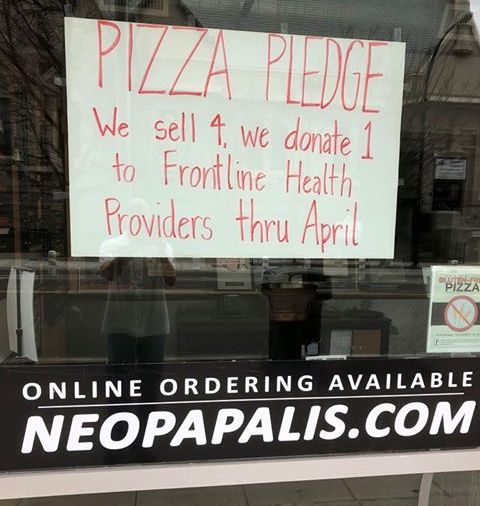 "I woke up the other day at 5:00 in the morning," says Joe Sheena, founder and co-owner of PizzaPapalis, which has been a staple of Detroit pizza for more than 30 years. "I was thinking about a conversation I had with my son, who is an anesthesiologist in New Orleans. He said, 'Dad, I'm working 15-16 hours a day. I come home, exhausted, depressed, there's nothing in the fridge.' To me, all of these people working in healthcare right now are Gabriel, my son."
Sheena was already putting in countless hours himself, like every other Detroit restaurateur. At NeoPapalis, his Ann Arbor location that specializes in "neo-Neopolitan" pizza, he was getting donations from concerned people to run food to U of M hospital. PizzaPapalis' other locations, which include Toledo, have been running pies, pasta, salads and more to Detroit Receiving, Detroit Medical Center, and others.
But in Sheena's mind, it had to be bigger. "I kept thinking of Gabe. I kept getting calls from people that want to help pay for all this." This includes a few Detroit athletes that want to stay anonymous for now. "And the pizza community in Detroit – we all know each other, or know of each other, so I thought, this could really be a movement. And why limit it to just Michigan?"
The Pizza Pledge was born. Sheena and his team, which includes his brother and co-owner, Mark Sheena, the managers of all PizzaPapalis' locations, and Combustion, the Detroit marketing technology company that handles PizzaPapalis' advertising and PR, are still figuring this out as they go. That's why they want as many pizza companies as possible to go to PizzaPledge.com and sign up for further communication and coordination.
Michigan restaurants like PizzaPapalis have been hard hit by the economic effects of the COVID-19 shut down. That hasn't stopped them from soldiering on, offering carry-out and pitching in wherever possible to feed people in need. It's also taken a toll.
"I've never seen anything like it in all my years in this business," says Joe Sheena. "And to have to tell people – like to tell someone that's worked here for 30 years and never missed a day of work in all that time that I had to lay him off…." He falters. Sheena really hopes that this project will not only help him do something to take care of all the "Gabes" in Detroit healthcare, but keep the business he's worked so hard at afloat.
PizzaPapalis and Combustion are doing everything it can to raise awareness of, and drive traffic to, PizzaPledge.com, including spending media dollars to promote the site on Facebook and Instagram. They appreciate any shares, referrals or other aid in that endeavor, and seek to partner with individuals but also those, including companies, willing to make a large donation. For now, all they can do is keep trying.
About PizzaPapalis: PizzaPapalis started back in the '80s with an idea: the cofounding brothers wanted to create the best and freshest pizza known worldwide. So they traveled abroad in search of the finest ingredients the globe has to offer, and they have been going strong ever since. There are now nine restaurants throughout Michigan offering full menus including superior soups, crispy salads, decadent desserts such as their "Deep Dish Chocolate Cookie", and much more. http://pizzapapalis.com