Village plans for immediate expansion throughout the Southeast
May 9, 2023 (COLUMBIA, SC) – After 32 years in business, Columbia's beloved Village Idiot Pizza will now be available in communities across the southeast through franchise partnership opportunities. Village Idiot Pizza's goal is to become a staple in college towns across the U.S. by uniting people through pizza and community. The emerging franchise is looking to begin expansion from Columbia's surrounding areas and throughout the South Carolina region.
Owners Kelly and Brian Glynn, who purchased the original enterprise in 2003, have lasting ties to the restaurant and will be a driving force in supporting future franchisees. Together, they have expanded the Village Idiot Pizza brand to three locations, which have become a pillar in the Columbia community.
"It is our passion for giving guests great pizza and memorable experiences that have led us to the decision to expand Village Idiot Pizza beyond Columbia.  We are truly excited to see this brand, that we have nurtured and grown over the last 20 years, contribute in big ways to other communities across South Carolina", said Kelly Glynn, Co-Owner of Village Idiot Pizza.
With a commitment to treating every franchisee as part of the Village Idiot Pizza family, the company is seeking dynamic business owners who share their values and passion for delivering an exceptional experience to customers. Village Idiot Pizza is committed to providing comprehensive training and ongoing support to its franchise partners.
"Kelly and I have been able to live the dream of operating our own business.  Not only has this given us a great deal of personal freedom, but it has allowed us to be able to positively impact our community in so many different ways", says Co-Owner Brian Glynn.  "It is beyond thrilling for us to enter this next phase of our business – a phase in which we will bring more people into our VI Pizza family.  We will not only show them how to achieve these same goals, but we will walk with them through every step of the journey to ensure the same hard lessons we have learned over the years do not hinder their quest."
For more information about franchise visit villageidiotpizza.com/franchise. For franchising opportunities, email vipfranchising@villageidiotpizza.com
About Village Idiot Pizza
Village Idiot Pizza is a family-run pizza franchise serving authentic, New-York-style pizza in a fun, family friendly, sports-bar atmosphere. The original pizza joint and pub was opened in Columbia, SC's Five Points Village in 1990 by three college friends from New Jersey who lovingly referred to themselves as "the village idiots". Village Idiot Pizza has been owned and operated by Brian & Kelly Glynn since 2003 and is one of the longest-standing businesses in the Columbia, SC area.  The Gylnn's expanded the brand to three locations across Columbia and have built a community around good pizza and giving back.  Village Idiot Pizza is now offering franchise partnership opportunities across South Carolina.
---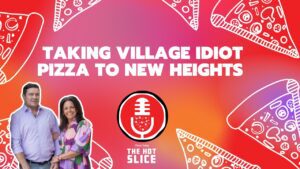 Listen to Kelly and Brian Glynn on Episode 140: Taking Village Idiot Pizza to New Heights on The Hot Slice Podcast.
Kelly and Brian Glynn met while working at Village Idiot Pizza in Columbia, South Carolina in the 1990s. The couple purchased the business in 2003 and have spent 20 years growing the business to three locations, being the hot spot in Columbia and earning regional and national accolades along the way. Hear their pizzeria story and what's next.