Jalapeños bring heat to pizza while keeping the flavor profile of the pie firmly rooted in the Western Hemisphere. That still leaves an open ethnic range to play in — from Mexican to the broader Latin and from Southwest to Cajun. Although chipotles (dried and smoked jalapeños) may be hogging most of the media limelight, jalapeños still have a coveted place on pizzeria menus nationwide. They're available fresh and canned, and carry anywhere from medium to high heat (between 2,500 and 5,000 Scoville heat units). Favored by prep cooks for their ease of deseeding, jalapeños are used in a myriad of applications — including the quick add-on as a topping when a customer wants to spice up their order. But Pizza Today wanted to look at how operators are using this pepper on pizza — beyond a singular topping. The findings? Hot.
Jalapeños are on at least six of The Wedge Pizzeria's 32 specialty pies, which offers by-the-slice and whole pizzas at its two locations in the college town of Iowa City, Iowa. The Wedge favors fresh jalapeños over canned. "The fresh has more spice and a better vegetable flavor," says manager Luther Nash, who sources them from farmers' markets and employees' gardens in the summer and distributors in the cooler months.
On the Chicken Fajita Pizza, jalapeños show up in both the sauce and the topping. Black-bean salsa, studded with jalapeños, is spread over the dough. Cubed chicken breast, white cheddar and Monterey Jack are sprinkled over the salsa. Fajita peppers (cooked green and red pepper, yellow onion, garlic, olive oil, lime juice, jalapeños and proprietary spices) are spread over the pizza, which is then finished with more Monterey Jack cheese and garlic. Housemade salsa, also sporting jalapeños, accompanies the pizza.
"This one is among our top-fi ve best selling specialty pizzas," says Nash. "Cooking the jalapeños mellows the flavor a bit, but you still get that great, fresh heat that you're looking for with the pepper."
In the Western Bacon Cheeseburger Pizza, jalapeño adds to the decidedly all-American profile. Housemade tomato sauce covers the dough. Mozzarella and white cheddar are sprinkled atop, then bacon, ground beef, red onions and jalapeños are added. The pizza is finished with a crisscross of a local smokehouse's BBQ sauce.
Jalapeños jazz up the veggie pizza in the cleverly named Wedgetable Garden Pizza, which sports tomato sauce, mozzarella, red onion, broccoli, green olives, tomato, mushrooms and garlic. For contrasting flavor that brings depth to the pizza, pineapple and jalapeños are added. "The hot and sweet are a pretty tasty combination," says Nash. "But we do get requests to take them off the pizza once in a while. Some folks just like the traditional, but for those that appreciate the flavor depth — they love it."
At Flying Pie Pizzaria in Boise, Idaho, fresh jalapeños make their way onto several different pizzas on the once-a-week Gourmet Night menu. Canned are used on the regular menu's specialty pizza, the Zambini. "Fresh adds a certain zing that we can't get from canned," says Lesley Juel, marketing director of this two-unit concept. "On Gourmet Night, we try to feature the freshest ingredients, offering premium when we can."
But canned jalapeños work well on the Zambini, she says, because they lend the pizza a suitably more mellow heat level. The sourdough is spread with pesto, then topped with mozzarella and provolone, Roma tomatoes, jalapeños, white onion, fresh Italian sausage and garlic.
The Southwest Chicken Pizza starts with a green sauce as the base (blended green-chili peppers, cumin, cornmeal, salt and cayenne). It's topped with mozzarella and cheddar, black beans, yellow onion, fresh jalapeño, tomato, cilantro and chili-powder dusted chicken.
Flying Pie rotates six out of its 60 gourmet pies on any given Gourmet Night, and this particular pizza is "always one of the more popular chicken ones," says Juel.
The restaurant's riff on that deep-fried appetizer darling, jalapeño poppers, is the Jalapeño Popper Pizza. Thin-crust dough is brushed with olive oil, then dusted with cornmeal. Cheddar, black olives, fresh jalapeño and dollops of cream cheese top the pie. "You get these wonderful bites of hot cream cheese that cool down the palate after you bite into a jalapeño," she says.
Victoria's New York Pizzeria in San Francisco prefers the flavor of canned jalapeños on its pizzas. "They've got a nice, medium heat to them," says Antoine Nacouzi, owner. "If customers want super-hot, then I pull out the habañero! For most though, the jalapeño offers just the right amount."
Jalapeños are featured on three of its specialty pies, including La Pizza, which sports Mexican chorizo, yellow onion, green pepper, Italian sausage and jalapeños. "This one sells really well, particularly to my Latino customers. They seem to like the combination of chorizo and jalapeño," says Nacouzi.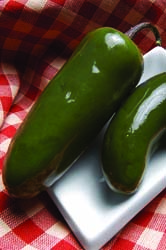 Southwest Pie
Pizza dough, rolled to ½-inch thickness
Proprietary tomato sauce with 1 teaspoon cumin added
1 tablespoon fresh jalapeño pepper, deseeded and chopped
2 red onions, chopped
2 cloves garlic, minced
1 cup mozzarella cheese, shredded
1 cup Monterey Jack cheese, shredded
2 tablespoons Asiago cheese, shredded
Salt and pepper, to taste
1 avocado, pitted, sliced thinly
2 tablespoons chopped, fresh cilantro
Sour cream as accompaniment
Ladle tomato sauce over pizza dough, then top with jalapeño peppers, red onion and garlic. Sprinkle with cheeses; season with salt and pepper to taste. Bake the pizza until golden brown. Top with avocado slices and fresh cilantro. Serve with a side of sour cream.

Katie Ayoub is a frequent contributor to Pizza Today. She lives in Toronto, Ontario.