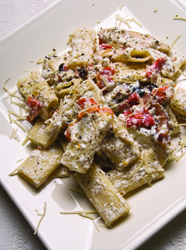 Rigatoni with Chicken & Ricotta
The idea behind this delicious pasta dish is that the ricotta is actually the sauce that coats the pasta. To this end, I like to add a tablespoon or two of the hot water from the pasta pot to thin the sauce just a touch. Various steps can be prepped ahead as indicated in the recipe. So, to order, it is simply a matter of assembling and plating.
Yield: 4 servings (scale up in direct proportion)
1 pound rigatoni
½ cup chopped pancetta
1⁄3 cup extra-virgin olive oil
½ cup fi nely chopped onion
2 boneless, skinless, chicken breast halves, sliced into
¼-inch strips
1½ cups part-skim ricotta cheese
½ cup chopped fresh basil
1 cup grated Parmesan cheese
½ teaspoon salt Freshly ground pepper, to taste
Cook the pasta in 5-6 quarts of boiling, salted water until al dente. Just before the pasta has fi nished cooking, scoop about 1 cup of water out of the pot. Scoop out the pasta and reserve, but keep the water in which the pasta was cooked warm.
Meanwhile, in a large sauté pan, cook the pancetta over medium-high heat, stirring, until the fat is rendered and it is slightly crisp. Add the olive oil, onion and chicken to the sauté pan. Cook and stir until the onion is soft and the chicken is cooked through, about 8 minutes. Keep warm, over low heat.
In a large pasta serving bowl or mixing bowl, combine the ricotta, basil, Parmesan, salt, and pepper. Add the pasta to the bowl with the ricotta mixture. Add the onion and chicken mixture. Add a small amount of the reserved pasta water, just enough to make a loose "sauce." Toss to combine. Portion. Serve.
Chef's Notes: The idea of using the water in which pasta is being cooked is a simple yet effective technique that bears delicious results. The point being that the starch that is thrown off during the boiling of the pasta is a pleasing "secret ingredient" that creams and smoothes out a sauce. I use this technique quite effectively when making a pesto sauce. Also, if pancetta is not available, or you feel the cost is too high, substitute bacon. But drain off excess fat from the sauté pan before adding the onion and chicken.
Pat Bruno is Pizza Today's resident chef and a regular contributor. He is the former owner and operator of a prominent Italian cooking school in Chicago and is a food critic for the Chicago Sun-Times.