It may seem silly to grill a server about the contents of the pizza sauce or the brownie sundae, but to someone with a food allergy or intolerance, it's a serious concern. Jennifer Parks, managing partner of Pizza Fusion in Mesa, Arizona, has two daughters who are wheat intolerant and a mother with Celiac disease, so she attends Celiac support groups and shares stories with her staff to stress the importance of keeping food separate. (Those with Celiac disease can get sick when they come in contact with gluten, the protein found in wheat, barley and rye.)
"Even a crouton touching a salad can put someone in the hospital," Parks explains. "One woman had a crouton fall onto her salad, and it was removed, but she still got sick. (Celiac disease) can be that severe."
Parks bought a franchise of Pizza Fusion, because, as she puts it, "to be gluten-free and dairy-free in Mesa, Arizona, is restricting." The menu features a variety of gluten-free and lactose-free options so that customers with special diets or food intolerances can still dine out. For instance, the pesto sauce is a simplified recipe using organic ingredients and leaving out the pine nuts.
Gluten-free crusts, which are available in egg-free or dairy-free varieties, are fl own in from a Celiac-approved facility in Connecticut and kept frozen in individual packages until the chef uses them. All of Pizza Fusion's gluten-free orders are prepared at a separate station in the back of the restaurant and carefully labeled with a "GF" sticker to avoid confusion with takeout orders. The only toppings that are not gluten-free are the sausage and BBQ sauce.
"We have to constantly educate the staff that, for the most part, has never heard of Celiac disease or gluten intolerance," says Parks. "We are constantly monitoring the gluten-free station, making sure the area and all utensils are properly sanitized and making sure the top level of our oven is used only for gluten-free products."
The restaurant uses a color coding system for its pizza cutters and other utensils to make sure that everything remains separate. Red signals meat, black is used for gluten-free meals, and white means vegan. Parks adds that all their regular pizza crusts are vegan, plus the restaurant offers a soy mozzarella cheese for vegan, lactose intolerant, and casein-free customers (a casein-free diet excludes milk protein). According to Parks, the emphasis on food safety has made her staff, "very respectful and cautious about food sensitivities."
Other pizzerias have become more allergy friendly over time. Laura Hansen, chief operating officer of the Minnesota-based Pizza Lucé, says she's heard repeated requests for gluten-free menu items over the last ten years. The restaurant already caters to vegan customers, so Hansen decided to investigate going without gluten. She contacted a Celiac awareness group and completed their training session to earn a certifi cate. She also found a local bakery that makes vegan and glutenfree pizza crusts, so Pizza Lucé buys its crust through them.
"I went through all of our recipes and our groceries," Hansen adds. "I looked at everything, all the way to soup stock and Alfredo sauce. I highlighted some items that had hidden sources of gluten. I called the manufacturer on a couple of items, like our ricotta cheese, to be safe.""
Pizza Lucé already had a vegan cheese called Rinotta, but it was made from tofu and wheat flour, so the restaurant switched to rice fl our. "We figured we'd appeal to a broader audience this way," Hansen explains.
Hansen also "went gluten free for about a week, so I could have more empathy (about not eating wheat) in a very wheat-heavy society." Last fall, after carefully revamping the menu and training staff through discussions and a special training manual, Pizza Lucé launched a glutenfree menu (complete with salads, appetizers, pizza, desserts, even beer) at its St. Paul location. The menu is available two nights per week, and the staff members who work those nights are specially trained to keep ingredients and utensils separate. They also refer to the ingredient binders for questions about other potential allergens. Although Pizza Lucé uses pine nuts in its pesto sauce (and indicates the use of nuts on the menu where applicable), Hansen notes that they've stopped using peanut butter in the rice crispy bars due to allergy concerns. "We didn't feel like it added much to the fl avor profile," she adds. Hansen also developed a gluten- and lactose-free brownie bar and named it the Molly bar, after one of the CEO's daughter's friends, who is gluten intolerant.
Despite the extra work, Hansen says the positive response has made the shift worthwhile. In fact, Pizza Lucé now offers the gluten-free menu at its downtown Minneapolis location, too. "There are kids that can come and have a birthday party with gluten friends and non-gluten friends," she says. "The owner of the gluten-free bakery came and it was her first time going out for pizza with her daughter. I get emails from people who are so happy to see our menu options." ?
Allergy Awareness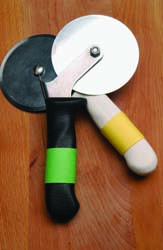 Shari Portnoy is a registered and licensed dietitian who has consulted on food safety for restaurants including Sbarro at the University of Miami, Chili's, and Burger King. Here are her tips on avoiding allergy-related complications:
Separate silverware and utensils. "A lot of places use different color utensils for vegetarian or to distinguish chicken or fish," Portnoy explains. Pizza Fusion uses three sets: one each for gluten-free, vegan, and meat.
Remember the little things. "Besides cleaning the equipment and sanitizing tables, employees have to be careful about bringing their own snacks and leaving them in the fridge next to gluten-free food," she adds. "Consider paper plates to avoid cross-contamination."
When in doubt, use a disclaimer. Portnoy recommends using a disclaimer to warn those who have severe food sensitivities. Pizza Lucé's menu states: "While we intend to offer you a gluten-free meal, we are a fl our rich pizzeria, so please take that into consideration when dining with us."
Susan Johnston is a freelance writer in Boston, Massachusetts. She writes about business and lifestyle topics.