Adam Goldberg, owner of Fresh Brothers in Manhattan Beach and Redondo Beach, California, was slammed — on a Monday. The restaurant's volume was up way more than normal. The lunch rush had extended to 3:30 p.m., leaving staff only one hour to prep before dinner service. Remarkably, staff never fell behind. Goldberg doesn't attribute it to luck but, rather, good prep. "Prior planning and prep is the only way to get through a rush," he says. "And having all hands on deck."
How you handle your pizzeria during operating hours isn't the only element that ensures success. At Fresh Brothers, prep begins at 9:30 a.m. Restaurants offi cially open at 11 a.m. Morning prep consists of preparing pizza dough, sauces, toppings and ingredients for the 40-item create-your-own salad line. Fresh produce is purchased at markets in Los Angeles and kept track of on a weekly schedule. "We like to replace our produce 48 hours after receiving it," says Goldberg.
Securely stored gluten-free pizza crusts also beg for high turnover. "We turn our gluten-free pizza crust as fast as possible because we're very cautious of the risk involved with contamination," says Goldberg. Meats like sausage and chicken, Goldberg says, last around fi ve to seven days. Canned items such as olives or artichoke hearts last seven to 10 days. "Real estate is expensive. We don't want to waste our walk-in space storing cans," he says.
At Bill's Pizza & Pub in Mundelein, Illinois, and Third Lake, Illinois, owner Mary Ann Rouse hired four prep employees to make fresh dough, grate cheese, slice vegetables and pre-portion appetizers. Most food items, says Rouse, can last two days. "You really want to use fresh veggies every day. We cook our own beef, and we only want to keep that a couple of days," she says.
Items like onion blossoms have a 24- hour expiration date. For the
appetizer, colossal onions are cleaned, cut and soaked for eight hours. The next day, onions are breaded and battered. "That's the day you want to sell them. Otherwise they get soggy," Rouse says.
It's tough to anticipate just how many ingredients will be used per day, Rouse admits. So she keeps her menu simple with only a few items. "It makes it easier to prep. If we run out, we borrow from our other restaurant," she says. "Since it's impossible to have the same prep
employee everyday I make sure everything is rotated properly and all products are dated." Boxes of fresh cheese, vegetables and sausage are dated when delivered and then again after those ingredients are transferred into storage containers. "It's as easy as using masking tape and a black marker," Rouse says.
At Fox's Pizza Den in Meyersdale, Pennsylvania, (there are 340 Fox's Pizza Den franchises operating in 32 states) prep involves slicing vegetables, boiling pasta, rolling dough, making soups, fi lling bakers tables with toppings, pre-weighing salads and meats, portioning appetizers and having paper products stacked, racked and ready to go.
"Nothing kills the kitchen time more than having to run for additional supplies," says Jeff Yoder, Fox's Pizza Den franchisee. Items like toasted hoagies and fried chicken need to be prepared per order. "If the fried chicken is older than two to three hours it will dry out," Yoder says. He recommends operators pre-weigh as many ingredients as possible, using strict portion control. "Make sure the prep person has a working knowledge of the entire operation to prep the correct amount. That way you won't waste products," he says.
Carolyn Redendo, owner of Redendo's Ristorante Group, which operates Redendo's Pizzeria & Pasta in Fountain Hills, Arizona, and Redendo's Pizzeria Ristorante in Scottsdale, Arizona, hired three prep employees. They chop green peppers, mushrooms, spinach and garlic and sauté those ingredients for pizza toppings. They also grate cheese, slice meats, prepare house-made salad dressings, prep salad station ingredients and par-cook/ portion pasta. "We pre-cook all pastas except angel hair and gnocchi, which we do to order," she says.
Cannolis are also fi lled to order. "If you fi ll the cannoli shell ahead of time it gets soggy. Fill it to order and the shell stays crispy," Redendo advises. Her biggest prep challenge is fi nding balance between over-prepping and under-prepping ingredients. To help, she marks on a calendar what items sell on a daily basis. The calendar becomes a prep schedule for employees. "We list how much needs to be prepped. For example, the weekends will need more mushrooms than on Monday," she says.
Sealing ingredients tightly in plastic containers with lids helps stretch their lifespan. Redondo found mushrooms browned quicker the higher up they were stored. "Now we store mushrooms on the bottom of our walk-in and put bar towels on top of the case. It helps contain the moisture and adds to its shelf life," she says. Thankfully, prep isn't always a struggle. Goldberg actually finds it cost effective. "Down times give you time to prep. I'm spending that labor cost into prep time," he says. What's not to enjoy about that? ?
Prep Tools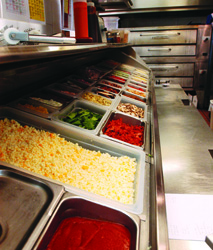 Manpower is important, but so is having the right equipment. Operators below list their must-have prep tools.
"Our Hobart 80-quart mixer and our dough ball rolling machine. It's expensive, but not compared to hiring people to roll dough balls all day." — Mary Ann Rouse, owner, Bill's Pizza & Pub
"Sharp knives, a positive attitude and clean equipment. Coming in and cleaning up kills the morning." — Jeff Yoder, owner, Fox's Pizza Den
"Our 80-quart and 140-quart Hobart mixer, Robot Coupe processor, and assortment of knives, which we get sharpened every two weeks." — Adam Goldberg, owner, Fresh Brothers
"Storage containers with lids, our commercial disposable knives, and small color-coded plastic cutting boards …" — Carolyn Redendo, owner, Redendo's Ristorante Group.
Melanie Wolkoff Wachsman is a freelance writer in Louisville, Kentucky. She covers food, business and liefestyle trends.