As temperatures rise this summer, diners look for ways to cool down. Ice cream presents a practical solution. Sure, you can sell it by the scoop, but why not pair ice cream with cookies or brownies? Ice cream lends itself to many easy-to-prepare desserts. It's a tasty — and profitable — menu addition.
"Ice cream is a favorite," says Paul Andoni, co-partner with his brother, Peter, of Shield's Franchise Restaurants LLC, in Troy, Michigan. There are two company-owned Shield's Pizzas and four franchises. Shield's Pizza's desserts pay homage to Detroit by displaying ingredients like Stroh's ice cream (founded by the Stroh Brewing Company of Detroit) and Sanders fudge (Sanders was founded in Detroit in 1875). The Motor City Sundae is built using Stroh's vanilla ice cream, Sanders' hot fudge, crushed peanuts, whipped cream and a cherry. "This is our bestselling dessert, especially during May through September," says Andoni.
The Sunken Treasure buries a fudge brownie under scoops of Stroh's vanilla ice cream, Sanders' hot fudge, whipped cream and a cherry. While Sanders Hot Fudge Cream Puff tops a cream puff with vanilla Stroh's ice cream, Sanders hot fudge, whipped cream and a cherry. "There's nothing fancy about the desserts, but the ingredients make them great," says Andoni, who estimates a 25-30 percent food cost.
Andoni previously offered flavored ices, gelato and sorbet, but found sales to be inconsistent. Plus, they created competition for the ice cream items, which traditionally sold well. "We scaled back the menu and just sell the ice cream desserts. We've been very happy," he says.
Sundaes fit in perfectly at the family friendly Hannah Bananas, a Nebel Enterprises Inc. concept in Effort, Pennsylvania. "We market our desserts as shareable. Most tables order them individually, which increases our ticket totals like crazy," says Wilhelm Nebel, owner/CEO of Nebel Enterprises.
For the popular Fudge Brownie Sundae, Nebel bakes brownies using a wholesale mix. Per order, one preportioned brownie is reheated in the microwave and garnished with vanilla ice cream, whipped cream, chocolate syrup and a cherry. The total food cost is 18 percent. The Old Fashion Banana Split is another popular and simply prepared dessert. It features a fresh banana cut in half length-wise. It's then sandwiched around scoops of strawberry, vanilla and chocolate ice cream. Whipped cream, walnuts, chocolate syrup and a cherry dress the sundae. The total food cost is 24 percent. Nebel purchases ice cream from a neighborhood ice cream shop. He pays $19 for three gallons.
"We also run a kid's meal special, which includes a free scoop of ice cream with every kid's meal purchase. It's very popular," Nebel says.
"Whether it's January or June, the French Quarter Ice Cream Torte is the best-selling dessert," says Peter Danis, co-owner, with wife Laurie, of Figlio Wood-Fired Pizza, a three-unit operation in Columbus, Ohio. "The ingredients, textures and flavors are simple, but the presentation feels special. It's not just a scoop of ice cream with chocolate sauce."
The Danises enjoyed the torte years ago at a restaurant called Kitty's. Kitty's owners based the torte after a dessert they ate in New Orleans, explains Danis. Danis honors the dessert's legacy. He forms a crust with crushed Oreo cookies, sugar and butter. After baking and cooling, he layers it with coffee Haagen Daz ice cream and freezes. Then it's layered with chocolate Haagen Daz ice cream and is refrozen. At service, the torte is topped with crushed Heath candy bars and a Kaluha/chocolate sauce. "It's a start/stop process, but none of the pieces take long to do," says Danis. "We garnish it fresh, so it glistens. Chocolate sauce gets cloudy when it's frozen."
Many operators pair ice cream with warm components. For 15 years Lou Malnati's Pizzeria has served its Chocolate Chip Pizza (a freshly baked chocolate chip cookie, topped with vanilla ice cream and whipped cream). There are 30 Lou Malnati's locations throughout Illinois, but only the 11 full-service restaurants serve the dessert. It has an estimated food cost of 35 percent, says Mindy Kaplan, the company's director of marketing. According to Kaplan, this summer Lou Malnati's will introduce a brownie sundae, which combines ice cream, cookie chunks, warm brownie and toppings. It has an estimated food cost of 33 percent.
Caitos Sicilian Restaurant and Pizzeria in Glendale, Missouri, prepares the Colossal Pizza Cookie by pressing 11 ounces of chocolate chip cookie dough into a 9-inch pizza pan. That par bakes, cools and is wrapped until service. Per order, shells are heated and topped with three scoops of vanilla ice cream, chocolate syrup and whipped cream. It has an estimated food cost of 17 percent.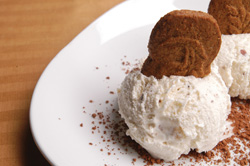 "It's easy to prepare and very popular, especially after you serve one and everybody in the dining room sees it," says Michael McVey, manager at Caitos. "It's often ordered for birthdays or large parties. It's just plain fun."
While ice cream's popular with patrons, it does introduce challenges. For example, it's labor intensive. "It's hard to prep ice cream desserts," says Andoni. "We don't have a designated dessert maker. If one table orders eight desserts, everyone pitches in."
For made-to-order desserts like the Chocolate Chip Cookie Pizza, "a fairly significant lead time is needed to bake," says Kaplan. Guests must order the dessert with their pizza order, not after. Danis feels ice cream desserts are worth the effort. "Ice cream and pizza are perfect complements," he says. "After eating a carbohydrate/grain-based meal you want a dessert with a totally different mouth feel. Ice cream delivers that. It has universal appeal." ?
Melanie Wolkoff Wachsman is a freelance writer in Louisville, Kentucky. She covers food, business and lifestyle trends.