It's strange to think that an ancient pizza has become the newest trend. But such is the case with the montanara, an import from Naples that sees a round of dough flash-fried then topped with ragu (cooked tomato sauce) and cheese. But the American translation — the montanara that's making its mark on menus here — sees the fried dough and its toppings finished in the oven. That simple tweak, which lends the pizza a lighter, airier crust, has transformed the montanara from a quaint Old World recipe into a bestselling pizza.
First, a little history: In Naples, wives of pizza makers would take leftover dough from their husbands, fry it and top it with a bit of leftover ragu and Parmesan or Romano cheese. Known as montanara, they'd serve it to their families, but some of them would also sell it as street food in Naples to bring in much needed extra cash. Today, montanara is a tradition in Naples –– sold in the streets and menued in restaurants. And it's now making quite an impression on this side of the pond.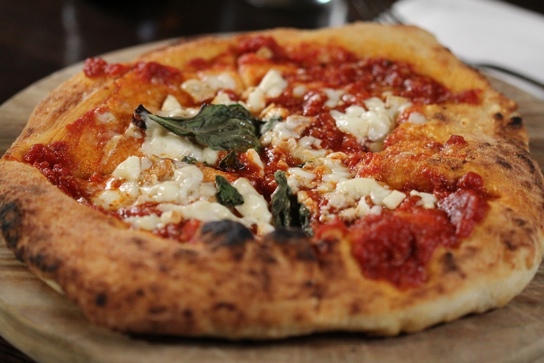 The montanara made its first small splash in its original incarnation at A Mano in Ridgewood, New Jersey, in 2007. This Neopolitan restaurant still features it as an antipasti and keeps it traditional with just a touch of tomato sauce and pecorino Romano. It sells for $8.99. A handful of restaurants in New York, as well as a few further afield now feature the montanara on their pizza menus, innovating with both the toppings and the finishing technique. At Don Antonio by Starita in New York, the Montanara Starita is the menu's bestseller, outselling even the über popular Margherita. "If we sell 25 Margheritas in a night, we'll sell 60 montanara pizzas that same night," says Roberto Caporuscio, co-chef/ owner. The other co-chef/owner is Antonio Starita, a legend in the Napoletana pizza industry, who also owns the famous Pizzeria Starita in Naples. Indeed, it was Starita who introduced the montanara at A Mano during a demonstration five years ago.
The Montanara Starita features flash-fried pizza dough topped with a signature tomato sauce and imported smoked buffalo mozzarella. It's then finished in the wood-burning oven and dressed with fresh basil. "Antonio Starita came up with this technique to make the pizza lighter," says Caporuscio. "The oil evaporates in the oven, making a light, airy crust." He uses a 12-inch dough ball, which after frying for about 30 seconds yields a 10-inch crust. He charges $12 for the pizza and runs a 50-percent food cost. "The cheese we're using is very expensive, but it's worth it," he says. "The smoky flavor of the cheese works beautifully with the crisp texture of the wood- fired crust and the smoky flavor of the tomato sauce."
He recommends a dedicated fryer, using it only for deep-frying the dough. "It keeps the flavors clean on the delicate dough," says Caporuscio. He uses that fryer for other menu favorites star- ring fried dough, including an antipasti called angioletti, fried dough strips topped with marinated tomatoes and fresh arugula, as well as montanarine, a mini version of the traditional montanara from Naples. Or diners can try the montanarine Genovese, a fried dough puff topped with onion, pancetta and pecorino Romano.
Other New York restaurants feature the montanara, including two-unit Forcella. In fact, Forcella recently opened a casual eatery called La Montanara, an all-fried pizzeria expanding the repertoire of toppings, but still following the fried-then-baked formula. Offerings range from Salame Piccante (tomato sauce, mozzarella and Italian salami) to Funghi (tomato sauce, mozzarella and mushrooms).
But what about outside of New York? The montanara might be slower to catch on in the rest of the country, but with authentic Napoletana pizzerias popping up nationwide, perhaps montanara might just be the next darling of pizza lovers.
At Marco's Coal-Fired Pizzeria, which serves authentic Neopolitan pizza with two locations in Colorado, the montanara has recently been moved from an occasional special to a regular. Although not a huge seller, owner Mark Dym thinks that it deserves a place on his menu. "I had this pizza in Naples and fell in love with the combination of cheese and sauce and dough. I love it," he says. "Also, having the montanara on our menu certainly separates us from the rest of the pack. It adds to the authenticity of what we're trying to do."
Marco's montanara features fried dough, wood-smoked tomato sauce, smoked buffalo mozzarella and fresh basil. A 10-inch pizza sells for $16 and runs a food cost of $1.80. "People who try it really love it, but sometimes it's hard to get them to try," says Dym. "You have to explain that it's not deep- fried pizza. It's so much better than that."
He also recommends dedicating a fryer for dough-only frying. "Keep the oil clean and fry it on high," says Dym. "The pizza crust should have the texture of a fresh doughnut." The traditional angioletti antipasti makes an appearance on the menu at Marco's Coal-Fired Pizzeria, too. And for dessert? Diners can order Nutella Nuggets, fried dough strips topped with softened Nutella and powdered sugar, or perhaps a Dolce Fritta, which sees fried dough topped with sweet ricotta, almonds, honey and powdered sugar.
Katie Ayoub is a frequent contributor to Pizza Today. She's based in Naperville, Illinois.