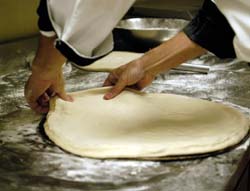 Q: I'm looking for a standard American-style pizza dough as well as a standard Italian-style. Can you help with recipes?
A: I sure can! Here you go:
Standard Classic America

High gluten/ High protein flour
100 percent flour
58-60 percent hydration
2 percent sea salt
1 percent oil
1 percent malt/sugar
.50-1 percent yeast
Standard Classic Italian
1 liter water
1.8 kilograms flour
50 grams sea salt
50 grams oil
3 grams malt/sugar
2-10 grams yeast
These two dough recipes are given to each student here on the first day of instruction at the International School of Pizza in San Francisco. The class makes each batch according to the recipe and usually finds that the dough comes out great if made correctly.
When the students leave and go back to their respective kitchens and restaurants, it is up to them to decide if the recipe needs to be changed in any way. What each student generally finds is that, yes, every recipe has to be altered. There is no magic recipe that exists that never needs to be changed. Not only do individual tastes have an effect on recipes, but a host of environmental factors must also be considered.
The environment in which you make dough plays an important role in how each batch comes out and how you decide to tweak your recipe. Heat, humidity, cold, elevation, water, and even the placement of your mixer in your kitchen will all affect the making of dough and should all be considered before mixing.
Respecting The Craft is a new column featuring World Pizza Champion Tony Gemignani, owner of Tony's Pizza Napoletana in San Francisco and Pizza Rock in Sacramento. Tony compiles the column with the help of his trusty assistants, Laura Meyer and Thiago Vasconcelos. If you have questions on any kitchen topic ranging from prep to finish, Tony's your guy. Send questions via Twitter @PizzaToday, Facebook (search: Pizza Today) or e-mail jwhite@www.pizzatoday.com and we'll pass the best ones on to Tony.