Common Question: Should I buy block cheese or pre-shredded cheese?
You've Got a Friend in Cheeses
When it comes to cheese, I'm a blockhead. It's true, but even blockheads know there are more ways than one to cut the cheese. If you are in the pizza business, you are guaranteed to be faced with this question: Should I buy block cheese or pre-shredded cheese?
Block cheese comes to you in one big block, or sleeves of smaller blocks. In order to use it on your pizza, you will need to shred it, cut it or dice it. Pre-shredded (or sliced or diced) cheese comes ready-to-use. You just open the bag and put it on your pizza. Is one method of purchasing cheese better than the other? Let's slice into each method to discover what is best for your wallet, your pizza and your operations — BLOCK CHEESE VS. PRE-SHREDDED CHEESE
Price, freshness, whole food, better melt.
These are the advantages of block cheese and the disadvantages of pre-shredded cheese.
• Price. With block cheese you are in control of the price you pay for the product. When purchasing block cheese, here are the steps you would take.
Ask your food distributor for a 'cost-plus' contract for your cheese.
'Cost-plus' means that the price you pay per pound of cheese is tied to the Chicago Mercantile Exchange (CME) Block and Barrel Market, or Block Market for short. More at http://www.cheesereporter.com/prices.htm
Perhaps you negotiate to pay 20 cents per pound over the Block Market.
Block Market Price + .20 = Your cost per pound of cheese
This gives you the best possible pricing for cheese along with full transparency.
With pre-shredded cheese, the manufacturer and distributor arbitrarily set the price based on their costs and profit margin and there is no control point or reference for the price you pay.
• Freshness. Your food distributor manages their inventory in such a way that not only are your block cheeses fresh, but your mozzarella is properly aged (approximately two weeks) before you receive it. You shred the block cheese each day as part of your daily prep, thereby providing the customer with the freshest cheese possible. Fresh ALWAYS tastes better. Pre-shredded cheese has been shredded weeks or longer prior to putting it on your pizza.
• Whole food. Block cheese has no added ingredients. When you purchase pre-shredded cheese, the only way to prevent it from clumping and molding is to add potato starch, corn starch, powdered cellulose, and Natamycin. Block cheese remains a whole food without additives or preservatives. Food and nutritional experts all seem to agree that whole foods are better for you. By using block cheese that you shred daily, you are providing a healthier pizza for your customer.
• Better melt. Block cheese melts better on your pizza in the oven. The more additives and preservatives cheese has, the harder it is for the heat in your oven to break down the protein molecules. Fresh, whole food block cheese has nothing to inhibit the heat from breaking these protein molecules down into a liquid. If you use more than one cheese, this is even more important as the liquidity is what allows the cheese flavors to blend. Pre-shredded cheeses do not melt as consistently as block cheese shredded fresh.
Equipment, labor, safety, blend, storage
These are the disadvantages of block cheese and the advantages of pre-shredded cheese.
• Equipment. Shredding your block cheese in your pizzeria requires equipment. Whether you use the least expensive option of a mixer attachment for around $1,000, or more expensive options ranging from $5,000 for manual cheese shredders to $10,000 plus for automatic cheese shredders, there is an investment that the block cheese buyer must make that is not necessary for the pre-shredded cheese buyer.
• Labor. Although you have gotten your block cheese for the lowest price possible, you now have the labor cost of shredding that block cheese. Hourly wages are climbing with no apparent end in sight. By using the attachment to shred cheese, I estimate it costs me .10 per pound to shred. The pre-shredded cheese pizzeria does not have to hire, train and pay an employee to do this. They simply open the bag of cheese and put it on their pizza.
• Safety. Using equipment to shred cheese in your pizzeria means the potential for employee injury. You would not think that someone would put their hand in the shredder, or repair broken equipment with duct tape or bypass the safety features of the equipment to render it easier to use, but it happens. These potential safety dangers are no concern of the pre-shredded cheese pizzeria.
• Blend. Often, pizzeria owners use a blend of more than one type of cheese for their pizzas. Purchasing block cheese means you must purchase each type of cheese by the block, shred it and mix it together yourself. Since this would require employees to do this either during the prep process or on the pizza makeline, the blend the customer receives on their pizza may not be as consistent as a pre-shredded mixed cheeses product done to exact specs by a manufacturer.
• Storage. Block cheese will need to be shredded into plastic tubs, usually the same size tub (full pan) that is used in your pizza makeline, making for an easy swap-out. Where pre-shredded cheese comes in plastic bags requiring no extra tubs, block cheese pizzerias will need to purchase many extra tubs for cheese. On average 30 or more cheese tubs and lids costing roughly $1000.
The following chart sums up the advantages of each: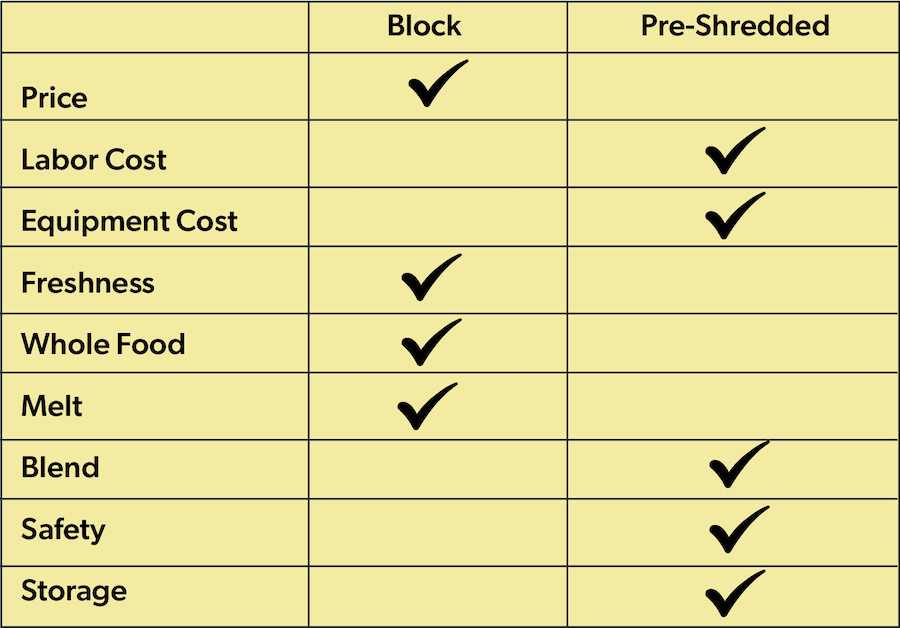 By now, you can probably see why I am a blockhead. The benefits of buying cheese in the block form and shredding it daily outweigh the benefits of buying pre-shredded for my pizzerias. However, it is also clear to see there are benefits to buying pre-shredded. The 'Big 5', the pizzerias with the most locations, have all decided that pre-shredded cheese is the way to go. What is the right call for your pizzeria?
Block or Shred? Either way, we all have a friend in cheeses!
Dan Collier is the founder of Pizza Man Dan's in California and a speaker at International Pizza Expo.