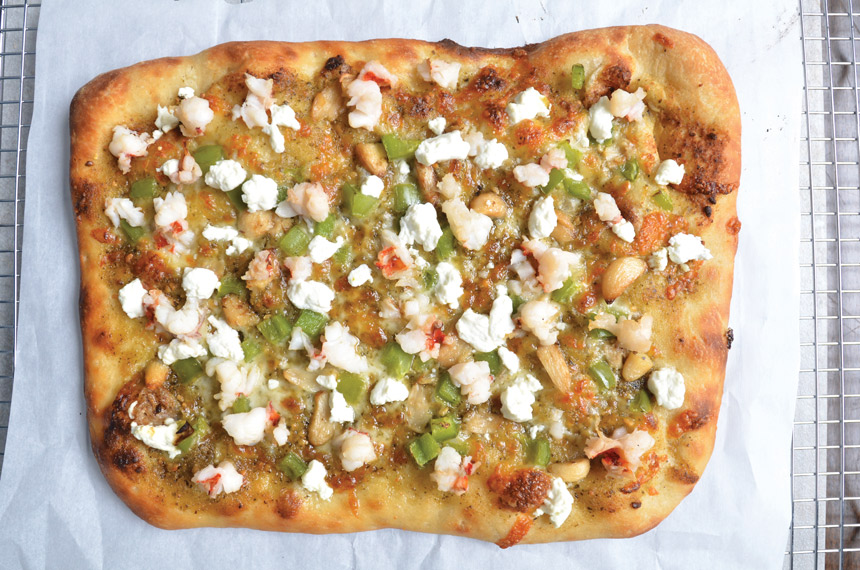 Lobster a classic Northeastern topping
Lobsters are considered crustaceans that live on the ocean floor. Lobsters harvested off the coast of Maine are considered cold water lobsters and have two large claws. One is a cutter claw and the other is a crusher claw, neither of which you want to get your finger caught in and I speak from experience! I grew up in New England and started my cooking career there. I learned from a waiter I worked with that scallop fishermen actually dive for scallops. While they are at the bottom of the bay or ocean harvesting scallops, there they see and have access to lobsters. I learned this because that waiter's roommate was a scallop fisherman and brought in a 20-pound lobster. I was shocked! I didn't know lobster got that big. They can live upwards of 100 years. He brought that lobster to the restaurant because he didn't have the means to cook it. I had to break it down to pieces to cook it since I didn't have a pot big enough to boil it with the claws intact.
Rock lobsters, or spiny lobsters, are warm water lobsters and found in Florida, California and even in the Caribbean and do not adorn the meaty claws that its cold water cousins have. Lobster is a very expensive item to bring into any restaurant. They are generally found in seafood and higher end restaurants that will also charge a hefty price.
Lobster meat, cooked and frozen, is available year 'round and can be incorporated in so many different dishes. And, while expensive, there are different ways you can buy it. Furthermore, with certain portion controls and preparations, you can actually add lobster to your menu in a more affordable way than you may have thought!
When buying lobster meat, you can purchase it in different pack sizes, but more importantly you can purchase different parts of the lobster, each bringing a different price point. TKC stands for tails, knuckles and claws. That is one of the most expensive ways second to just lobster tails. You can purchase just knuckle and claw meat or even body, knuckle and claw meat. The more smaller and random bits of lobster you purchase, the less expensive it gets. Here's what I did every year in my Italian restaurant during Valentine's and Master's weeks in Augusta. I'd buy the knuckle and claw meat without the tails and sometimes the meat would get as high as $26 a pound when buying a 12-pound case. Yes, it's expensive but when you break it down, I'd portion that meat into three-ounce portions, which costs $4.88. I would offer a shrimp and lobster fettuccine alfredo for $27 and sold an abundance. I made sure the three-ounce lobster portion was served on top for best presentation. It makes most sense to incorporate the lobster meat with other less-expensive seafood to keep costs down and affordable.
Lobster ravioli is another really great option. Take some of the less-expensive pieces from the knuckles and body meat (which are like scraps) and coarsely chop it so the meat is still identifiable, then blend it with some firm ricotta and stuff your own ravioli. This is a fabulous and affordable way to incorporate lobster into your menu. If you like the idea of lobster ravioli, but don't have the desire to hand make them, no problem. Just buy some that are fully made.
Your sauce choices can be endless as well. You can go the tomato or marinara sauce route. An Alfredo, garlic cream sauce or wild mushroom, garlic and white wine reduction with shallots and fresh chopped chives are also a few more complimenting options. Garnishing the top of the ravioli with an ounce or two of additional lobster meat brings the presentation (and cost) up a notch, but will really bring that WOW factor!
Lobster and seafood Fra Diavolo is a spicy blend of green and red bell peppers, onions and chopped garlic sauteed in olive oil with some crushed red peppers, finished with white wine, a splash of lemon juice and diced tomatoes with salt and pepper, to taste. Now you have the choice of what seafood, besides the lobster, to put in this dish. Go with what's readily available. Some common choices would be shrimp and scallops with clams and mussels, still in the shell, all cooked together and served over a nest of thin spaghetti.
Now that I've lived in New England most of my life and in the South the last 13 years, I've learned that a New England clam bake or clam boil and a low country boil are very similar.
They both have things like hot dogs, sausage, potatoes and corn on the cob. New England will have steamer clams and lobsters and low country boil will have shrimp and often "crawdads."
A restaurant version of either can be served individually or family style. In the South, for large groups they'll drain then dump all the food together on a very long table that is lined usually with newspaper. Either way it's a seafood feast that is great for the whole family!
One of the biggest lobster treats you'll find in all kinds of coastal restaurants, and even shacks, is the infamous lobster roll. It's simply boiled lobster meat that's been picked and chilled and mixed with the smallest amount of (usually) mayonnaise and served on a hot dog bun.
If you want to incorporate lobster into a specialty pizza, consider topping your pizza with it after it's half cooked to keep the integrity of the lobster in tact.
Lobster is certainly expensive, but a highly sought after delicacy. So give lobster some consideration. You'll certainly make a lot of people happy. 
Jeffrey Freehof is a frequent contributor to Pizza Today and International Pizza Expo.