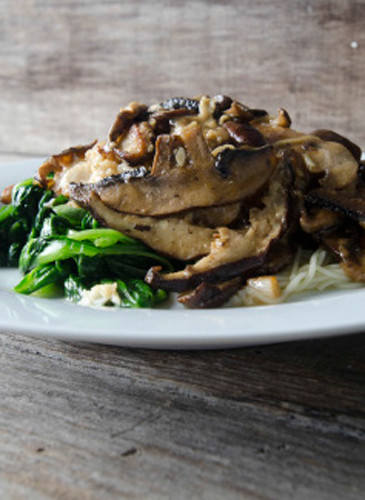 You would never guess that just three basic ingredients lay the foundation for a high-end classic Old World dish. But that's exactly the case of chicken or veal Marsala, which relies on cutlets, wine and mushrooms.
In it's simplest incarnation, a Marsala entrée consists of chicken or veal cutlets that are coated in flour, sautéed and then removed from the heat. Next, leftover pan scraps combine with stock, mushrooms and herbs and get deglazed with Marsala wine to reduce into a velvety sauce served over the sautéed meat. Marsala entrées are commonly served along with rice pilaf, mashed potatoes or buttered noodles.
The dish's namesake, Marsala wine, hails from Sicily, Italy. Marsala wine, which is fortified with alcohol, provides these dishes with rich flavor notes when it's reduced into a sauce. (Other fortified wine family members include port, sherry and Madeira). Marsala wine is available in dry, semisweet or sweet styles.
Peter Scaturro, executive chef of TREVI Italian Restaurant in The Forum Shops at Caesars in Las Vegas prepares both chicken and veal Marsala. After lightly dusting chicken or veal medallions with flour and sautéing in olive oil, he finishes the dish with a reduction of sweet Marsala wine, sliced button mushrooms, veal demi-glace, chicken stock and butter.
"It is not very difficult to do and is a relatively quick dish to prepare," says Scaturro. The food cost runs between 16 to 20 percent, says Scaturro, who continues that chicken Marsala is comparable in sales to lasagna and chicken Parmesan entrées.
However, since Marsala dishes incorporate high-end ingredients such as veal, Marsala wine and wild mushrooms the dish may command a higher menu price than, say, eggplant Parmesan or baked ziti would. "A higher price would be more associated with the higher quality and cost of ingredients more than due to any specific preparation," says Scaturro.
Mary Ann Rouse, owner of Bill's Pizza & Pub in Mundelein, Illinois, agrees. "People expect to pay more for this dish," she says. "Chicken Marsala is nice because it sounds special, and the wine adds sophistication."
For her chicken Marsala, Rouse dredges chicken cutlets in flour then sautés the cutlets in butter and sets aside. Next she cooks crimini mushrooms in the same butter, adds Marsala wine and chicken stock and returns the chicken to the pan until the sauce thickens. After plating, she garnishes with chopped chives.
"It is a good menu item because you can assemble a large batch in a large aluminum pan, and it reheats nicely," says Rouse, who also adds that chicken Marsala is a popular and easy-to-prepare catered entrée.
"The food cost isn't bad either," she continues. "Chicken isn't that expensive, and you only need to use one cup of wine per order."
Ralph Scamardella, chef of the Tao Group, which operates LAVO in both New York City and in Las Vegas at The Palazzo hotel estimates that LAVO's chicken Marsala has a food cost of 18 to 25 percent depending on the quality of ingredients. "Some chickens are very expensive, as are many wild mushrooms," he says.
For example, Scamardella's Marsala sauce displays a medley of roasted wild mushrooms, which often includes a variety of crimini, Portobello, shiitake and hen of the woods. He deglazes his sauce with dry Marsala and brown chicken stock and adds butter and parsley to finish. He plates his sauced sautéed chicken scaloppini atop sautéed spinach. "It's very easy to make chicken Marsala," says Scamardella.
"It's simple ingredients, with very little prep needed and fast cooking times."
Plus, as far as chicken entrées go, Scamardella says his chicken Marsala sells second best to chicken Parmesan. Simple to prepare yet sophisticated, Marsala entrées provide a tasty win-win for diners and operators.
Chicken Marsala
Recipe courtesy of Ralph Scamardella, chef at the Tao Group
Yield: two portions
2 ounces vegetable oil
All-purpose flour, seasoned with salt and pepper, as needed
12 ounces chicken
1 tablespoon shallots
2 ounces butter, divided
10 ounces wild mushroom mix (see recipe below)
4 ounces Marsala wine
4 ounces chicken stock (housemade or use your favorite canned brand)
1 ounce extra virgin olive oil
2 ounces sautéed spinach
In a large sauté pan, heat vegetable oil in a pan and dredge chicken in salt-and-pepper seasoned flour. Sauté chicken and set aside. Sauté shallots in half the butter and then add mushrooms. Add Marsala wine and reduce. Add stock and cook, and then return chicken to the pan. Add remaining butter. In a separate pan sauté spinach in olive oil. Serve chicken Marsala over sautéed spinach.
Wild Mushroom Mix
2 ounces Portobellomushrooms
2 ounces shiitake mushrooms
2 ounces hen of the woods mushrooms
2 ounces crimini mushrooms
2 ounces shallots, chopped
1 ounce garlic, chopped
2 ounces extra virgin olive oil
Salt and pepper, to taste
Clean and slice all mushrooms. Toss with shallots, garlic and olive oil and season with salt and pepper. Lay mushrooms on sheet pans. Spread evenly and thinly. Roast in a 500-degree F oven until golden brown in color. Remove and cool.
Melanie Wolkoff Wachsman is a freelance writer in Louisville, Kentucky. She covers food, business and lifestyle trends.