The popular pizza style is making Detroit a pizza destination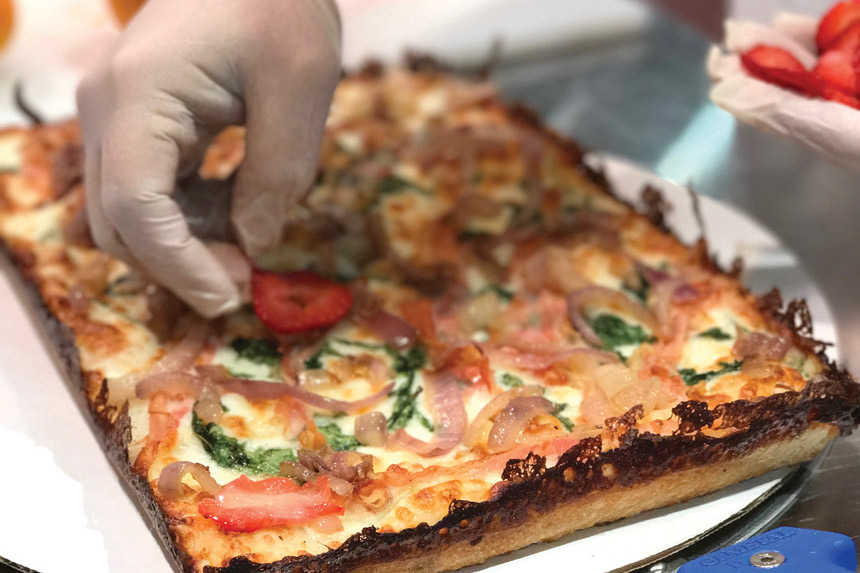 After I hung up the phone, it took a few seconds of delightful distraction before sheer terror set in. The folks from Pizza Expo had asked me to moderate a panel discussion about Detroit-style pizza at the 2018 event in Las Vegas. Detroit style has been all the rage lately and it definitely deserves some spotlight. I moderated a panel last year at the Brooklyn Historical Society featuring three Brooklyn-based pizza makers and had a real blast doing it. What seemed like a perfect gig suddenly jarred me back to reality with a very real concern: I had never been to Detroit.
Since the call came just before an expected dip in my NYC pizza-touring schedule, I took steps toward solving the problem by booking a round-trip ticket to the Motor City. I mapped the must-hit spots that would give me some perspective on the city's indigenous pizza history and style. Detroit has trendy imports like New York style, and the neo-Neapolitan format that has become so popular as of late. But the one I traveled to eat is different. To locals, it's only pizza. But to a dedicated pizza enthusiast, it's something special.
The style of pizza that's making Detroit such a popular destination for pizza lovers is a rectangular, pan-proofed dough topped with a mix of white cheddar and brick cheeses that caramelize along the perimeter of the pie, producing a perfectly crunchy border at the edge. This style began with a recipe from the Sicilian mother-in-law of Gus Guerra, owner of a Detroit bar called Buddy's Rendezvous. He modified the recipe using ingredients that were locally available, like the brick cheese he found in the mostly Polish Hamtramck neighborhood just north of the bar. Even the deep steel pans were local, rumored to have been the type used by the auto industry to store and clean tools.
Buddy's started serving this style of pizza in 1946, but Guerra soon left the business and opened a bar/pizzeria in 1953 called Cloverleaf. His family still runs the shop to this day and I could barely tell the difference between their pizza and Buddy's. Before leaving Buddy's, Guerra taught Loui Tourtois how to make pizza. He remained the pie man there before helping open Shield's Pizza and eventually his own spot, Loui's Pizza, in Hazel Park in 1977. If this whole thing sounds familiar, it's because famous pizza cities like New York City, New Haven and Chicago, all have similar origin stories.
After hitting about a dozen pizzerias on my short trip, the takeaway was clear. Detroit has a dense fabric of pizzeria lore surrounding a style that is truly unique to the city in which it is found. It makes me wonder what other rocks have yet to be overturned. Like discovering an island or finding water on Mars, it only means that there's more out there than what we think we now know. It reminds me that our definitions are set only by what we can see and experience ourselves, but education and experience will always widen our perspective.
Scott Wiener is the founder of Scott's Pizza Tours in New York City and SliceOutHunger.org.