I honestly wasn't planning on eating any pizza during my lightning-fast mini vacation in North Carolina. The trip was all about seeing family so I did zero research beyond the obligatory tweet asking for recommendations in the area. The lack of response I received was actually a relief because I was way more interested in fried chicken shops. But as soon as my feet hit that sweet southern soil, I noticed everybody was talking about the hot new pizzeria in town. What was this buzzy place that somehow managed to dodge my usually dependable web of pizza-nerd intel?
As we rolled up to the pizzeria, which was cleverly converted from its former identity as a gas station, I thought about how it looked like a drive-in burger joint. The parking lot, which is never even a possibility for New York pizzerias, was so opulently configured that I couldn't help but wonder how many extra spots they could squeeze in with just a little tightening. My pessimism increased as I walked inside and noticed a kitchen that's larger than most pizzerias back home. They couldn't possibly be a serious pizzeria with all these luxuries. My expectations at a depressing low, I wondered how quickly we could eat and get out to salvage some valuable fried chicken time.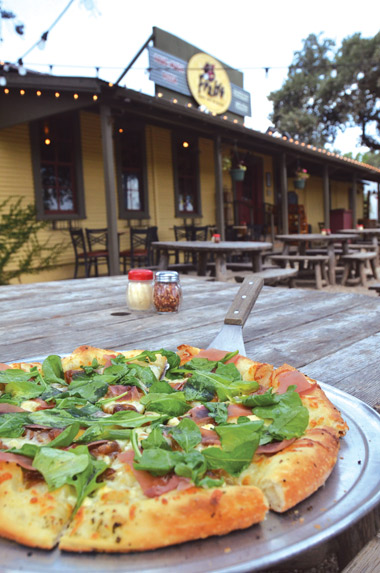 When our pizza arrived at the table, my ennui turned into elation. The unlikely town of Hendersonville, North Carolina, had somehow sprouted a brand new world-class Detroit-style pizzeria. The crust had a perfect brown color with just the right amount of caramelized cheese along the perimeter. Toppings were perfectly balanced and looked super fresh. I lifted the slice to reveal a beautiful open crumb structure. One bite was all it took to confirm that I had grossly underestimated this tiny North Carolina town.
As delighted as I was about the quality of the pizza, I was even more thrilled by the feeling that I had discovered something new. With so much information floating around the Internet and social media, it has become increasingly more difficult to make organic discoveries. How am I supposed to know about a pizzeria that doesn't even have an Instagram account? I was horrified by the realization that, had I not heard about this place from locals, I would have completely missed it.
I transformed my depression into action and became a volunteer spokesman for the pizzeria, telling everyone I met over the next few days about the hidden gem in an unexpected part of the state. There's a real sense of accomplishment in documenting previously uncharted pizza territory. As a good soldier of the Wi-Fi generation, I grabbed my smartphone and documented everything, posting my findings across all social media platforms. I wanted to make sure the next pizza lover to wander through western North Carolina wouldn't miss this great spot. But my digital blabbing wouldn't do much good for a pizzeria that clearly had cemented itself as a local favorite in the few months they'd been open. It just goes to show that every market has its own personality and must be interacted with accordingly. And, yes, the pizza was better than the fried chicken.
Scott Wiener is the founder of Scott's Pizza Tours in New York City and SliceOutHunger.org.