Versatile cheese worth a look when pushing your menu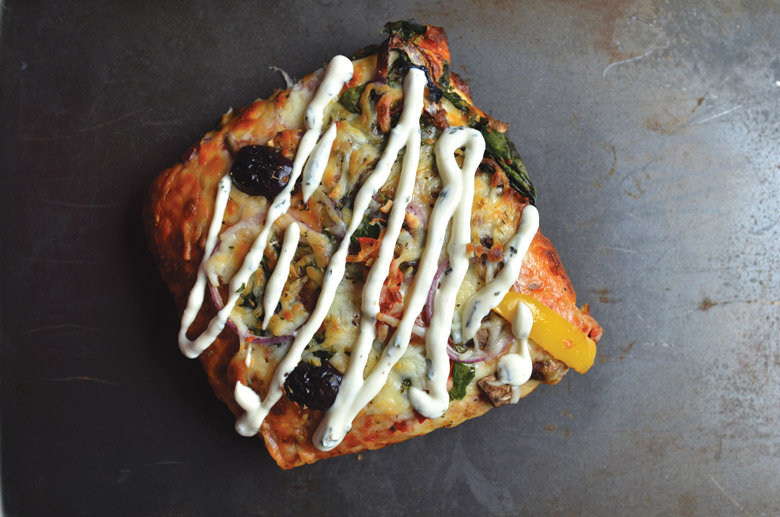 If there is one cheese that I adore, it's mascarpone. Not because of its high butterfat or its traditional use as a sweet dessert cheese, but because it is a brilliant mixing cheese for any pizzeria and can be infused with many different flavor profiles like pestos, powdered spices, herbs, cheeses, sautéed vegetables and even the insane concoction of mascarpone infused with shredded and sweated pepperoni (my favorite).
Supposedly, mascarpone dates back to 16th century Lombardy near the towns of Abbiategrasso and Lodi. Like a lot of Italian cuisine there are several theories as to its origin and name. Some suggest it comes from the name "Marscapa," which refers to a whey by-product obtained from the other cheese making. Another origin theory refers to a comment made by a Spanish nobleman when they invaded Italy in the 16th century, remarking that it was "mas que bueno" — "better than good." More notable sources confirm that this name was probably derived from the Italian verb "Mascherare," which means to "camouflage" or "dress up." This obviously refers to the "dressing up" that is done to the cream that it is made from.
Any way you slice or dice the word, mascarpone is made from the cream of cow's milk and, like ricotta, is more of a dairy darling than a cheese. In fact, mascarpone has an extremely high butterfat content of up to
75 percent (which is high enough to almost be butter). It is basically a cow's milk cream that has citric acid introduced to it and set to drain to lose its moisture. There is a rare mascarpone from the Campania region of Italy called mascarpone di bufala that is more nutty and rich than its northern cousin.
Mascarpone has many uses in Italy. In Lombardy, Mascarpone is used in a specialty cheesecake called Torta di Mascarpone. The Torta San Gaudenzio is named after a village west of Milan and features alternating layers of Gorgonzola dolce and mascarpone, sometimes made with layers of basil and walnut on the sides. After this is made it is the perfect brick to cut and add to hot pasta. In the Friuli-Venezia region of Italy, mascarpone is mixed with herbs, anchovies and mustard to make a killer schmear for bread.
Here are a few ways I've used mascarpone in my pizza and breadmaking:
Ricotta-mascarpone mix. I use a 50-50 mix of these two cheeses to populate calzones and stomboli instead of using béchamel sauce, which immediately leaches into the dough and creates a mess.
Turkish-style Pide (Pee-day) with spinach filling. This is a great mix using a bag of your IQF (individually quick frozen) spinach, diced red onion roasted in your pizza oven, copious amounts of your house Parmesan and the ricotta-mascarpone mix. Simply apply to your proprietary dough shaped in a long fashion, place cheddar or aged mozzarella down the length, then the spinach. Tie off the ends in a knot and bake.
Creamy basil mascarpone finishing sauce. For my thick Pizza al Metro, I use a mixture of crème fraiche and mascarpone that has been infused with julienned basil. The mix melts beautifully on the tomato islands in a sea of aged mozzarella and provolone above this thick crusted pie.
Best ever porcini-truffle crema! This little ditty has it all and is a killer on a roasted Portobello appetizer, fresh burrata with balsamic glaze and sea salt or even a nice sizzling steak. Just rehydrate a cup of dried porcini with just enough hot, hot water, add a few cremini or buttons to the mix and blend on high with a blender. Let cool off and incorporate, little by little, into a mascarpone-ricotta blend (70-percent mascarpone). Add some white truffle oil one teaspoon at a time until you get the perfect melding and refrigerate for six hours to further incorporate flavors. It's the bomb!
In the 90's, I worked as maitre d' hotel with one of the most talented chefs I've ever known at the Fairmont Hotel's Primavera Restaurant in Chicago. Chef Giovanni di Negris' beautiful, Puglian-style cuisine brought thousands of people per week clamoring for his Italian bouillabaisse, lamb shank Osso Bucco and seafood saffron risotto. I used to watch him amazed as his careful, almost Zen-like approach to making his specialty tiramisu unfolded as he dipped each lady finger for our guests. Chef Giovanni now owns Osteria Trullo outside Chicago and finally gave me this recipe after years of begging. Get the recipe.
John Gutekanst owns Avalanche Pizza in Athens, Ohio, and has a pizza blog called Pizza Goon. He is an award-winning pizzaiolo, baker, teacher, speaker and author.