Classic sauce gets its due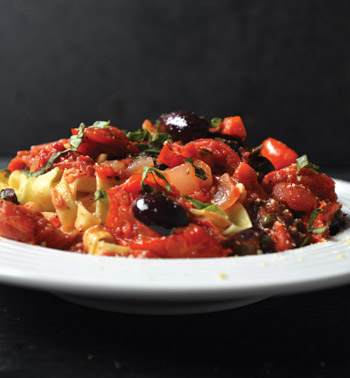 Puttanesca sauce is a robust concoction comprised of (but not limited to) tomatoes, capers, onions, olives, garlic, anchovies, herbs and olive oil. It lends itself to many Mediterranean dishes and has been said to originate in Naples, Italy.
While rustic and unrefined in its ingredients and presentation, puttanesca is rich with outstanding flavor. It's a quick sauce, not needing hours to prepare. In its Italian translation, puttanesca means "in the style of the prostitute",  which comes out of translation from Latin to Italian in its origin. It seems ladies of the evening would put it together quickly, and the dish became a bit of a catch-all of ingredients.
Some of the attractions of a pasta puttanesca are its amazing aroma and contrasting flavors. It boasts salty and pungent flavors from the capers, olives and anchovies. When combined with the sweetness of garlic, onions and tomatoes it makes customers salivate. If you can get them to try it, that is.
As creative chefs and culinarians have learned to push the envelope with traditional dishes, we now have new ways to look at taking this old classic (which is perfect and amazing on its own merit) and use it in a variety of ways and perhaps make some of our own alterations to elevate this sauce into a new variation.
Let's start with my own version of the sauce, which would be perfect tossed with spaghetti or any pasta of your choice. One of the rustic aspects of this recipe is that there is not necessarily an exact or precise measurement –– dice sizes vary and the sauce uses ingredients that are often kicking around the kitchen. Adjust my measurement to fit your liking. For example, if you enjoy the flavor of anchovy but don't like biting into them, use anchovy paste.
Now you are ready to toss this with a pound of freshly cooked pasta for an awesome meal.
We can also take this basic puttanesca recipe and use it as a base for some other recipes that I'd love to share with you:
• The great flavors and ingredients in our puttanesca sauce makes a wonderful pizza. Adding these cooked-down ingredients carefully atop a Margherita pizza brings an amazing new balance to an old, delicate favorite for a new creation I call Pizza Margherita alla Puttanesca.
• Reducing the puttanesca sauce down a little bit creates a more concentrated, intense flavor profile for a puttanesca bruschetta. Adding other toppings, such as a traditional bruschetta topping and olive tapenade or an artichoke pesto, makes for a phenomenal bruschetta trio.
• While a spaghetti puttanesca is excellent accompanied by poultry, pork or beef, it's equally great (or better) served with seafood. When I'm making a seafood puttanesca, I like to lighten the basic recipe by thinning the sauce out with 1½ cups of white wine. This would be excellent to simmer shrimp, scallops, swordfish, other firm fish, as well as shellfish or any combination of your liking. If you want to use a more delicate fish, such as Chilean sea bass, haddock or cod, then poaching the fish in the wine drenched puttanesca sauce would be the ideal cooking method. Simply spoon the ingredients atop the fish just before serving.
• Okay, we're going way outside the box on this one. I hope you take this culinary journey with me. Your taste buds will thank you. Carbonara puttanesca can be done and it's almost euphoric. Like puttanesca itself, pasta carbonara has several variations designed to suit the diner. While you can completely combine the two recipes, I prefer to top my pasta carbonara with my puttanesca sauce, allowing the diner to decide to mix in or keep it separate to a degree. For this particular dish, I prefer a pappardelle pasta. But, as always, use what you prefer or have in house. While pancetta is often used, I personally love using bacon simply because I love the smoky flavor (which you won't have in pancetta).
White wine or some reserved pasta water can be added into the dish to create a more creamy texture. Plate your pasta dish and spoon on a thick stripe of puttanesca sauce over the carbonara, garnished with some chopped parsley and grated Parmesan. A skewer of grilled shrimp would finish this dish off just perfectly.
There are a variety of ways to play with your food. Now go try it and see what suits your fancy!
Jeffrey Freehof is a frequent Pizza Today contributor, chef and restaurant consultant.