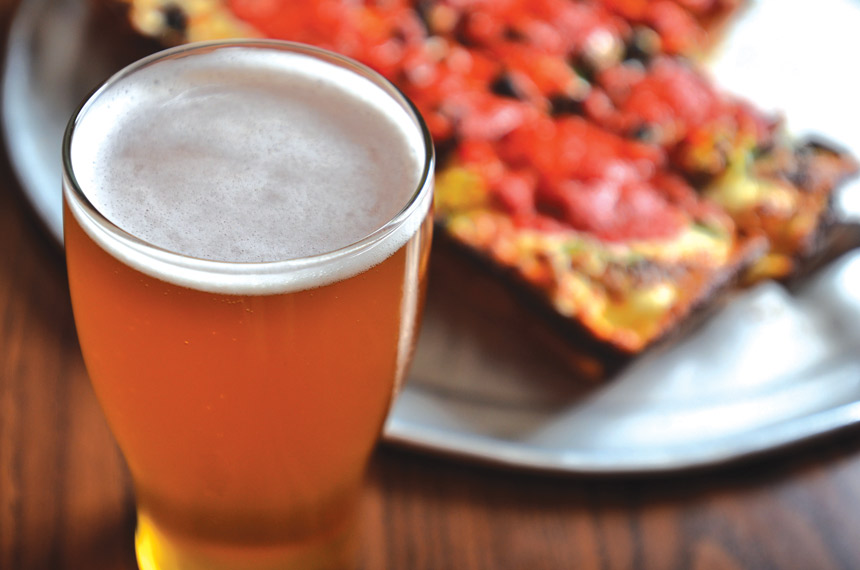 It's a beautiful thing when beer and pizza come together
When it comes to properly marrying pizza with craft beer, Coalhouse Pizza in Stamford, Connecticut, may be one of the best examples we've seen. A quick glance at the musically themed dining room and display kitchen immediately tells you two things: this is a pizzeria with a penchant for selling beer.
Taking the symbiosis a step further, check out what owner Gerard Robertson told Connecticut Magazine for a 2016 article: "In many ways, we look to the American Craft Beer revolution for inspiration in what we do. Like these brewers, we strive for authenticity with a free-spirited approach."
Coalhouse Pizza touts Rare Beer Night, Beer & Cheese Night, Beer Dinners, Beer Stein Days and other interesting promotions on its Web site.
In an article our very own Denise Greer penned in 2015, the craft beer program director at the Brewers Association, Julia Herz, proclaimed "There is no better time to be a beer lover in the U.S. than today." With the boom still ongoing, there clearly is no better time than today to begin incorporating craft beer-themed promotions into your marketing calendar.
Mike Bausch, owner of Andolini's Pizzeria in Tulsa, Oklahoma, says that a new dough can help net you new customer loyalty. The veteran International Pizza Expo speaker has competed in past Expo events with a beer-based dough and says it quickly became a powerful menu addition. He encourages Pizza Today readers to experiment with different dough formulations, including those that have a beer component.
"That forward movement is accepted and encouraged in beer, but pizza makers have been less inclined toward dough experimentation," he says. "Frankly, it's holding us back."
Why not experiment with beer crust? It provides a new point of interest for your customer base and may appeal to your loyal craft beer patrons and encourage them to order a whole pie with their pint.
Here's a quick recipe to get you started:
Small Batch Beer Dough
Small Batch Beer Dough
This is a small-batch recipe that will yield you enough dough for 2 pizzas for experimentation purposes only. If you want to go to a larger batch using, say, 20 pounds of flour, you would replace 3 cups of water with beer and scale up your other ingredients as well.
Ingredients
½ cup warm water
1 teaspoon sugar
2½ teaspoons active dry yeast
3 cups flour
¼ cup pale lager beer
2 teaspoons salt
Instructions
In a large bowl, combine the water, yeast, beer and sugar.
Stir to combine, then let stand for 10 minutes.
Add 2¾ cups of flour and salt to the yeast mixture and blend, incorporating as much of the remaining ¼ cup of flour as necessary to prevent the dough from sticking.
Knead the dough for 8 to 10 minutes.
Divide the dough evenly and form into two balls.
Dust lightly with flour, then cover to proof overnight.
Allow 2 hours out of the cooler for proofing the next day before making pizzas.