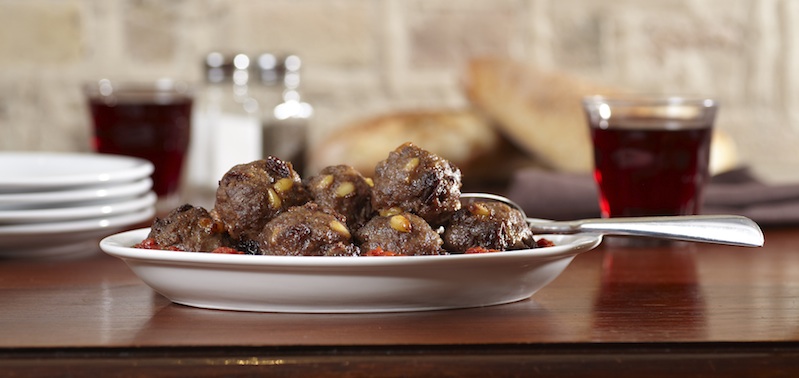 By Johnathan Goldsmith
Owner — Spacca Napoli, Chicago Illinois
3 cups dried crustless bread, cut into 1-inch cubes, soaked in cold water until soft (mollica)
1 1/4 pounds ground beef,
80 percent lean
2 eggs, beaten to mix well
2 large cloves garlic, minced
1/2 cup grated pecorino cheese
1/4 cup finely cut parsley
1/3 cup pine nuts
1/3 cup raisins
1 teaspoon salt
½ teaspoon freshly ground black pepper
olive oil
The use of mollica is key to a lighter meatball. Unfortunately, it was largely passed over by Southern Italian immigrants when they first arrived in the United States. Not only was beef less expensive and more readily available to these newly arrived Italians, there was an association of bready meatballs to their Italian poverty. Without the mollica, the meatballs became heavier. The convenience of packaged toasted bread crumbs, often not even soaked, made them heavier yet.  The meatball should be walnut in size, never large. Raisins and pine nuts, of Sephardic influence, add a special touch.
Combine 1 ¼ pounds ground beef (80 percent lean) with 2 eggs (beaten), 2 large garlic cloves (minced), ¼ cup loosely packed grated pecorino cheese, ¼ cup loosely packed shredded parsley, 1/3 cup pine nuts, 1/3 cup raisins, 1 teaspoon salt and ½ teaspoon freshly ground black pepper in a large mixing bowl. Do not mix yet.
Squeeze moisture from the bread and add directly to the bowl. Mix the ingredients well, squishing the mixture with your hands to make sure the bread blends with the meat.  Do not worry about handling the meat too much.
Roll the mixture between your palms into 12 polpette (meatballs), each using about
1/3 cup of meat.
Heat about 1/8 inch of oil in a 9- to 10-inch skillet over medium high heat.
When the oil is hot, gently place the polpette in the pan.  As soon as a crust develops on one side, turn the polpette over. Continue rotating the polpette. After about ten minutes the polpette should be well browned but still lightly rare in the center.
Place the polpette in the sauce once they have browned and simmer gently for 15 minutes. They may be held, but are best when served immediately or within an hour.