It's a busy Friday night, people are lining up at the hostess stand, and someone asks you the question, "How long do we have to wait for a table?" You want to tell them 20 minutes and hope you're right. If you underestimate and they end up waiting longer, they might walk out the door, then tell their friends to avoid your place because of its slow service. If you overestimate and they end up being seated in 10 minutes, they might expect that every time they visit. So how do you accurately estimate wait times, and how do you handle customers who might get annoyed?
Tony Pasquini, founder of the four-location Pasquini's Pizzeria in Denver, says this is a job for the manager, not the hostess. "The hostess is the least experienced person in the restaurant," he says. "The manager is on top of it. They are the ones dictating what to tell everyone."
The managers come up with an estimate by talking to seated customers, stopping by the kitchen, and at Pasquini's Pizzeria's newest location in Lone Tree, Colorado, checking the point of sale system's screen at the expediter's window. The system keeps a running time for how long it takes the kitchen to prepare the food. Those times usually vary from about 15 to 25 minutes, sometimes more.
Kedra Reisinger, owner of All- Purpose Pizza in Seattle, uses a more low-tech approach. She surveys the room and calculates the wait time based on several factors. "Is it a birthday? Are there presents still unopened? Add 20 minutes.
Reisinger says it's important to keep communicating. "One of the things I always do is tell the group waiting what I am thinking. 'I have this table here who just sat down, that table is fi nishing up salad, so they are going to be at least 25 minutes, these people are having dessert but they have their check,' etc." Sometimes she seats people, then moves them when a better table becomes available. "Say they have a party of six but I only have a four top and the six top is just getting their pizza. I will start them at the four top with drinks or appetizers and when the six top leaves, I will move them to that table," she says.
Greg Barris, chief strategist for L'Asso in New York City, says waiters and bussers try to greet each person within the first minute the customer arrives. "Someone needs to relieve the tensions of people just getting in the door and seeing the place packed," he says. "Just acknowledge their existence to get them at ease. This way they don't wonder what to do, how to get seated, if anyone's seen them. That can cause anger right off the bat before they even are eating." He says wait times are usually 15 to 30 minutes.
Incomplete parties have their own challenges. Pasquini says if three people arrive and they say the fourth person is, say, parking the car, the manager will seat the three at a four-top. Not so for larger groups. "If it's a party of eight or more, that's tough because you need two or three tables," he says. He doesn't want to set aside those tables if only two people show up, then wait an hour for everyone else to show. "If it's a Monday night, we don't care; but if it's a Friday or Saturday night, we don't really seat big parties until they are all there." He acknowledges that could make a customer unhappy, just as waiting for a table can make a customer unhappy. So Pasquini's Pizzeria offers them a free drink or dessert, or a seat at the bar. If the customer is in a hurry, the manager offers takeout, which might take only 25 minutes.
That's true for phoned delivery orders, too. "Ninety percent of our deliveries take an hour, and they might go to an hour and fi fteen minutes," Pasquini says. "We tell people we are really busy; do you want to do takeout? It'll be ready for you in 25 minutes." About 30 percent of Pasquini's Pizzeria's orders are delivery and takeout.
Reisinger says it helps to take a drink order. All-Purpose Pizza keeps the ticket open and transfers it to the table when the people are seated. "One thing we don't do is let people pre-order their food –– essentially, they don't have to wait any longer for food since they have already been waiting," she says. "We are adamant about that and really that is the only time people seem to get annoyed," she says. "But I quell this by letting people know that the pizza only takes about 20 minutes and they are here to relax and have a nice dinner and take it easy." Barris says if the wait is longer than 15 minutes, they'll offer the customer an appetizer or a food item the kitchen is testing. "The idea is that they get there and they aren't really waiting. Here's an area to be in, here's some booze, some food, and some attention. The dinner has already started even though you're not seated yet," he says.
Fast Casual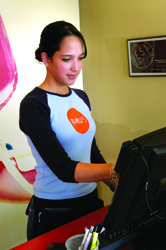 Determining wait times is also a challenge for casual dining, where the customer orders at the counter, pays, then sits at a table and waits for the order. Thomas Marr, a co-owner of Petes New Haven Style APizza in Washington DC, says it takes two to four minutes to prepare the pizza, then seven to ten to bake. "We quote everyone 15 to 20 minutes when we are slow," he says. Sometimes the pizza takes only 12 minutes. "Everybody is happy if you overestimated. You are exceeding their expectations." The place seats 40, and sometimes it's clear things will take much longer. "There is a point when you just run out of seats and you run out of oven space," Marr says. "There are times when we slow the process. We run one cash register so we don't run people through more quickly." He tries to reassure people by telling them the table turnover is quick, and they'll be able to order soon. Usually people are accommodating, but not always. "You're never going to be able to make every single person happy every single time," he says.
Nora Caley is a freelance writer specializing in food and business topics. She lives in Denver, Colorado.