Your pizza box is an important part of your marketing arsenal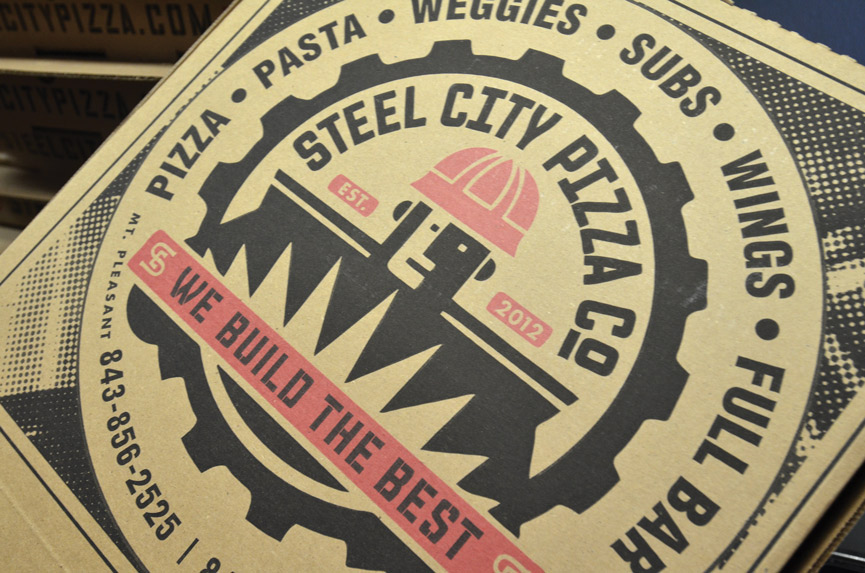 Of the three billion pizzas eaten in the United States every year, about two-thirds are transported in pizza boxes. Besides the physical product, the pizza box delivers an opportunity for powerful marketing. But not all operators see the importance of a customized box, opting for the less expensive generic "stock box" options offered by distributors. The decision is a complex one, driven by factors like cost, logistics and perception. Are custom boxes worth the additional cost and effort or are they an unnecessary drag on your budget?
The biggest hurdle most operators face when deciding between generic and custom boxes is cost. Printers are hesitant to provide a price quote without knowing the details of a job, but a custom image will likely increase your cost by 15 to 25 percent over a comparable generic print. You'll also have to purchase a printing plate for your project, which can run anywhere from $200 to $2,000, depending on your scale. Some distributors absorb these costs for operators who make large purchase commitments, but that's not a standard practice.
It's possible to decrease your cost by buying in bulk, but that requires ample storage space. Emily Hyland, co-owner of Emily in Brooklyn, upgraded to custom boxes earlier this year without increasing her costs by ordering 10,000 units. It would have been impossible to store this many boxes in her small Brooklyn restaurant space, so Hyland's distributor agreed to warehouse the boxes until needed. This solution works perfectly for
Hyland because her restaurant offers only one size of pizza.
High print minimums can keep box customization out of reach for many single-location operators, but recent technological advances have made small-scale printing affordable. Large industrial machines print and cut multiple boxes at a time on a single corrugated sheet, but smaller one-out machines can print single boxes on precut blanks. Luca Arrigoni, of Sottocasa in Brooklyn and Harlem, is able to purchase a minimum of 250 custom boxes thanks to this technology (with a plate fee of just a couple hundred dollars).
Printing such low quantities inflates his cost to the high end of the 15 to 25 percent spectrum, but Arrigoni sees this as an affordable and effective marketing opportunity that cannot be ignored. He worries that a generic box would reflect poorly on the perception of his product. "An upscale pizza requires upscale packaging," says Arrigoni.
When Emily started using custom pizza boxes nearly two years after they opened, they did so because it could have damaged their image if they continued to use a generic container. Co-owner Matt Hyland says, "The brand got to a point where we couldn't not have them. We were the only ones that didn't have a custom box." Derek Sanchez of Mia Marco's in Schertz, Texas, also sees an unbranded pizza box top as a missed opportunity. "I want my customers to associate the great experience they have when they eat my food with the logo on the box," says Sanchez. If the box top is generic, that association falls flat.
An average of 2.5 people see every pizza box, which includes both the customers who purchase the pizza as well as anyone who walks past the recycling pile on garbage day.
The art itself is crucial to both the cost and effectiveness of a custom box. Intricate designs take longer to print, which means you'll pay a few extra cents if you want a detailed photo of your great-grandmother on your box. According to Mike Hoskins of box producer WestRock, the vast majority of box designs in the United States are one- and two-color prints. Compare that with Italian pizza boxes, which are printed in full color, and Japanese boxes, which are printed with an entirely different method that allows detailed designs to be preprinted on paper liner before the corrugated box is even assembled. The American custom box industry has these capabilities, but very few pizzerias are utilizing them.
Although improving printing technology is making custom boxes more affordable, many pizzerias are finding alternative methods of personalizing their boxes. Lots of new pizzerias are purchasing blank boxes and adding their logo with a custom ink stamp. Some find it impossible to track down reasonably priced blank boxes, so they buy generic blanks and fold them
inside out before stamping. This method is less than ideal because pizza boxes are scored to be folded in a specific manner and reversing that direction results in a warped shape, potentially negating the upgraded look of personalization.
Regardless of your choice between generic and custom, the image on your pizza box clearly has a perceived link with the food it contains. Being aware of this relationship is an important part of your pizzeria's identity and your business' marketing mix.
---
Bonus Design Features for Your Custom Box
1. Add reheating instructions to control your guests' home experience.
2. Personalize the box's sidewall topping list to reflect your most popular pizzas.
3. Print a message inside the box to remind your customers to share pictures of their pizza on Instagram and Facebook. (This will add cost and you'll need food-safe ink.)
4. Incorporate a coupon into your design so customers can earn free pizza by collecting 10 – you'll increase customer retention!
5. Give customers a reason to keep the box around – and increase its visibility – by adding a game board on the bottom. (Just don't violate any trademarks!)
And Don't Forget These Basics!
1. Your logo or name – make it big and prominent!
2. Your location – list multiple locations on the same box to save $$ on printing.
3. Contact information – phone and Web site are absolutely crucial.
4. Social media handles – your customers need to know they can connect with you!
5. Advertise your App – Push customers to your app or third party ordering system if you use one.
---
Smart Ways to Save Dough on Your Custom Pizza Box
1. Use a single, small, design so you don't have to buy a new plate for each size.
2. List all or no specific location on your box if you have multiple stores so you can order a higher quantity and score a better price.
3. Use box toppers in lieu of custom pizza boxes.
4. Ask your distributor to warehouse your boxes so you can order large quantities without having to store them yourself.
5. Stamp or stencil your pizzeria's name on blank boxes for a DIY custom box solution.
Scott Wiener is the founder of Scott's Pizza Tours in New York City and SliceOutHunger.org.