Proactive HVAC maintenance helps ward off bigger, more costly problems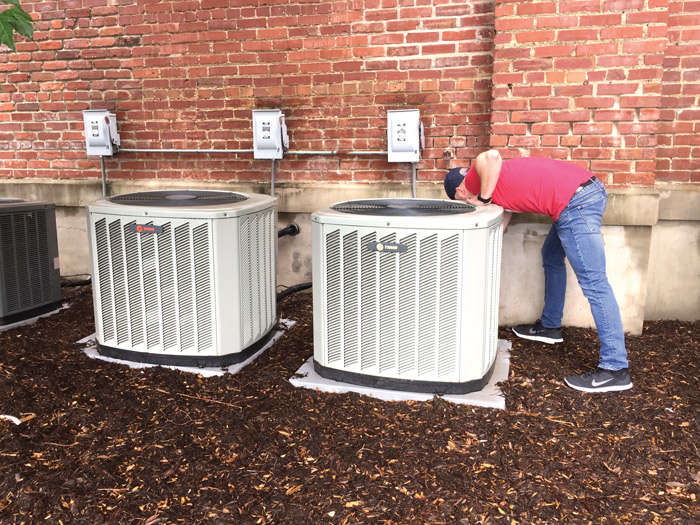 Though food remains king in the restaurant industry, environment isn't far behind.
For any restaurant, a clean and comfortable establishment is central to pleasing guests and driving business –– and the role of heating and air conditioning in the process cannot be overlooked.
Indeed, customers are sure to be agitated should a pizzeria's air conditioning system putter out during summer's heat or the furnace sputters amid winter's wrath. Such less-than-desirable experiences can spoil customers' visits and, yet more, impact the bottom line, especially since a well functioning heating, ventilation and air conditioning (HVAC) system operates more efficiently and is far less likely to encounter expensive –– and emergency –– repairs.
"Most HVAC units will need repairs from time to time, but well maintained units are far less likely to fail during peak times and far more likely to run at optimal efficiency," confirms Frank Intrieri Jr., vice president of sales at Goodway Technologies, a Stamford, Connecticut-based manufacturer of innovative maintenance equipment for commercial enterprises.
In fact, if a restaurant ignores HVAC maintenance, Intrieri says operating expenses can easily jump 25 percent.
"And that's real money you're losing, but don't have to," Intrieri reminds.
It's important to note that restaurant –– and, specifically, pizzeria –– HVAC units are markedly different than residential systems. With a pizzeria's high-temperature ovens, human crowds and constantly opening doors, interior temperatures can rise (or fall, in the case of winter) in short order and challenge HVAC systems to work that much harder.
"Those factors wreak havoc on a unit and underscore the importance of ongoing maintenance," says Rich Dykstra, head of Dykstra Home Services, a leading Chicago area HVAC service provider.
For so many operators, however, HVAC maintenance becomes a case of "out of sight, out of mind."
"At many restaurants, the units are on the roof, so operators lose track of what they need to do and when," says Dykstra, adding that ignoring regular maintenance will drastically shorten the life of HVAC equipment and prompt a big-ticket purchase sooner than necessary.
To combat this, Intrieri suggests operators employ a reminder to ensure regular maintenance takes place.
"Put it on your calendar or have an ongoing appointment with your service provider so maintenance doesn't fall to the wayside," he says.
Both Dykstra and Intrieri further urge operators to schedule quarterly maintenance checkups with a credible service provider.
During the spring, a certified service technician should go through the entire unit, changing belts, lubricating bearings and motors and checking refrigerant charges. The technician should also wash and clean the condenser coil –– a critical system component that transfers outside air into the establishment –– with a biodegradable chemical and steady water flow.
While some contend they do not have to clean the condenser coil –– sometimes called a rooftop air handler –– because the restaurant's air conditioning system has been active for months, Intrieri reminds that any rooftop unit encounters debris.
"If you parked your car on the street for a week and didn't move it, there would be a buildup of pollen and dust on it. The same applies here," Intrieri says.
When any contaminant lands on the coil, the unit's operating efficiency declines and the chance of a breakdown increases. Regular cleaning of the condenser coil allows the unit to breathe.
"If these units cannot breathe, then they cannot work," Dykstra says, adding that operators should also clean the condenser coil monthly during peak air conditioning season.
During the summer, a technician's visit should include lubricating the fan and other moving parts as well as checking all belts and the amp draw to ensure the unit is not pulling excessive electricity.
In the fall, the technician's attention should switch to the heating side: cleaning the heat exchanger and burners as well as lubricating all moving parts. During a winter visit, a technician should pay particular attention to blockages and air leaks, using HVAC aluminum tape to seal any openings and cleaning ductwork with a blow-down system or rotating brush.
"You want to make sure air gets where it needs to go," Intrieri says.
MORE on HVAC maintenance
pizzatoday.com/more/HVAC
Furthermore, if the restaurant hosts an air handler bolster interior airflow, then that unit's condensation pan should be cleaned regularly. If not, these pans can become clogged with bacterial slime and overflow.
"If you want clean, healthy air in the building, then you need to treat and maintain the condensate pan," Intrieri says.
Finally, there is one thing every operator can –– and should –– do him or herself to drive HVAC efficiency: change the panel filters on a monthly basis. Dykstra calls this oft-forgotten step a significant revenue generator for his business, a nod to just how often this simple step is ignored.
"The filter is the first line, if not the only line, of defense that stops airborne debris from entering the unit and you need to change them like clockwork," Dykstra says.
Chicago-based writer Daniel P. Smith has covered business issues and best practices for a variety of trade publications, newspapers, and magazines.