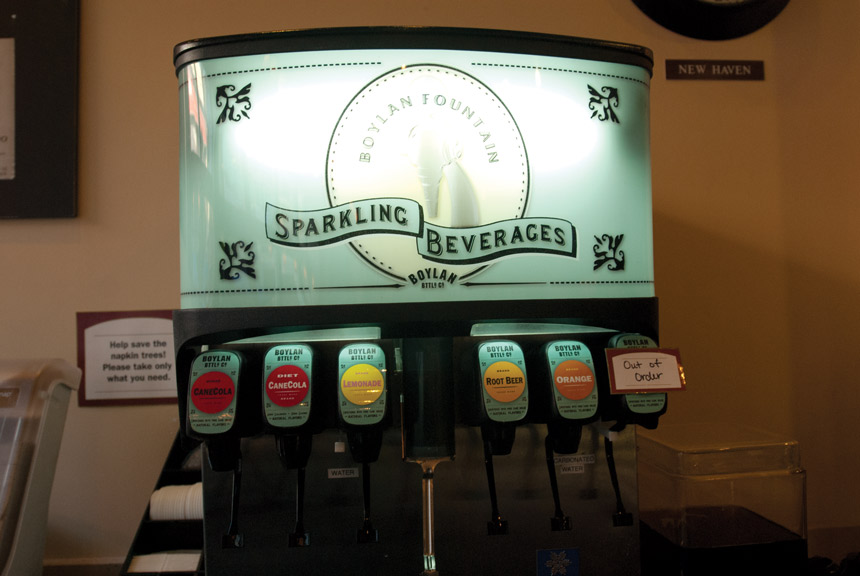 Regular upkeep is a necessity — find out why
Tucked along Farwell Avenue on Milwaukee's Lower East Side sits a Brew City culinary landmark: Pizza Shuttle.
For the last 32 years, Mark Gold and his team have been dishing out award-winning pizzas, hundreds of customers each day piling into an action-packed dining room that features a photo booth, arcade games, flat-screen TVs and –– standing tall near the end of a counter that guards the eatery's open kitchen –– a 12-head Pepsi machine that beckons customers to enjoy a beverage.
"Soda is a great moneymaker," Gold says, acknowledging a reality that holds particularly true on afternoons when Pizza Shuttle dishes out 99-cent slices of cheese pizza. "You need something to offset the price of food and that's where soda comes in."
It's precisely why Gold doesn't take that dining room soda machine for granted. He insists on regular maintenance and calls on Pepsi every 12 weeks to visit his shop, detect potential issues and calibrate the machine.
"A lot can go wrong with these machines when you have thousands of people using them each week, and that's not a chance I'm willing to take," Gold says.
Even in the age of declining soft drink consumption, the soda machine retains its place as a valuable tool in the restaurateur's arsenal, dispensing high-margin beverages that boost top-line revenue and bottom-line performance. To earn those gains, however, operators cannot neglect soda machine maintenance.
"With the soda machine, you're dealing with key issues such as sanitation, customer satisfaction, safety and quality, so you want to take maintenance on these machines seriously," says Dustin Wojcicki, a Seattle-based key account manager for PepsiCo.
Restaurant operators need to understand and maintain their soda machines, especially given the sugar content of fountain beverages. The "stickiness" of sugar, after all, can weaken the appearance and function of a soda machine, leading to turned-off customers, as well as an increased risk of contamination and a greater likelihood that the machine will require service.
"You want to make sure you're cleaning soda fountains for health and safety reasons, of course, but also to ensure that you're able to consistently deliver a quality product," says Glen Skillingstad, director of market equipment at Bernick's, a 101-year-old Minnesota-based beverage, vending and food distributor.
Though a good number of restaurant operators lease their soda machine or receive the equipment on loan from the manufacturer — thereby turning over any large service issues to an outside vendor — regular in-store maintenance remains crucial to limiting service calls and delivering a safe, refreshing product to diners time and again. Here's how to get it done:
Communicate expectations to employees. Quite often, Skillingstad notes, a member of the Bernick's team completes a new installation and then provides operational and maintenance training to a limited audience of one or two key team members.
"It's imperative those personnel transfer that knowledge to others and successfully communicate expectations to employees because there are certain best practices that need to be executed," Skillingstad says.
Wipe down the machine's exterior. Each day, and multiple times each day if the soda machine has buttons customers themselves press, restaurant staff should tend to the machine's exterior, wiping downward with a soft cloth dipped in hot water.
"This cleans the machine and helps ensure a sharp, professional presentation," Wojcicki says.
Clean nozzles. At the end of each day, Skillingstad recommends staff remove each nozzle from its fountain valve for a quick cleaning that eliminates buildup. While some might use a mild detergent or a small brush to scrub around the nozzle, a quick wash of the nozzles in warm water with a soft cloth often does the trick. Staff can then lay the nozzles on a towel to air dry.
"It doesn't take much to take the stickiness off the nozzle," Skillingstad says, calling the common practice of soaking nozzles in a bucket of water or club soda overnight unnecessary.
Attend to the drain area. Though often overlooked, syrups, bacteria and debris can easily build up in the drain area. To limit any problems, Wojcicki suggests pouring hot water down the drain each day.
"Once again, hot water is your best friend with soda machine maintenance," Wojcicki says.
Maintain lines of communication with third-party partners. As a piece of mechanical equipment, the soda machine, like virtually any other equipment in the pizzeria, can encounter problems that require professional attention. Yet, operators can minimize downtime and enjoy a quick solution if they know exactly whom to phone in the event of a breakdown or puzzling issue.
"Know your key account manager or sales rep and keep a clear line of communication open so that you can get problems addressed immediately," Wojcicki says.
Mind the dates. From product canisters to bag-in-a-box beverage items, soda products carry expiration dates and it is the owner's responsibility to make sure the restaurant is dispensing safe product.
"You want things dated properly and to monitor these dates so you know you're providing a safe, quality beverage," Skillingstad says.
Daniel P. Smith is a Chicago-based freelance writer and frequent contributor to Pizza Today.