Distinguishing dining-room design trend from fad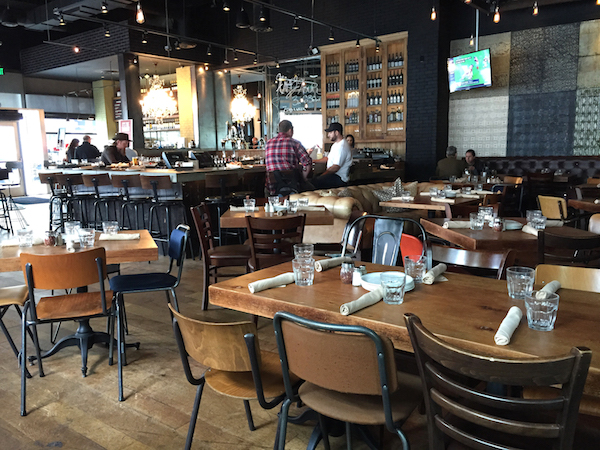 Dan Collier and his partner, Josh Schreider, of PizzaMan Dan's in Ventura County, California, took a serious look at the pizza company's interiors about a year ago. Since its inception in 2012, Collier and Schreider kept coming back to the same question regarding design: "Will it sell a single pizza?"
For PizzaMan Dan's young clientele (17 to 37 year olds), Collier says, the answer was a resounding yes. The partners turned to their employees, initiating an open conversation with the staff to find out what would make them want to come to a PizzaMan Dan's on a date night or a night out with friends and family.
Stephani Robson, senior lecturer at Cornell University School of Hotel Administration, points to Millennials as drivers of some of the leading trends, like communal seating, open dining and green design.
With six locations and more in development, PizzaMan Dan's is in the process of a two-phase update to woo Millennials. Collier says Schreider was the brains behind the plan to update existing store interiors and new-unit design. The first phase involves upgrades that Collier calls the "static visual" elements, with changes to floors, walls, lighting and table configuration. The second phase is a "dynamic visual and audio" update, which includes television and surround sound installations.
One of the most challenging aspects in design or renovation investments is deciding what to update. "The trick is to put the money in the bones that are going to last you a long time," Robson says, listing restrooms, lighting systems, kitchens and HVAC as sound upgrades. "Don't spend a lot of money on finishes because you are going to be changing them."
Often times, Robson says, she encounters operators fixated on finishes and furnishings like expensive chairs. Aesthetics are areas where trends can quickly turn to fads. "You can usually pinpoint the fads by how quickly they move," Robson adds. "A trend usually has some kind of foundation behind it. There is a reason for it. Fads, to me, are things that don't necessarily have an underlying theory or purpose but they go through a popular phase.
"In terms of restaurant design, there is a real movement right now and it's really popular to use semi-industrial materials and white subway tile and exposed light bulbs hanging from a single cord," Robson says. "That is aesthetic and that is faddish… but what is behind that is a trend which is that people want to know that you are honest in everything you do. Your food is honest, and so by having an environment that is not frilly, it suggests honesty about your entire organization."
MORE on macro-trends from the American Society of Interior Designers and their impact on restaurant design: PizzaToday.com/more/AAIDmacrotrends
Let's examine a few common trends that pizzeria operators can capitalize on:
• Flexible seating. Today's dining areas are less restrictive of party sizes. Seating can be modified and arranged to accommodate a variety of group sizes. This is what is behind communal dining. Seating a couple or a single diner with a party of four or six can help table turns — and Millennials are drawn to communal.
Collier says that flexible table variations is a major component of PizzaMan Dan's redesign, blending adaptable booths that can alternate between two and six seats, four-top tables and high tables.
• Lighting. LEDs have become affordable and available. "Even the bare-boned mom and pop or quick-serve can get a pretty sophisticated lighting look," Robson says. "Lighting is really important for giving the impression of quality."
Dining light trends lean towards lower light levels, Robson says, adding that she is seeing more of an emphasis on table spotlighting and less on brightly lit environments.
Though PizzaMan Dan's opted for a modestly increased light level (as compared to the previous lighting), the pizzeria went with indirect LEDs, just bright enough to see what's happening in the restaurant.
• Technology Integration. A front-of-house consideration Robson encourages operators to invest in is Wi-Fi, which she refers to as "table stakes." It's not only a customer service, but with social media, WiFi is also a marketing vehicle.
Table charging stations have become popular, especially in the fast-casual segments. Robson warns that wireless charging may be poised in the near future to nullify the design element.
Despite all of the tech gadgets available for interiors, many fall into the popular and even fad category. "Technology often is not customer facing, it is more back-of-house –– anything that allows you to operate more effectively and to make sure that your systems and your equipment are beating the way they should," Robson says.
• Open dining/hard surfaces. The open, often noisy interiors are here to stay for the foreseeable future, Robson says.
What complicates noise level issues are exposed ceilings and hard surfaces. Operators are steering away from soft surfaces due to their high maintenance costs. That is true for carpeting as well. "From a maintenance perspective, it's just not sustainable," Robson says. Operators are drawn to low-care finishes and furnishings, which provide no noise reduction. With open dining, you must budget acoustical and noise controls into the design.
Top 3 Questions for your Interior Designer
Stephani Robson, senior lecturer at Cornell University School of Hotel Administration, outlines the three most important questions your designer should answer before you sign off on an interior build out or remodel. Ask the following questions:
What is the lifecycle cost of this particular material or furniture choice? "Not the installation cost, the lifecycle cost," Robson says. "What's it going to take for me to maintain this? Does it have residual value when we rip it out? How long can I expect to get value out of this? And part of that is what does it use in terms of energy? So if a designer can't answer that or has no idea what the operator is asking or talking about, get another designer."
What can I change easily over time? "What have you or can you build in that will let me change something simply, quickly, inexpensively," she asks. "It could be something as easy as we are using a lot of paints because paint is your best friend when you are an operator. You can touch it up and swap it out."
What would you cut if I told you we had to take 10 percent out of this budget? "Let's talk about it now so it's not something that is happening at the spur of the moment," she says.
These questions will give operators vital answers they should seek for smart planning, budgeting and management of a new or redesigned interior, Robson says.
Denise Greer is associate editor at Pizza Today.