Tony Gemignani has already made quite a name for himself in the pizza industry. His dough-tossing prowess is well publicized, and his list of awards and honors seems to grow by the day. From cookbooks to children's books, from leading the World Pizza Champions to teaching the art of pizza at his newly minted pizza school, one wonders how the affable pizza maker has time to actually make pizza.
As it turns out, he spends more time saucing and baking skins than tossing them. When Pizza Today caught up with him in September, Gemignani had just opened his new venture, Tony's Pizza Napoletana, at 1570 Stockton Street in San Francisco. Though it isn't a solo project — partners Nancy Puglisi and Bruno DiFabio have invested in the concept — Gemignani, commonly referred to simply as "Tony G." in the pizza industry, is the point man. On our visit with him, Gemignani proudly showed off the new digs, pointed out its seemingly endless highlights and then made pizza after pizza. Through all the glitz and glitter, it appears the flashy dough tosser is most at home, in the end, in front of a wood-burning oven making authentic Neapolitan pizza.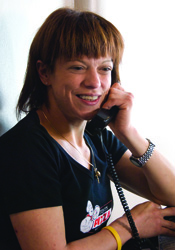 Gemignani feeds more wood to the fire and watches its intensity grow. The oven temperature is just about right — nearing 900 F — and he's eager to show us what his award-winning Margherita is all about. Here's the catch, though, the unique point that makes Tony's Pizza Napoletana different from any pizza concept we've ever seen: the wood-burner on display isn't the only pizza oven at Gemignani's disposal. Not even close. In fact, he's got three others in the back, all geared to cook the particular style of pizza for which each respective oven is more suited. That's not all, either. Gemignani takes it a step further and brings in five different types of fl our. A one-crust-fits-all approach doesn't fly here. Want a New York-style pizza? That uses its own flour and cooks in a deck oven. Want a Neapolitan? Then Tony's using an imported flour.
"We wanted to do something different, and we were just hoping people would get it," says Gemignani. "That's where being in the city really helps out. They get it here. Thankfully, people got it. Our customer satisfaction is pretty high. They understand what we're doing, and they appreciate it." Customers aren't the only ones to have taken notice. Renowned Bay Area food critic Michael Bauer gave Tony's Pizza Napoletana a solid review in the San Francisco Chronicle in September. He awarded the pizzeria 2 1⁄2 stars on a fourstar scale and called the pizza "textbook" and "perfect." Additionally, Gemignani's shop has since become Zagat-rated.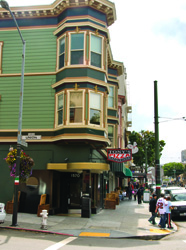 "Michael Bauer loved it," says Gemignani, still glowing from the positive review from the heavy-hitting critic. "We've been non-stop ever since that review came out, and we were already busy before that. But that review really catapulted us. Then we got Zagat-rated, which was pretty cool, and that kind of catpulted us a little bit more. Not too many pizzerias get Zagat-rated."
The unique concept and high praise from food writers have enabled Tony's Pizza Napoletana to operate without a marketing budget. Advertising, says Gemignani, simply isn't necessary. "We have zero marketing," he says. "We don't even have a budget for it. I mean, literally, we have zero marketing budget."
Not allocating capital for advertising is a scary thought to most business owners, but Gemignani can get away with it because he is a one-man marketing machine in his own right. His ability to land on national television — from Jay Leno to Tony Danza to the Food Network — gives him an advertising platform that can't be rivaled with billboards, direct mail, radio spots, etc. That aside, though, Gemignani knows this inescapable truth: if the food and service are truly great, advertising is a luxury a restaurant can live without.
There's little doubt that the food — specifically the pizza — is the focus at Tony's Pizza Napoletana. "We're trying to bring pizza up to a different level with the fi ve different fl ours and the different ovens," says Gemignani. "We're bringing in the fl our we need to make the correct dough, we're getting the correct sauce, we have the correct ovens for each style."
Why go through all the trouble? Why have to worry about having an expediter in a pizza kitchen to keep the various styles in check? Why pay so much more for imported ingredients? For Gemignani, those questions are easily dismissed. "Aristan pizza is the future of pizza," he predicts. "It's all getting back to the basics." With that in mind, Gemignani says he's
focused on buying local vegetables and going organic whenever possible. "I see that as being important," he says. "More and more people are going to expect restaurants to do those sorts of things."
Gemignani is on to something, and his revenues prove it — he's on pace to hit $3.2 million in sales his first year. "We're only open fi ve days a week," says Gemignani. "And we're projecting well over $3 million in sales. Last week, when you factor in the pizza school as well, we did $69,000 in sales. The other night I did $13,000 on a Saturday and it didn't feel that crazy. At Pyzano's (in nearby Castro Valley, which Gemigani co-owns with his brother, Frank), with that volume, I wouldn't have known what to do." Did Gemignani envision that Tony's Pizza Napoletana would do this well?
"We're way over our projections in earnings," he admits. "It's been great. Bruno (DiFabio) and I have been scratching our heads. We had to do $20,000 a week and said $25,000 would be a nice week. If we hit $30,000 a week, we were going to be really happy. Our last three weeks in a row have been $53,000 weeks before we add in revenue from the cooking school I host on the days we're closed. And we just added outdoor seating. Another 28 seats are outside now, and that's looking like it's going to give us up to another $10,000 per week." ?
Jeremy White is editor-in-chief at PIZZA TODAY.