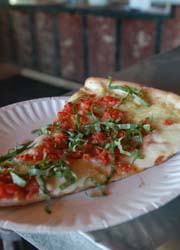 The story has been repeated time and again in cities all across America: an aspiring man or woman moves to a new locale after years in New York and is disappointed by the pizza offerings of the adopted city. This time, the city in question is Austin, Texas, and the heroine of this twice-told tale is a former NYU student who made her living in Austin as a food editor. But the clichés really are only circumstantial, because behind the concept developed by Jen Strickland (seated in the black dress in the photo at the right), her husband Joseph and business partner Terri Hannifin (far right) there's substance. Together, the trio opened Home Slice at the end of 2005. They were part of a boom on Austin's now-popular Congress Avenue and have reaped the benefits of hard work, location and a fun concept ever since.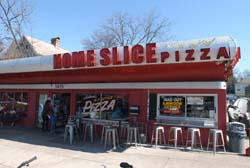 There was a time when Congress Avenue was less than desirable. Street walkers and drug pushers owned the nights on this busy street with a distant view of the Texas state capitol building. But just as other cities such as Indianapolis and Charlotte have undergone successful revitalization efforts in years past, something was brewing in Austin. An educated, hip and artsy population does not remain stagnant for long, and Congress eventually became the focus of like-minded entreprenuers who saw potential in the area. Now the avenue is a growing, buzzing hotbed of activity. And with both residential and business areas nearby, the restaurants benefit with crowds during both the lunch and dinner dayparts. Such was the case when Pizza Today dropped in on Home Slice Pizza in mid January to observe the goings-on. The main restaurant was packed with business professionals and young families. Next door, More Home Slice — a small extension meant to deal with takeout overflow — was packed as well. Its limited seating was taken by students and biz pros on a time crunch. Slices waited for re-heating in the deck ovens, while the warm sunshine outside meant the outdoor seats were occupied with slice enthusiasts as well. We chatted briefly with Chris Harlan, a student at the University of Texas who was shopping at a nearby specialty store. He said Home Slice was his "go-to joint" when he felt the need for pizza.
"You get in and out fast, and the vibe is cool," he says. "The slices are large and they always hit the spot."
The menu is designed to hit the spot New York style. Whole pies and slices reign supreme, but other options include salads, antipasto, calzones, sub sandwiches, espresso and dessert. Beer and wine complete the dining experience and work to elevate overall sales. Though native to New York, the trio of owners did not already possess pizza-making expertise when they decided in earnest to make a run at pizzeria ownership. Instead of trying to acquire it in the Lone Star State, Jen Strickland instead went back to NYC for an unofficial apprenticeship. With that experience under her belt, she returned to Austin with what Home Slice's Web site calls "street cred."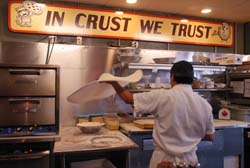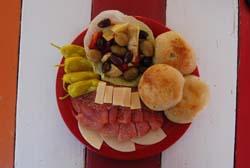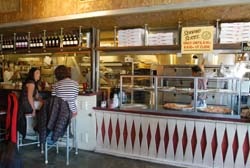 To play up the New York pizza experience as much as possible, More Home Slice, which opened in February of 2010, features tile work that conveys some iconic New York personalities — Spike Lee, Run DMC and J.D. Salinger, to name a few. Back in the original Home Slice, the decor has more of a circus feel to it. Tastefully done and fitting (what pizzeria kitchen isn't a circus act, after all?), the look complements the menu and the restaurant's overall mentality.
Speaking of mentality, Home Slice carries its kitsch over to social media as well, where it has managed to excel and set itself apart when compared to its competitors. Home Slice has more than 16,000 Facebook likes and more than 7,000 Twitter followers. The company uses the former primarily to interact with customers (it shares photos of fans as well as pics sent in by diners) and the latter to advertise daily specials.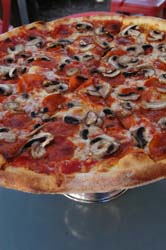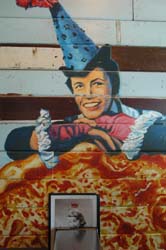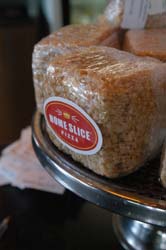 Then there's the Carnival O' Pizza, an annual event the restaurant stages late each fall. Complete with a pizza-eating contest, music, games and other activities, the Carnival O' Pizza has become Home Slice's claim to local fame. It's an event that puts the restaurant's name front and center for hundreds of Austin residents and ensures a new wave of rabid fans each year as the it continues to grow both in size and popularity.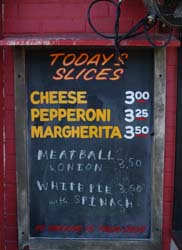 "You've got to see it sometime," says Harlan, the student we caught munching a slice of pepperoni on our visit. "It's insane."
Jeremy White is Editor-in-Chief of Pizza Today.