[SlideDeck2 id=34302]
How Minnesota's Ann Kim conquered the world of pizza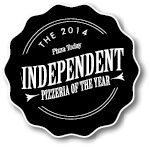 The oven perches on its supports smack in the middle of the building. Central to the business as the sun is to the solar system, its magnificence is the clear and uncontested focal point. By design, everything surrounding it intentionally draws the eye to its shiny copper casing. Even the tract lighting overhead radiates out from the oven and into the dining room and kitchen like rays that quietly display the significance of the centerpiece. At this altar, the art of pizza is practiced. The craft is respected by workman and customer alike, and the resulting relationship is a thing of beauty.
When Ann Kim opened Pizzeria Lola in Minneapolis in 2010, she envisioned an environment that fostered a symbiotical relationship between the business and its employees as well as between the business and its customers. In short, she wanted everyone to feel at home. She wanted community and collaboration to collide in a way that created a unique atmosphere and celebrated the pizza as well as the people behind it.
Her success is evident: Pizzeria Lola topped $3.1 million in sales last year, making it one of the highest-grossing single-unit pizzerias in the nation. Who knew a Korean immigrant and Ivy League graduate who turned away from what surely would have been a successful career as an attorney would one day grace our cover as the Independent of the Year? Perhaps no one is more surprised than Kim herself, who — like so many of us — originally had other ideas as to where their lives would lead them.
The camera levels its lens at kim and art director josh keown says, "okay, here we go." this writer asks a question and then she's off.  Her speech articulate and her thoughts intelligent and thought-provoking, Kim runs through the video for PizzaToday.com effortlessly. We get what we need in one take and move on to the photo session. Josh asks her how she managed to be so smooth with the video camera right in her face. Kim discloses that she was an actress prior to entering the pizza trade.
Acting wasn't exactly the career her parents had envisioned for her when they brought Kim to the United States when she was four years old. And they sure didn't leave their home country and head to America for their daughter to work in a restaurant. Truth is, she did not expect to find herself making pizza for a living, either. Yet, here she is.
"My plan was to pursue an acting career," says Kim. "My parents had a different idea. Their plan was for me to go to law school. And, so, shortly after graduating (from Columbia University in New York) I worked in a law firm. I wanted to see if that was the kind of lifestyle I wanted and realized I didn't, so I decided I was not going to go that path. I moved back to Minnesota with every intention of pursuing an acting career. Minneapolis has a thriving theatre community that I was really interested in. My parents were not happy about that in the least, as you could say. Like most immigrant parents, when you come to the United States you dream of better things for your children and acting is not one of those things that you think is going to be lucrative. It was not their idea of a good future."
Acting did in fact provide Kim with a future for nearly a decade, however. And when the "art became a job" she realized that she needed to find a new profession.
Around the same time, the economy had soured and Kim's boyfriend — now her husband — lost his job as a financial analyst. That's when Kim said, "Life is too short. Let's do something that brings us joy."
And that's how Pizzeria Lola (named after Kim's dog) was born.