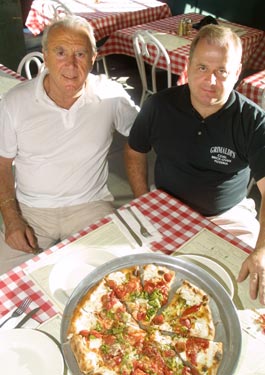 Patsy Grimaldi is something of a purist. He's not real big on sliced pizza. According to him, that was a sham pulled on New Yorkers about 40 years ago by a couple of guys who laughed all the way to their bank in Italy. As for the brick oven pizzerias that have become so popular of late?
Fuhgeddabout it. They can't hold a candle to the coal burning ovens of yesteryear, he claims. "Fifty years ago, 75 years ago in New York, in all the bakeries and pizzerias, that's what they used is coal," Grimaldi says. Now, just a handful of pizzerias including his Hoboken, New Jersey restaurant-used the intensely hot ovens to bake pies.
"The reason they don't have them today is most of the old timers are gone. There's no one to carry on the trade. I was one of the first ones to come back after so many years with the coal ovens."
Grimaldi, whose restaurant bears his named, learned the trade from his uncle and namesake, Patsy Lancieri, who, in turn, learned from Gennaro Lombardi, the man credited with opening the first pizzeria in America in 1905. Lancieri opened the
celebrated Patsy's in East Harlem in 1931 where Grimaldi worked 61 years ago at the tender age of 10.
With credentials like his, Grimaldi has earned the right to voice his opinion on the subject of pizza. Between his original location beneath the Brooklyn Bridge, and his present Hoboken location, Grimaldi has earned numerous distinctions and has consistently earned high ratings from Zagat's Survey.
Hoboken's favorite son, Frank Sinatra, was a fan and had Grimaldi's pizza delivered to him on occasion when he was in the area. Scott O'Grady, the United States Air Force F-16 pilot shot down over Bosia in 1995, told reporters that thinking about Grimaldi's pizza was one of the things that kept him going when he was trying to elude captivity.

Lost Art
Grimaldi says the art of baking pies in coal-fired ovens is all but lost today. That's not surprising since many cities, including Manhattan, have outlawed new installation of the ovens over environmental concerns. Such laws are not in place in Brooklyn or Hoboken.
He sold the Brooklyn store two years ago because he says it took too much of his time to run it. At 71 Gimaldi is less of a hands-on owner, leaving the day-to-day operation of the Hoboken store up to partner Sean McHugh.
That doesn't keep him form singing the praises of the coal-fired oven, which McHugh, who did construction work prior to embarking on a new career in the pizza business with Grimaldi about eight years ago, personally built.
"A coal oven gives you a much better taste than gas or convection," he says. "Ot gives it that charcoal taste. Like if you would eat steak from a charcoal grill, it's going to be 10 times better than a gas grill."
One characteristic of the coal-fired oven is the way it blackens the crust in places, imparting a smoky flavor and distinct crispiness.
"The bottom of it is black," Gimaldi says. "The taste is unbelievable." Wood-and gas-fired brick ovens have also supplanted the coal-fired ovens, and while they may be alike in principle, Grimaldi says they simply are not the same.
"Everybody advertises 'brick oven, brickoven'" he says. "When you say brick oven, that's not a coal oven. Years ago, when they said they had a brick oven, it was a coal oven. Because they say me doing such a good business, everybody wants to get in on the act. All over the country people say 'brick oven, brick,' but nobody has a brick oven. This a brick oven.
Grimaldi laments the fact that as the coal is replaced by other fuels the knowledge of how to cook with it is being lost as well.
"Ti's a trade. It's an art," Grimaldi says. "You have to know what you are doing. The oven is very difficult to work with. If you don't know what you are doing, the pizzas don't come out right. You can have all the coal ovens you want, but if you don't know how to work it they're not going to come out right."
McHugh says pizza makers must train for a long time to become good at what they do.
"Our guys trained in Brooklyn three years before they came here," he says. "The oven is 800 degrees. So, if somebody doesn't know the oven, that pizza is going to be burned. Our pizza cooks in four or five minutes. The oven is very, very hot. It's easy to stretch the dough and make the pizza, but working the oven is the hardest thing to do. Especially if you are very, very busy. We can put out 100 pies in a half hour, so the guy on that oven has to be turning pies."

Using the Best
"The oven makes the big difference, I give 80 percent (credit) to the oven and the rest is the ingredients," McHugh says. "Without this oven, the pizzas won't come out good, but not this good."
Still Grimaldi insists on using only the best ingredients available. "We use the finest ingredients. No pizzeria in New York or Jersey uses the ingredients we use," he says. "We use fresh mozzarella. Nobody does that."
In Grimaldi's case, quality doesn't necessarily mean quantity. Diners shouldn't expect to find a lot of choices when it comes to toppings, with only anchovies, broccoli, garlic, ham, mushrooms, onions, sliced or whole olives, pepperoni, ricotta cheese, roasted red peppers and sausage being offered on the menu.
He also is particular about his dough, which is made fresh on site each day. "The dough is one of the most important thing. Basically we use the best flour we can buy. That's 50 percent of making a good pizza. If you don't have the right dough, your pizza is going to come out bad," Grimaldi says. "That's another thing, most of these pizzerias don't know how to make dough. They think it's just yeast and flour, but there is an art to that."