Read firsthand accounts of how pizzeria owners and leadership have handled the COVID-19 Pandemic
We asked pizzerias, large and small, to send us their stories of weathering and even thriving during COVID-19. We've created this COVID-19 Capsule, where you will find full stories in the operators' and company leaderships' own words.
---
The Pizza Place — San Francisco, CA
We are The Pizza Place on Noriega at Ocean Beach/San Francisco, CA, I am Cindy Co-owner/GM along with my husband Kevin, Co-owner/Chef and we have been in business since 2007.  We seat appx 90ppl and are a neighborhood gathering spot, so when shelter in place went into effect here in SF on 3/17, it hit us (like everyone) hard.
We do takeout normally but a big part of our business has always been people sitting at our 12 seat bar and ordering pints of beer and glasses of wine with their slices and so our beer sales are down about 70-80%. We are selling six packs of beer and bottles of wine to go and quickly made a pizza kit and some specials for people to make pizza with their families while they passed the time during lockdown.
We added online ordering for the first time and started selling beer/wine thru Grub Hub along with our food. lWe adjusted our hours and now close an hour or so earlier than we used to and stopped doing lunch on Mondays. It was a really big adjustment for us. We were allowed to do outdoor dining starting mid June but so far have opted out of it as our staff wasn't ready and quite frankly we weren't ready as well. Here in SF we were going to have to monitor people to be wearing masks upon entering and also wear them to the restroom and not get up from their table and make sure kids didn't get up from their seat (we are a pizzeria and kids are used to running wild on our back patio) and it just seemed too much to handle and too risky so we have not done outdoor dining up to this point.  We are now considering it via a program the city of SF implemented, Shared Spaces but we found out we can't use the bus stop in front of our location even though it has been suspended since March/April so we want to get that figured out through the city so that we can generate more income w/ outdoor dining.
We collaborated with a local organization that is usually an outdoor education/camp (mewaterfoundation.org)for low income/troubled kids here in the city and helped provide them with a fun Friday pizza night a few different times during the pandemic as these kids and their families are facing food insecurities. . It was great to see how excited the kids were to still be able to get a treat like pizza when they normally wouldn't be able to afford it.
We are in the midst of collaborating with our local Irish pub up the street to provide food for them to re-open outdoors and sell our food (in SF for bars to reopen outside they need to have a bonafide meal offered to guests) We adjusted our staffing and had to reduce some employee's hours. We've had a couple covid scares and have all been tested two different times. We are lucky to have a great community that has always had our backs these last 13 years and are very supportive of our business.
—Co-owner/GM Cindy
---
Venezia' Pizzeria — (5 locations) Phoenix, Arizona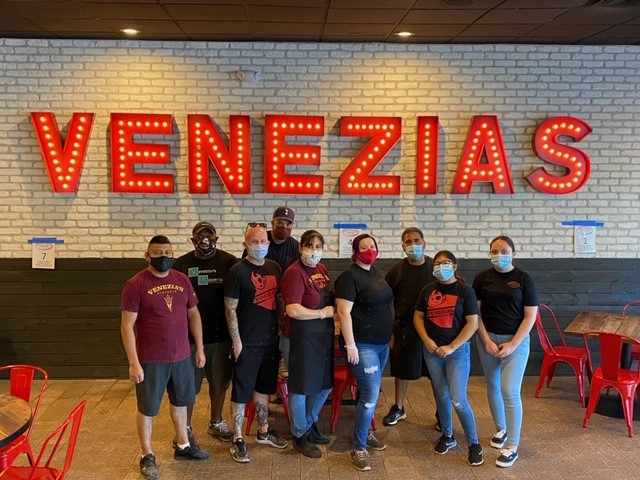 The past 6 months have definitely been the most challenging in my 22 years of being a restaurant owner. I will never forget the day in March when I had my head down in my office debating whether or not I could handle the pressures of what we were up against. I had serious thoughts of closing down because of the uncertainty of the virus.
I had many conversations with friends and family and gathered my thoughts on what I thought was best for Venezias.  The decision was to put safety precautions in place for our employees & customers and keep the engine going. My major concern was  that of my 300 employees and knowing that I needed to pull myself together and be mentally strong for them first and foremost.  It was a lot of stress on my shoulders but I knew it was what was best for the company. My Area Manager, Renny Mitchell, and Director of Ops, Derek Clark, did a phenomenal job in putting policies and procedures in place so that we felt confident about our decision to remain open.
As we moved forward with business in this new, uncertain environment, the support of the employees is what kept us going . They thanked me daily for still having a job and we all felt blessed when we were deemed an essential business. It gave me more courage to stay strong and carry on as one of the leaders in the community by being able to provide food to our customers since many of the restaurants in our area had shuttered.
Again I feel so blessed to have such an amazing staff that keeps sacrificing each day to keep Venezia's functioning.  In March, some policies that were put in place were mandatory masks, checking temps, making sure any employees who had any known COVID symptoms were kept at home.  We had some push back from a few employees but this was the best way to keep all employees safe and limit exposure in our workplace.  We have recently added in app questionnaire that asked employees before they start their shift for COVID related symptoms.
I wanted to give back to my employees so we decided to schedule 2 benefits for our employees. The first was an Employee day which happened on Tuesday April 21st. On this day we gave back all 100% of every sale we made for that day. It was an amazing turnout from the community to help support our employees as they have been working so hard over the past month. We ended up having sales of $72,000 for all the employees. This also did not include all the tips they received that night. I recall a few customers in the parking lot handing a $20 or $50 extra tip as a "thank you." It was great to see the amazing gratitude.
The second benefit we put in place was we gave each employee a $2 per hour  raise for the next 2 months as an appreciation. I actually ended up extending the $2 per hour an extra month so it ended up being a 3 month benefit for all employees.  We were considered a "hot spot" nationally so I felt it was the right thing to do.
Looking at our current state of business now in August, we are currently at 50% capacity for our dine-in.  We lost most of our corporate business for lunch and dine-in has suffered but we continue to be busy for takeout and delivery. Our sales at are flat at a few stores and a few are down 5 to 10%. Our busiest location which is close to ASU unfortunately has taken a big hit from the loss of corporate delivery orders, lunch business and the college being closed and is down about 15%. We are just thankful that we have been able to persevere over the past 6 months and keep our employees working .
We will continue to follow all CDC guidelines and continue to be diligent so that we can see this through since the virus is still around us.
—Owner Domenick Montanile
---
Jet's Pizza — Sterling Heights, Michigan
Don't miss an engaging roundtable discussion with Jet's Pizza leadership, including Jimmy Galloway, Vice President of Franchise Sales; John Jetts, President; and Jeff Galloway, Vice President of Store Operations. Watch the engaging video:
---
Pizza Heaven — Luzerne, Pennsylvania
Hello! My name is Jake Schell, I am the 24 year old sole owner of Pizza Heaven in Luzerne, Pennsylvania. We are an independent Sicilian Style shop and have been in operation for over 11 years, and I have been an employee for about 8. I purchased the shop in January from the previous owner, Bud. The plan was for him to take his leave in March. A little after 3 months of ownership things were great and we were cruising into our first busy season in good shape. Then, COVID. What could I do?
Honestly it doesn't seem like I did much in hindsight, but I know I did. I put an admittedly janky homemade sanitizer station out front, and closed for dine in as required by the state, as well as followed all other requirements. Closing was never a consideration personally, but I have the utmost respect for any operators personal decisions. Collectively, our entire staff agreed that we wanted to keep working. Everyone's lives came to a screeching halt aside from one aspect, Pizza Heaven.
We have never been so busy. Everything happened so quickly and suddenly that all I could focus on was ticket times and dough counts. My plans and metrics laughed at me as they flew out the window. Once the phone started ringing after the NBA cancelled their first game, it didn't stop from open to close for 3 months. It seemed like every day I had to run for more product. Suddenly our weekly cooler was empty every night. But we made it work. Day in and day out anybody who wanted our food got it. We ran curbside orders in the pouring rain, dealt with the increased CC rates from keying in cards over the phone, had full kegs that were now illegal to sell. You name it, we've seen it in the last 6 months.
Now in September, things are shaping up to look normal again, thankfully. Most machines aren't designed to run at maximum output ever, let alone for 6 months.
To my staff, thank you. You all wanted to stand up and be counted; and you absolutely saved my ass.
Without your hard work and unwavering commitment our shop would be nothing.
To Bud, thank you. You built a bombproof pizza shop with the best folks I've ever had the privilege of meeting. You gave me a job, and a path in life that has shaped me into the man I am today.
To everyone else, thank you. Stay grateful and if you lose your mind, you can always have a pizza ours.
Finally, to God, thank you for pizza boxes.
— Owner Jake Schell
---
Verde Pizza — Baltimore, Maryland
Leading up to our March 16, 2020 virus closing we were having a very good start to the year. All the work we and our staff put in was finally giving us the comfort level every restaurant owner looks forward to. Then suddenly the light at the ends of the tunnel went dark and we were left with an empty restaurant.
As a pizza restaurant we already had a reasonable presence, in Baltimore , for delivery but delivery comes at a steep cost. Since we use third party delivery services we needed another revenue stream that favored us. In late March we began to develop our own online ordering presence with an emphasis on pick up and supporting local as our vision.
As the weather became more suited for outdoor dining we expanded our outdoor dining  footprint and began to offer pizza making kits to go, cocktails to go, beverages to go (all for pick up at Verde)
This expansion in services was compounded negatively by servers not wanting to come in because unemployment insurance was high, or they wanted to stay home because they were concerned about their health or they felt sick and we insisted on two COVID tests before they came back, if they were negative (which everyone has been negative so far).
Additionally figuring out how to allocate the PPP, with all the confusion and changes, was a task which occupied a lot of time in applying for and executing. Servers misunderstood the program which lead to confusing and concerns and a lot of hand holding.
In July Baltimore allowed indoor dining at 50%,  but after two weeks we were shut down again and had to redirect our staff to focus on to go and delivery more. In August Baltimore opened up indoor dining at 25%, which is a baby step in the right direction, and again we had to changed our staffing prioritizes  Concerns about bar and restaurants abated somewhat, as the curve trended downward, but I contend that Bars are very different from Restaurants in their clientele and revenue streams!
Currently we are in September and our ability to serve guests indoors is still limited by the City and the diners reluctance to eat indoors. At Verde we have our menu available
on line, we disinfect every table and area after each use and have set up barriers and or social distance to follow the CDC guidelines, but it is a major challenge every day to stay focused as the target moves often.
Food cost are up but we have held our prices at February levels and will revisit them later this month. To further cut cost we have suspended our valet service, reduced our trash pick up schedule, reduced our cable expenses, lowered our A/C settings and increased our monitoring of labor hours. Our commitment to our staff has allowed them to work throughout this pandemic and we have continued to offer and underwrite health insurance for our team.  We have provided sick leave pay to staff, if needed, and have encouraged every staff member to use this paid leave to regroup and restore themselves as needed.
I must say that Baltimore City has acted in a way conducive to helping small business survive and it has been very welcome in many ways. They have reduced fees and or returned them. We get much faster service on permits and a more empathic ear when voicing concerns.
Overall the experience this year has been unprecedented and exhausting but so far Verde can count itself as a lucky one to fight on for yet another day.
—Owner Edward Bosco
---
Little Pizza Heaven, Caruthersville, Missouri
My wife and I opened in September 1980, so this is forty years in business. We are located deep in the Bootheel of Missouri right on the Mississippi River.
Over the years we have been through bad times and good. Tornado which took out thirty percent of the city, an ice storm which left us without power for two weeks, and most recently a flood which almost topped the levee. It didn't, but all my employees and most of the people left town for a while.
Like everyone else, I have never seen anything like this.
We had two servers before all this hit, one who quit to go back to school, the other one I had to fire for drug use. So we didn't have to lay anyone off. We kept the delivery people and the kitchen crew.
We have not reopened the dining room yet. I really don't know when we will. A large part of our dine in business was parties so it would be difficult to maintain social distancing.
Overall, though business has slowed down, we are doing all right.
—Co-Owner Mike Trainor
---
Captain's Landing — Moravia, Iowa
Captain's Landing, a little Mom & Pop restaurant in the middle of nowhere–nearest town 5 miles–but next to a 10,000-acre lake, experienced a sales increase of 40.6% and net income of 102.6% over 2019–wow!
Having a drive-through saved us!  And it also created some problems as the line snaked until customers were parking alongside a state highway waiting to get in.  We widened our driveway!  We now order to-go packaging by the bundle or case.  Number of employees went from 12 to 22.
And increased volume created another challenge:  Keeping enough product on-hand to sell and the capacity to store it.  And then came shortages:  When we opened, we had a full case of toilet paper on-hand–yes!   But paper towels are still a problem.  At times, pickles, ice cream toppings, several appetizers wouldn't come in on the order.  Weekend crowds have wiped us out of French fries, breaded pork tenderloins–a Midwest favorite, loose-meat hamburger, BBQ pulled pork, our homemade salads of coleslaw and bacon-dill potato salad and our chicken salad.
Captain's Landing is seasonal, only open from mid-March to the last full weekend in September.
We were open the first weekend and our Iowa governor shut down restaurants–except for those with a drive-through.  We have a patio with 4 tables, half-capacity designated with caution tape, and customers sat on it anyway.  The dining room re-opened and we eliminated chairs and one table and placed them six feet apart, down to a total of six tables.  Six-foot markers were placed on the floor for order-at-the-counter.  And, yes, we've had to ask customers to step outside and wait for someone to leave. Our state health department inspector tells us that if someone takes a picture of our little place being over-capacity, the third time we would lose our license, permanently.  We weren't in this business to "police", but to serve food.  If big cities can't get a handle on crowd control….maybe they should lose their license!
Some things amaze us, like two people in their own car, both masked and gloved, ordering food, handling money or a credit card, three feet away from us—un-masked.  (We'd like to watch someone try to eat with a mask on!)  The Iowa governor didn't mandate masks, only "recommends" they be worn.  We will close if mandated as we would over-heat, perhaps lose consciousness, with a suffocating mask.  We've watched servers in other restaurants adjusting masks, pulling down below their nose, sometimes their chin, touching their face.  So far, we have remained virus-free and only two employees were exposed elsewhere, quarantined, and tested negative.  We sanitize everything, from tables & chairs to pens and cash register and wash our hands until skin peels from cuticles.
And we are exhausted, loving our loyal customers and several thousand new ones, but looking forward to our seasonal closing Sept. 27th.
— Co-owner Karen Tuttle