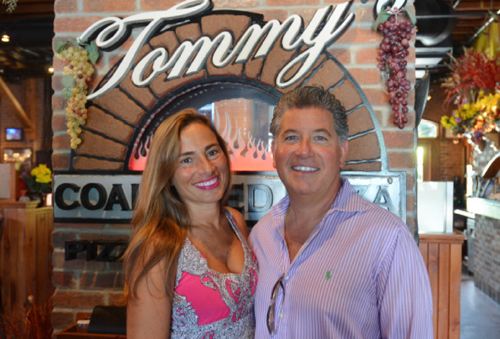 Brooklyn native Tommy Bonfiglio has been an aficionado of pizza most of his life –– the former tax attorney and his wife, Yvette, actively sought out pizza on their travels around the globe. So when the couple found their nest empty but themselves too young to retire, they decided to try their hands at becoming entrepreneurs. It was a risky move, but one that paid off. Their three-unit company, Tommy's Coal Fired Pizza, has annual sales of $6.5 million.
When conceptualizing the business, "I knew coal was the way to go," Tommy Bonfiglio says. "Coal is so unique, and there are very few (coal-fired restaurants) around." Using some of Yvette's recipes, they opened their first restaurant with 110 seats in Red Bank, New Jersey, in December 2009.
"We have had huge success here that there's an hour wait on a Monday," Bonfiglio says. "My next (stores) I made bigger to accommodate the people." The second store opened in May 2010, but Hurricane Sandy shuttered it.
Ironically, it was Sandy that really drove sales at the original location in Red Bank. When the storm wiped out the town's power, Bonfiglio maintained electricity, and "people flocked here. That week, we did close to $90,000 (in sales). I do pizza, wings and salad. Period. The end. My average guest check is $19! From that week on, we never looked back. People just keep coming."
Regulations in New York against coal-fired ovens have kept Bonfiglio from opening in his native borough of Brooklyn, but the coal ovens are allowed in New Jersey. Coal produces heat, bakes fast and "there is no taste," Bonfiglio says. "Coal is absolutely tasteless. That's why I love it. Wood gives that smoky flavor. … (Coal) cooks so fast, that the ingredients maintain their own flavors. You have cheese in an oven for seven minutes (and) you've blasted the flavor out of it. Mine goes in the oven and out of the oven in 90 seconds to two minutes. And it retains that fresh flavor."
And choosing quality ingredients also helps. Tommy's uses San Marzano tomatoes, fresh-sliced mozzarella and doesn't use a freezer for anything other than gelato. He turns product over every three and a half days. He isn't afraid to charge more, "but I believe if you give people the very best ingredients, they're willing to pay a little more for it because people want good food," Bonfiglio says. Still, he manages to keep his food costs down around 22 percent.
Pizza accounts for about 20 percent of sales, but "our biggest seller is wings," Bonfiglio says. "We sell 900 pounds of wings a week."
Surprisingly, these aren't wings slathered in a dozen sauces and dips. They're simply rubbed with a dry seasoning and baked, and are topped with caramelized onions and peppers. The wings have earned several local and state awards, "and my distributor tells me I sell more chicken wings than chicken places," Bonfiglio says. "It's that coal oven. They're so, so healthy. I just put a dry seasoning on them and I bake them. That's it."
Although his region is ripe with competition, Bonfiglio differentiated his concept early on by rejecting the pizza-by-the-slice method. He offered an $8 personal pizza instead, opting for quality over quantity.
The dough is created using a 24-hour ferment. The top seller is the Tommy's Original Pie, which is made with fresh mozzarella, San Marzano tomatoes, grated Romano, fresh basil and drizzled with extra virgin olive oil. They also have a line of 12-inch artisan pizzas that sell for $18 each. Top sellers include the Milano (grilled artichokes, fresh garlic, fresh mozzarella, fresh basil, ricotta cheese and extra virgin olive oil) and the Capri (grilled asparagus, cherry tomatoes, fresh garlic, fresh mozzarella, fresh basil, ricotta cheese and extra virgin olive oil). A line of specialty pizzas (12 and 16 inches) caters to diners looking for more mainstream combinations like buffalo chicken and all-meat pies.
Salads are also popular (they also sell 5,000 signature chopped salads weekly) and the staff is trained to sell wings, salad and pizza as a complete meal package.
Tommy's also has full liquor licenses, and "the bar is about 30 percent of our business," Bonfiglio says. They have a daily happy hour from 4 to 7 p.m. and all day on Saturdays and Sundays. Bonfiglio says the difficulties of obtaining a liquor license in New Jersey has helped protect his concept from would-be competition. Tommy's, he says, isn't easily imitated.
Like many restaurant operators, employee management has been challenging and the amount of supervision needed to run his restaurants was surprising to the former tax attorney. "I have an excellent team in place now," Bonfiglio says, adding that he was quick to rid the company of employees who didn't fit the bill early on. "I have a saying, 'Frog, frog, frog, prince!' I was going to kiss as many frogs as I had to to get to my prince," he laughs.
"I have a team (now) and my sales are up. This store (Red Bank) is up 36 percent and my other ones are (up) in the 20s and I attribute it to the people. The funniest part about it was that the (employees) were my biggest challenge and once I got the people under control, sales followed. And that is the only thing that stops me from opening stores even quicker –– finding good people.
"But I have a great, great team now. Also, I'm able to attract a higher level of people now because I'm established. When I was brand new in business, no one was going to leave their jobs for an unknown concept. … Now we have such a good reputation that it's easier to recruit better talent."
A more experienced wait staff turn tables faster, which increases business and puts more cash in servers' pockets. Bonfiglio separates the front of the house –– run by a general manager –– from the kitchen, where two brothers serve as kitchen directors.
At one time, the company had four stores, but Hurricane Sandy forced one closed and the Bonfiglios haven't felt the need to reopen it. They're also not ready for franchising, but are working toward that by smoothing out any kinks in the stores they plan to open in the immediate future. The Bonfiglios are shooting for two more stores themselves and have chosen real estate for those locations.
"My latest grand opening (in a Paramus, New Jersey, shopping mall) went so smooth," Bonfiglio says. "That means I've got my systems down. We opened to a $15,000 day and a $17,000 day." Launching each location has been a learning experience, "and we're evolving," Bonfiglio says. "We're having great fun with it. And the best part about it is having success with it. So that makes it even better."
Mandy Wolf Detwiler is managing editor at Pizza Today.